2020 Solutions Summit: Blueprint to Restore Economic Security for Working Families
The 2020 election makes clear that neither party has a governing mandate and meaningful solutions must attract broad-based, bipartisan support. BPC believes the country and Congress have the ability to rise together to confront shared challenges. During the week of December 7, BPC will present an agenda for bipartisan action during the Solutions Summit: Blueprint to Restore Economic Security for Working Families.
That week, BPC will hold daily events with national, state and local leaders to discuss a pragmatic agenda to move the country forward and restore faith in the ability to govern a divided nation.
Opening Session: Rebuilding the Economy for Working Families
Monday, December 7
2-3 p.m. ET
Featuring:
Gov. Asa Hutchinson (R-AR)
---
Tuesday, December 8
2-3 p.m. ET
Children deserve positive early childhood experiences and a strong foundation that will prepare them to learn, grow, and succeed regardless of income, race, or zip code. Working parents must have the flexibility to balance professional and family obligations. BPC has developed a blueprint for action based on a set of common-ground principles that prioritize the needs of American families and allow all children to reach their full potential.
Featuring:
Former Sen. Rick Santorum (R-PA)
Walter Gilliam, PhD
Professor of Child Psychiatry and Psychology, Yale University Child Study Center; Director, The Ed Zigler Center, Yale University
Ralph Smith, JD
Managing Director, Grade Level Reading Campaign
Dana Suskind, MD
Professor, University of Chicago Medical Center; Director, Thirty Million Words Initiative
Dr. Leana Wen
Visiting Professor of Health Policy and Management, George Washington University School of Public Health
Linda Smith
Director of the Early Childhood Initiative, BPC
---
Wednesday, December 9
2-3 p.m. ET
The Bipartisan Policy Center is developing politically viable solutions that confront barriers to shared prosperity and advance opportunity and resiliency for American workers.
Featuring:
Isabel (Belle) Sawhill
Senior Fellow, Brookings Institution
Dr. Charmaine Yoest
Vice President of the Institute for Family, Community, and Opportunity, Heritage Foundation
Adrienne Schweer
Fellow, BPC
Jason Fichtner
Fellow, BPC
---
Boosting Financial Resiliency for U.S. Workers
Thursday, December 10
2-3 p.m. ET
This program is generously sponsored by Prudential.
The workplace serves as the nexus of financial security in America, providing most workers with important access to benefits such as health insurance, retirement, accounts, emergency savings, and paid leave. But for many, gaps in this system lead to economic hardship, particularly during an economic downturn like the current one. We need a strong bipartisan roadmap that empowers all American workers with the tools and resources they need to build short- and long-term financial security. This conversation will look at the future of financial resiliency through the lens of workers' careers and how public policy can play a key role in improving outcomes.
Featuring:
Jean Chatzky
CEO and Co-Founder, HerMoney
Alexis Christoforous
Anchor, Yahoo Finance
Rob Falzon
Vice Chair, Prudential Financial
Debra Whitman
Executive Vice President and Chief Public Policy Officer, AARP
Shai Akabas
Director of Economic Policy, BPC
---
Closing Session: Addressing Racial and Structural Inequities
Friday, December 11
2-3 p.m. ET
For Black Americans, the pandemic highlighted and exacerbated existing inequities. Prior to the pandemic, Black workers made 82.5 cents on every dollar earned by white workers, Black people are 2.5 times as likely to be in poverty as whites and the median white family has almost 10 times as much wealth as the median Black family.
The question in front of us today is not only how to rebuild the economy, but how to build back in ways that make America stronger, more resilient, and more just. BPC believes there are several critical areas where public policy must be improved to strengthen the core American premise of opportunity for all.
Featuring:
Sec. Lonnie Bunch
14th Secretary of the Smithsonian Institution
Julián Castro
Former Secretary of the Department of Housing and Urban Development
Anne M. Finucane
Vice Chairman, Bank of America
Dr. Raj Shah
President, The Rockefeller Foundation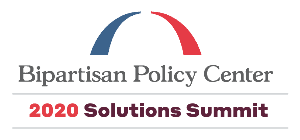 Sign Up for Event Updates
BPC drives principled and politically viable policy solutions through the power of rigorous analysis, painstaking negotiation, and aggressive advocacy.