The Hidden Impact of International Students
Share
International student enrollment at U.S. colleges and universities has been on a meteoric rise for over a decade and has become a crucial component of the higher education ecosystem. However, early data from a new report indicate that a seismic shift may be coming, one that could mark the first decline in international enrollment since 2005.
In 2015, international students contributed $35.8 billion to the U.S. economy and supported over 400,000 jobs.
In this recent survey, 38 percent of U.S. institutions report seeing a noticeable decline in applications from international students for the coming academic year. For some institutions, the decline is marginal, but 11 percent reported significant drops of 20 percent or more. It is important to note that the survey is measuring a decline in applications, a trend that may or may not be reflected in the final enrollment numbers.
Despite the reported declines in 38 percent of U.S. institutions, another 35 percent of U.S. colleges and universities continue to see international applications rise. The remaining 27 percent were relatively unchanged.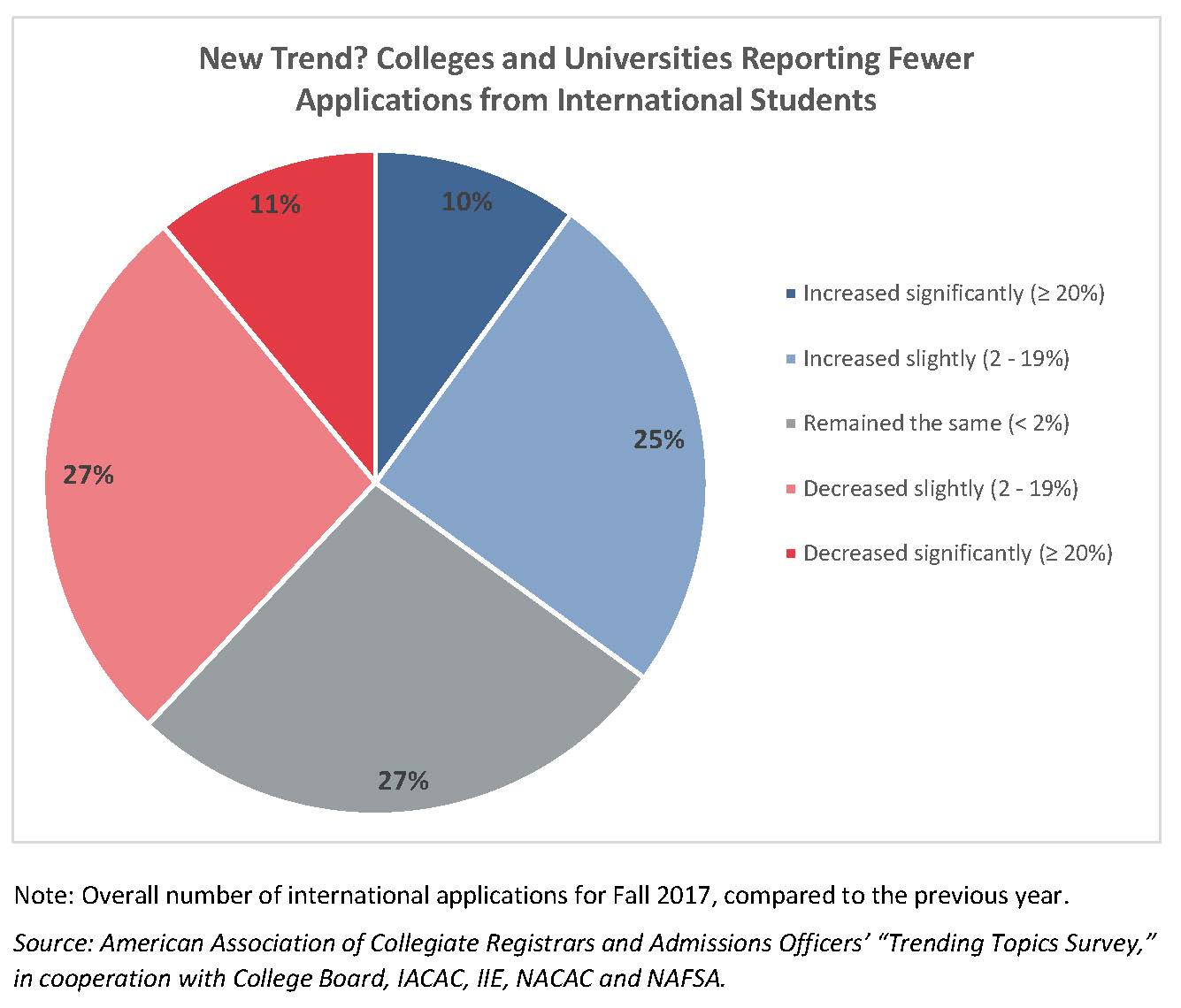 Why does this matter?
In 2015, over 1 million international students enrolled in U.S. higher education institutions, accounting for 5.2 percent of the student body. With more than 20 million students enrolled in U.S. colleges and universities, a decline in this relatively small population may not seem particularly significant. However, according to the NAFSA: Association of International Educators, in 2015, international students contributed $32.8 billion to the U.S. economy and supported over 400,000 jobs. For college-centric towns like Iowa City, IA, the 4,300 international students enrolled in the University of Iowa are also 5.8 percent of the city's total population. Outside the classroom, international students impact more than just the higher education sector. They help support economic activity in housing, food, retail, transportation, communications, and health care services, in other words, just about every major sector.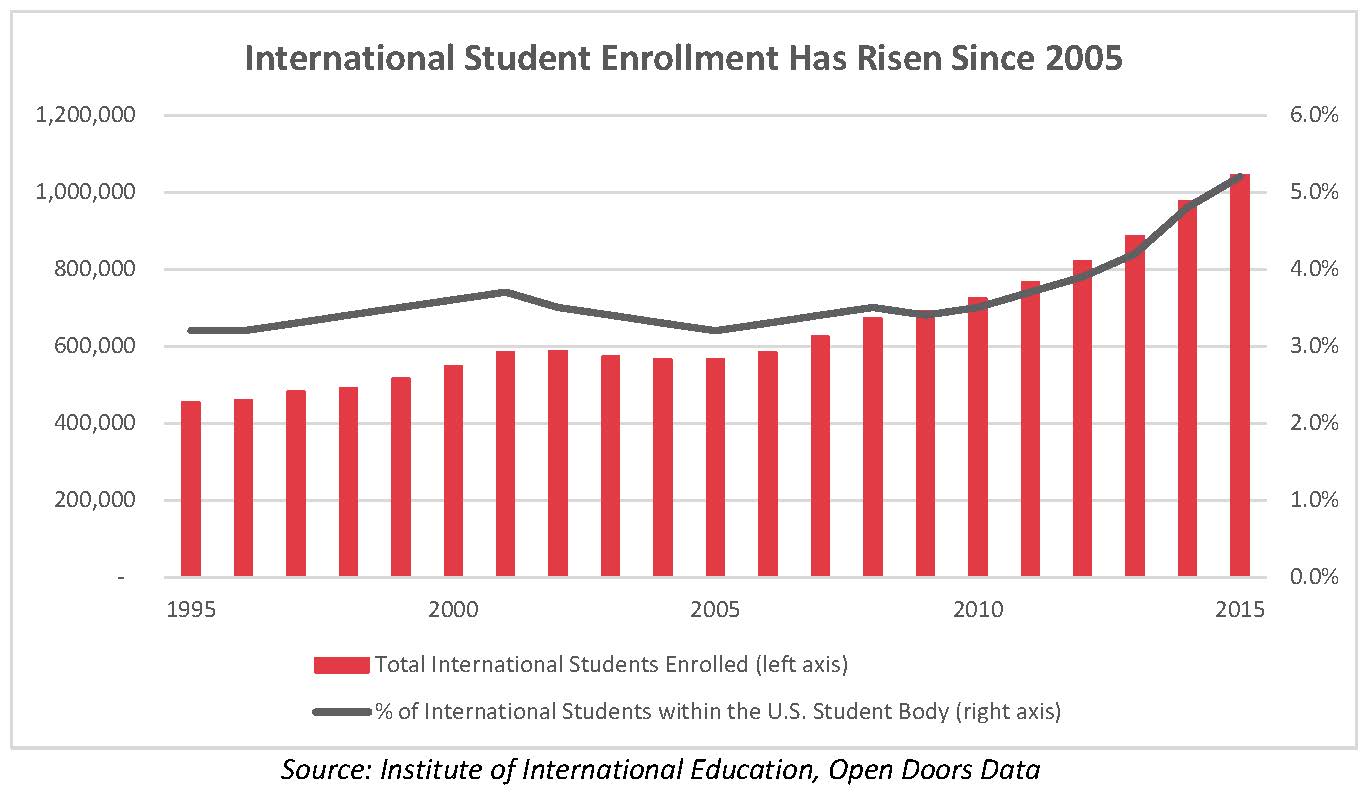 From an institution's perspective, international students are lucrative because they pay tuition at the significantly higher "out-of-state tuition" level. Some schools also tack on an "international student fee" that can range from $100 to $2,000 per year. Notably, most international students are ineligible for financial aid and therefore pay the full cost of tuition, with 67 percent primarily funding their education with their own money or with support from their family. Faced with higher tuition rates and disconnected from typical sources of aid, international students end up providing an estimated 10 percent of all net tuition revenue (i.e., revenue from tuition and fees after accounting for financial aid and expenses).
With mounting pressure on institutions to rein in the rapidly growing cost of tuition, many have turned to international students to help hold down their in-state prices. Purdue University, for example, has long been a magnet for international students. In 2013, Purdue froze its tuition prices, a policy which has remained in place for four consecutive years. As of the 2015-2016 academic year, international enrollment at Purdue was 23 percent of the total student body, up from 12 percent in 2000. By pairing this growth with an annual $2,000 international student fee, Purdue has brought in close to $1 billion in revenues from international students between 2013-14 and 2015-16 academic years, despite the broader tuition freeze.
38 percent of U.S. institutions report seeing a noticeable decline in applications from international students.
Ripple effect
The sky isn't falling just yet, but if this early warning sign leads to a substantial decline in international students, institutions like Purdue may face a revenue gap that would likely be filled by raising tuition prices. With the federal government heavily invested in the higher education system, currently holding $1.3 trillion in loan debt, sudden increases in tuition prices could exacerbate the budgetary risk by leading to more students defaulting on their loans. Additionally, for college-dependent towns like Iowa City, a decline in international students would likely cause a ripple effect across the local economy. This trend should be carefully monitored; if U.S. institutions have lost their luster among international students, more than just academic prestige would be at stake.
Support Research Like This
With your support, BPC can continue to fund important research like this by combining the best ideas from both parties to promote health, security, and opportunity for all Americans.
Give Now
Join Our Mailing List
BPC drives principled and politically viable policy solutions through the power of rigorous analysis, painstaking negotiation, and aggressive advocacy.