Former Special Assistant to the President for Housing and Urban Policy Joins BPC's Terwilliger Center Advisory Committee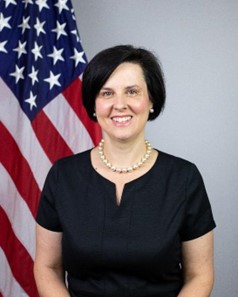 Washington, DC – The Bipartisan Policy Center is pleased to announce former Special Assistant to the President for Housing and Urban Policy Erika Poethig has joined the Advisory Committee of BPC's J. Ronald Terwilliger Center for Housing Policy. The Advisory Committee is led by renowned housing philanthropist Ron Terwilliger and includes the following housing policy experts and political leaders who help guide the center's work:
Scott Brown, former U.S. Ambassador to New Zealand and the Independent State of Samoa and former U.S. Senator
Henry Cisneros, former HUD Secretary and Mayor of San Antonio
Carlos Curbelo, former U.S. Representative and Co-Founder of Vocero
Shaun Donovan, former HUD Secretary and OMB Director
Renee Lewis Glover, Founder and Managing Member of The Catalyst Group, LLC
Terri Ludwig, President of Ballmer Group Philanthropy
Jeb Mason, former Deputy Assistant Secretary of the Treasury
Pamela Hughes Patenaude, former HUD Deputy Secretary
Egbert L. J. Perry, Chairman and CEO of The Integral Group, LLC
Steve Stivers, former U.S. Representative and President and CEO of the Ohio Chamber of Commerce
"We're delighted to welcome Erika, who brings with her a wealth of knowledge and expertise on housing policy along with tremendous experience working at the highest levels of government," Ron Terwilliger said. "Throughout Erika's career she's proven to be an innovative thinker helping lead effective social change. Her drive and passion for ensuring affordable housing is accessible to everyone who needs it will make her an asset to the center and its work."
Before joining the Biden administration, Poethig was chief innovation officer and vice president for the Research to Action Lab at the Urban Institute. In the Obama administration, she held several positions including acting assistant secretary for the Office of Policy Development and Research at the U.S. Department of Housing and Urban Development and was a leading architect of the White House Council for Strong Cities, Strong Communities. Earlier in her career, Poethig led housing policy portfolios at the John D. and Catherine T. MacArthur Foundation and at the city of Chicago's Department of Housing.
"I appreciate this opportunity to serve on the Terwilliger Center's Advisory Committee," Poethig said. "Housing is top of mind for many Americans as affordability is more challenging than it's ever been. I applaud the center for its work to expand access to housing in a way that addresses all three dimensions of the affordability crisis: helping both renters and homeowners afford housing and increasing supply through policies to produce new homes and preserve existing affordable housing. I look forward to working with the committee and the center team to help fulfill their vital mission."
The J. Ronald Terwilliger Center for Housing Policy is committed to advancing public policies that support broad access to affordable housing. Achieving this goal requires comprehensive, sustained action at all levels of government to address the severe shortage of affordable homes for both rent and sale, while ensuring that America's lowest-income families can obtain the housing assistance they need.
At the heart of today's housing affordability crisis is the acute shortage of affordable rental homes and entry-level homeownership options. One of the Advisory Committee's first actions this year was to encourage Congress to make addressing our nation's housing affordability crisis a top legislative priority.
Read more about the center's proposed legislative package that reflects proposals from Democrats and Republicans. Find the center's recent letters to the congressional tax-writing and authorizing committees here and here.