What We're Reading: May 22
Throughout the week, the BPC Housing Commission highlights news items that address critical developments in housing policy. Any views expressed in the content posted on this forum do not necessarily represent the views of the Commission, its co-chairs or the Bipartisan Policy Center.

What if everything we've been told about the financial crisis is wrong?

By Paul Jackson
HousingWire
"Fed economists Christopher Foote, Kristopher Gerardi, and Paul Willen apparently decided the time has come to try to unplug at least some people from a financial markets version of The Matrix: that is, common knowledge about the financial crisis and associated housing collapse. And their paper makes for gripping reading to anyone who has spent the majority of their professional life in the financial markets. In various turns, the authors end up arguing that much of what we think we know about the financial crisis is, in fact, not actually rooted in fact at all." Read more here.
---

FDIC to Set Plan for Bank Failures

By Victoria McGrane
The Wall Street Journal
"Nearly four years after the massive government bailouts of the financial crisis, regulators are looking to chip away at the tacit understanding that the government will step in to save top financial institutions seen as vital to the economy or banking system." Read more here.
---

Could Multifamily Lead Single-Family Out of its Recession?

By Mark Heschmeyer
CoStar Group
"The nation's housing finance overseer and Freddie Mac are citing the strong multifamily investment market as a reason for pushing ahead on their agenda to gradually eliminate government guarantees in the multifamily sector business and replace them with new private capital sources well ahead of efforts to begin unwinding their single-family finance operations." Read more here.
---

Why Aren't We Building More Multifamily Houses?

By Matthew Yglesias
Slate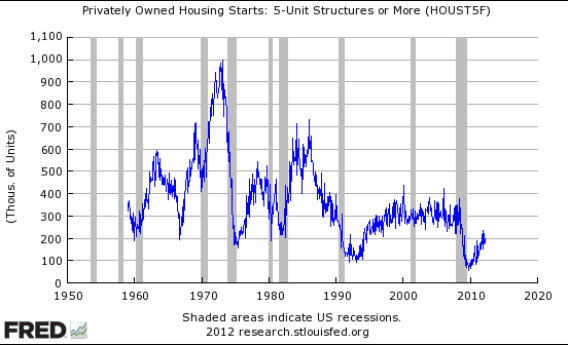 "With the population growing, rents high and rising, household credit impaired, and building trades unemployment high, the reasonable thing for the economy to be doing would be to build lots of rental housing. And indeed there's a certain perception out there of a multifamily construction boom. But compared to where we were in the 1980s, it's actually incredibly tepid." Read more here.
---

Needy States Use Housing Aid Cash to Plug Budgets

By Shaila Dewan
The New York Times
"Only 27 states have devoted all their funds from the banks to housing programs, according to a report by Enterprise Community Partners, a national affordable housing group. So far about 15 states have said they will use all or most of the money for other purposes. In Texas, $125 million went straight to the general fund. Missouri will use its $40 million to soften cuts to higher education. Indiana is spending more than half its allotment to pay energy bills for low-income families, while Virginia will use most of its $67 million to help revenue-starved local governments." Read more here.
---

Is Now the Time to Buy Your First House?

The Wall Street Journal
"On one side are those who argue that homes are more affordable than they have been in decades, based on how much monthly income a mortgage consumes and whether owning is less costly than renting… On the other side, pessimists insist that the housing slump is far from over, and that prices will continue falling?perhaps as much as 20% or more." Read more here.
---

Years Late and $1 Million Over Budget, New Orleans Gets Its Cottages

By Tom Gogola
Next American City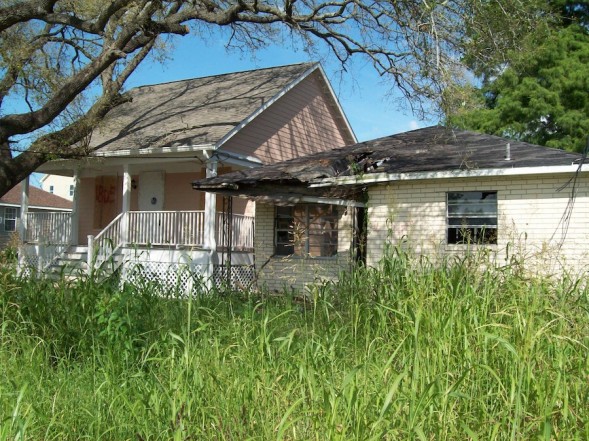 "With little fanfare, a cluster of tidy new houses recently went on the market in the Lower 9th Ward of New Orleans, bringing a poorly executed experiment in post-disaster housing to inglorious resolution long delayed. The 22 one- and two-bedroom houses are the last of the now-notorious 'Katrina Cottages' that, almost seven years ago, were conceived as salvation for New Orleanians displaced by hurricanes Katrina and Rita and desperate to come home." Read more here.
---

Do We Need Social Security for Our Houses, Too?

By Emily Badger
The Atlantic
"Over the coming two decades, a vast share of Americans ? a group the size of which we've never seen before ? is slated to age into retirement and beyond. And unlike their parents' and grandparents' generations, most of these people do not plan to go willingly to the old folks' home… There is just one problem: our places are not fit for the aged. Federal legislation like the Americans with Disabilities Act has slowly been changing the way we build for the past 20 years, so that newer multi-family complexes and a fraction of all housing built with public funds can accommodate, say, a walker or a wheelchair, or someone who can't make it to the second floor to use the bathroom. But the real obstacle for an aging America has not yet been touched: our national army of privately built single-family homes." Read more here.
---

Lenders Put Borrowers Through the Wringer

By Amy Hoak
The Wall Street Journal
"As a home buyer or refinancer, you'd expect to submit recent pay stubs and bank-account statements when applying for a mortgage loan. But a copy of your divorce decree? That's exactly what happened to a recent borrower who was asked to explain a deposit of about $200 to her bank account, says Frank Donnelly, president of the Mortgage Bankers Association of Metropolitan Washington." Read more here.
---

Are Reverse Mortgages the New Key To Long Term Care at Home?

By Alyssa Gerace
Reverse Mortgage Daily
"Reverse mortgages are beginning to catch on as a way to fund long-term care, and now, one of the primary reasons borrowers take out out this type of loan?so they can stay at home?could mesh with a developing senior at-home care model: "CCRCs without walls." The continuing care retirement communities (CCRCs) without walls model allows seniors to remain in their homes and receive the same continuum of care services they'd get if they were living in a traditional community, using a similar contract structure." Read more here.
---

Foreclosed Americans find way back to homeownership

By Jilian Mincer
Reuters
"Data is not available, but interviews with more than 30 lenders, builders, Realtors and consumers suggest that a growing number of Americans are getting back into the housing market, even though they went through a foreclosure, bankruptcy or short sale in recent years." Read more here.
---

Subdivisions go urban as housing market changes

By Haya El Nasser
USA TODAY
"Why are the giants of the building industry, the creators for decades of massive communities of cookie-cutter homes, cul-de-sacs and McMansions in far-flung suburbs, doing an about-face? Why are they suddenly building smaller neighborhoods in and close to cities on land more likely to be near a train station than a pig farm?
"A housing industry slowly shaking off the worst economic conditions in decades is rethinking what type of housing to build and where to build it. It's a response to a new wave of home buyers who have no desire to live in traditional subdivisions far from urban amenities." Read more here.
---

Bernanke: even worthy borrowers can't get mortgages

By Glenn Somerville
Reuters
"'To be sure, a return to pre-crisis lending standards wouldn't be appropriate,' Bernanke said. 'However, current standards may be limiting or preventing lending to many creditworthy borrowers.' Lax lending practices, including 'liars' loans' handed out to borrowers who provided little or no documentation for jobs and incomes, have been cited as a key contributing factor in precipitating the severe financial crisis. Bernanke implied the backlash by banks against criticism of their lending practices, which now are far tighter, might be overdone and will be extremely hard to reverse." Read more here.
---
2013-05-22 00:00:00