What We're Reading: February 13
Throughout the week, the BPC Housing Commission will highlight news items that address critical developments in housing policy. Any views expressed in the content posted on this forum do not necessarily represent the views of the Commission, its co-chairs or the Bipartisan Policy Center.
By Katherine Tarbox TIME
"How much shadow inventory exists? No one knows for sure. Yesterday, the U.S. Department of Housing and Urban Development released the January Scorecard, which reported that the number of homes left off the market decreased from 3.9 million units at the beginning of 2011 to 3.6 million at the end of the year. These figures include homes that defaulted through a Fannie Mae or Freddie Mac loan. While lenders who participated in such loans are required to report data regarding how much inventory is left off the market, other lenders are under no such obligation. Therefore, it's difficult for housing analysts to estimate just how much shadow inventory is out there at any given time. According to the Wall Street Journal, the number could be anywhere from 3 million to 10 million homes." Read more here.?
By Diana Olick
CNBC
"After more than a year of negotiations, attorneys general from more than 40 states signed on to a proposed settlement agreement with five of the nation's largest mortgage servicers over "robo-signing" foreclosure processing abuses, according to the lead negotiator, Iowa Attorney General Tom Miller. 'This enables us to move forward into the very final stages of remaining work. Federal and state officials, as well as representatives from the banks, continue to address matters that they must complete before finalizing any settlement,' Miller said in a statement released late Monday. The deal with Bank of America, Wells Fargo, Citigroup, JPMorgan Chase, and Ally Financial will reportedly total $25 billion. Some $17 billion of that would go toward writing down mortgage principal for an estimated 850,000 troubled borrowers, $3 billion could go toward restitution payments of $1,500 each to borrowers who lost their homes to foreclosure, and the rest could go to state funds for foreclosure relief, according to reports and estimates by Inside Mortgage Finance." Read more here.
By Brady Dennis
The Washington Post
"New York Attorney General Eric Schneiderman abruptly called off a news conference at which he could have provided a crucial endorsement of a proposed settlement with some of the nation's biggest banks over shoddy foreclosure practices. Schneiderman's unexplained last-minute postponement cast another cloud of uncertainty over the ongoing negotiations, which have dragged on for more than 16 months. State and federal officials have been intent on finalizing the deal by the end of the week. Had Schneiderman backed the deal Tuesday, as several informed observers expected he would, it could have increased the likelihood that remaining holdouts such as California, Delaware and Nevada ? which have shared Schneiderman's long-standing concerns that the settlement might let banks off the legal hook too easily ? would also sign on. More than 40 states have backed the proposed agreement, and officials leading the talks remain adamant that the multibillion-dollar deal will go forward whether New York and other undecided states participate or not." Read more here.
By Jon Prior
HousingWire
"Roughly $5 billion of the funds will be used as $2,000 payouts to hundreds of thousands of borrowers affected by the abuses and were foreclosed on between the beginning of 2008 and the end of 2011. A portion of the $5 billion will also go to the states. Nearly 8.9 million properties recieved at least one foreclosure filing since 2007, according to RealtyTrac. Another $17 billion will be used as 'credits' toward writing down principal on roughly 1 million loans mainly held in the bank servicing portfolios. However, officials said some of the principal reductions will go toward mortgages in private-label securities, meaning investors will take some of the hit. However, the 'credits' would be significantly less for mortgages held in private MBS holdings." Read more here.
Experts react to the foreclosure settlement
---
New Infographic from BPC's Housing Commission Highlights the Housing Industry's Historical Impact on Economic Growth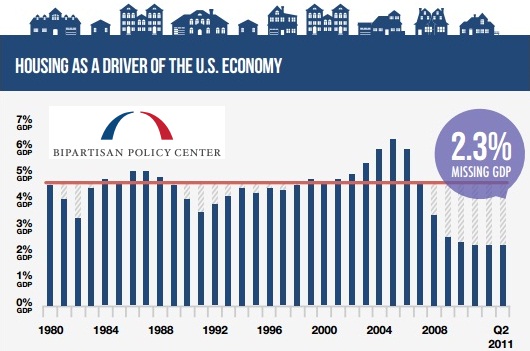 ---
U.S. News and World Report
"According to real estate data firm CoreLogic, about 11 million American homeowners are underwater, and half of all U.S. mortgages are owned by non-government lenders. On Wednesday, President Obama announced plans to help homeowners facing foreclosure. Obama is seeking to make interests rates for borrowers lower, and he plans to pay for the estimated $5 billion to $10 billion cost with a fee on the nation's largest banks… Obama's plan would save the average underwater American about $3,000 per year and would apply only to borrowers who have been current on their payments for at least six months. Still, many are skeptical of further help for Americans facing foreclosure, as even the president acknowledges that his previous attempts to tackle underwater debts have failed. Should the government help homeowners with underwater mortgages? Here's the Debate Club's take…" Read more here.
By Justin T. Hilley
HousingWire
"A house subcommittee approved a bill Tuesday that establishes new rules intended to bolster the health of the Federal Housing Administration's mortgage insurance fund. The bill moves to the House Financial Services Committee. New rules include setting minimum annual mortgage insurance premiums. As of now, down payments of 5% or more require an annual premium of 1.1% of the borrower's outstanding balance. If below 5%, the minimum premium is 1.15%. The bill also bars unscrupulous lenders from participating in the FHA program, requires repayment of losses to FHA by lenders who commit fraud and 'improves the FHA's internal financial controls, transparency, and disclosure requirements.'" Read more here.
By Peter Barnes
FOX Business
"When President Obama announced his sweeping plan to help more homeowners refinance their mortgages at lower interest rates, he left out one important detail — a fee Uncle Sam would charge them for the government's support. The president proposed lowering monthly payments for possibly millions of homeowners by refinancing their loans through the Federal Housing Administration. The agency provides insurance against default for banks that make riskier loans mainly to borrowers who make small down payments. The insurance allows homebuyers to borrow at lower interest rates, but the FHA tacks a 1.15% charge on top of the interest rate of most new mortgages it guarantees — for the life of the loan. While the administration has yet to decide how to structure surcharges in its refi program, such fees would reduce savings for borrowers and make the program less attractive to some. Read more here.
By Eve Tahmincioglu
MSNBC
"Paying rent is getting more painful for renters across the country in the face of rising demand and tight supply. Both the commercial and residential real estate markets are seeing increases, and more are expected in the months and years to come. Office construction starts were at the lowest level since 1960, the oldest data available from McGraw-Hill Construction; and that means there will be less space available for companies looking to rent or expand their operations. It's also bad timing for people who have been spooked by, or pushed out of, the residential housing market and have decided to rent instead of buy. Home ownership in the United States is at historic lows, but at the same time rental prices are on the rise." Read more here.
By Lorraine Woellert
Bloomberg
"Mutual funds, pensions, insurers and real estate investment trusts are the biggest holders of government-backed mortgage bonds, known as agency bonds. Together they hold nearly $1.5 trillion, or more than 27 percent, of the $5.4 trillion total, according to Inside Mortgage Finance, a trade publication based in Bethesda, Maryland. The Federal Reserve energized the mass-refi cause on Jan. 4 when Chairman Ben S. Bernanke noted that millions of borrowers have failed to take advantage of record-low interest rates. In a research paper, his staff said that policy 'experiments' including principal forgiveness or a government-triggered mass refinancing 'might be socially beneficial,' even if they come at a cost to taxpayers and bondholders." Read more here.
---
How much shadow inventory exists? The number could be anywhere from 3 million to 10 million homes.

---
By Alan Feuer
The New York Times
"These days, families seeking shelter appear at the Prevention Assistance and Temporary Housing Office, a gleaming modern building, also in the Bronx, with artwork on the walls and an airport-like "departure lounge." Advocates say that policies put in place by Mayor Michael R. Bloomberg have made it harder to gain entrance to the system, but for those who do get in, the intake process generally lasts 6 to 10 hours, and most families find a place the day they apply. One-third end up in city-run shelters, including some hotels, another third are placed in privately run facilities, like the one the Lewises entered in Queens, which has 54 units, each about 700 square feet, each with its own kitchen and bathroom. A family stays in a shelter an average of nine months, but there is no restriction on the length of stay. Rules encourage people to move on: families are not allowed to bring in their own furniture or decorate the walls. The city tries to place families near parents' jobs and children's schools, but it does not always succeed. On the ground floor of the shelter that housed the Lewises is an office where caseworkers help residents manage welfare benefits and improve their résumés in hopes of finding better work." Read more here.
By Robbie Whelan
The Wall Street Journal
"Every year around this time, tens of thousands of housing industry professionals gather at the National Association of Home Builders' convention, usually held in Florida, to talk shop and network with other builders, marketers and suppliers… This year, the trio of economists sounded a more cautious tone. Mr. Crowe predicted a 16% improvement in 2012 for both new-home sales and single-family starts. Moreover, they were able to point to improvements in several economic indicators: GDP growth, unemployment rate, private-sector job-creation, and consumer sentiment. One issue they all agreed upon is that household formation has got to go up in order for the new-home market to improve, and that's likely to happen in the next year." Read more here.
By Peter Coy and Prashant
Gopal
Bloomberg Businessweek
"Unclogging the legal and financial system is key to the recovery. The latest improvement is an upsurge in lenders' enthusiasm for short sales as an alternative to foreclosures. In a short sale, the lender accepts less than the full amount owed on the mortgage when a house is sold. Short sales are much faster than foreclosures and tend to preserve more of a home's value. (People who leave voluntarily are less likely to punch holes in the walls and steal the copper wiring.) JPMorgan Chase in some cases offers the exiting homeowners $10,000 to $35,000 in cash at settlement, real estate agents in Arizona, California, Florida, New York, and Washington say. Other banks also offer incentives." Read more here.
By Jeanne Gang and Greg Lindsay
The New York Times
"Too often during the bubble, banks and builders shunned thoughtful architecture and urban design in favor of cookie-cutter houses that could be easily repackaged as derivatives to be flipped, while architects snubbed housing to pursue more prestigious projects. But better design is precisely what suburban America needs, particularly when it comes to rethinking the basic residential categories that define it, but can no longer accommodate the realities of domestic life. Designers and policy makers need to see the single-family house as a design dilemma whose elements ? architecture, finance and residents' desires ? are inextricably linked." Read more here.
2012-02-12 00:00:00