What We're Reading: December 21
Throughout the week, the BPC Housing Commission will highlight news articles that address critical developments in housing policy. Any views expressed in the content posted on this forum do not necessarily represent the views of the Commission, its co-chairs or the Bipartisan Policy Center.
MSNBC
Visit msnbc.com for breaking news, world news, and news about the economy
By Jann Swanson
Mortgage News Daily
"Shaun Donovan, Secretary of Housing and Urban Development (HUD) told the Interagency Council on Homelessness on Tuesday that homelessness in the country declined 2.1 percent between 2010 and 2011. The estimate is based on the annual "point in time" survey conducted on a single night each January in 3000 cities and communities. Donovan himself participated in the 2011 count. The survey found 636,017 homeless people compared to 649,917 in January 2010 and 671,888 in January 2007. The number of homeless veterans fell nearly 12 percent, a reduction of 8,834 homeless over the preceding year. HUD and the Veterans Administration have pioneered several joint programs aimed at homeless vets since 2009." Read more here.
By Kerri Panchuk
HousingWire
"Foreclosure filings in the United States edged lower in November, but the potential for a new foreclosure wave in early 2012 is possible, RealtyTrac said. The foreclosure data firm says November foreclosure filings declined 3% from October and were down 14% from the year-ago period, with 224,394 postings on the books last month. While the November numbers suggest improvements in clearing the inventory of distressed properties, RealtyTrac co-founder James Saccacio sees the potential for another wave of foreclosures in the first part of 2012." Read more here.
By Andrew Scoggin
HousingWire
"Single-family originations will likely dip in 2012 because of fewer refinances, according to Frank Nothaft, chief economist at Freddie Mac. The market will see a refinance burnout, Nothaft said, with a dwindling pool of eligible borrowers and higher mortgage rates by the second half of 2012. Nothaft projects $1.3 trillion in single-family mortgage originations in 2011, compared to $1.14 trillion in 2012 and $1.07 trillion in 2013." Read more here.
By Richard Florida
The Atlantic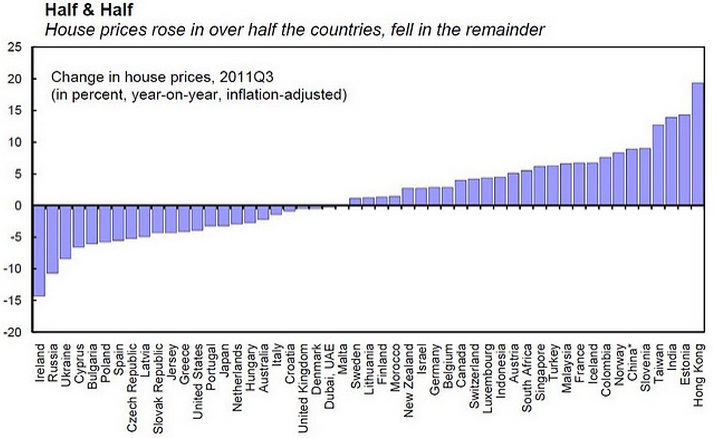 "We know how painful the housing crisis has been in the U.S. With the evolving Euro crisis and continuing global economic instability, it's scary to note that a significant global housing crisis may be in our future." Read more here.
By Josh Boak
POLITICO
"While Congress still sorts through the wreckage of the subprime mortgage mess, one sector of the housing market appears to be on the cusp of a comeback ? apartments and condominiums. Construction of both will very likely end the year 50 percent higher than in 2010, said David Crowe, chief economist for the National Association of Home Builders. The picture continues to look ugly for the McMansions that many Americans once aspired to buy at the height of the housing bubble. Even with 30-year mortgage rates hovering near 4 percent, credit remains tight." Read more here.
The Associated Press
"Mayors in 29 cities say more than 1 in 4 people needing emergency food assistance did not receive it. Many middle-class Americans are dropping below the low-income threshold ? roughly $45,000 for a family of four ? because of pay cuts, a forced reduction of work hours or a spouse losing a job. Housing and child-care costs are consuming up to half of a family's income… The majority of low-income families ? 62 percent ? spent more than one-third of their earnings on housing, surpassing a common guideline for what is considered affordable." Read more here.
CBS News
"Across America, recession-fueled foreclosures and plummeting home values have left countless properties abandoned and vulnerable to looting. As Scott Pelley reports, the problem has gotten so bad in Cleveland, Ohio, that county officials have demolished more than 1,000 homes this year – and plan to demolish 20,000 more – rather than let the blight spread and render nearby homes worthless." Read more here.
By Ryan Holeywell
Governing
"A new study finds that cities across the country are experiencing increased demand for emergency food aid and shelter, but the lack the resources to fulfill it. The report, commissioned by the U.S. Conference of Mayors, examines programs serving low-income populations in 29 American cities from September 2010 through August 2011. Its results paint a much more grim portrait of poverty in America that a study released by federal government earlier this week that found homelessness down 2.1 percent this year and 5.3 percent since 2007 and attributed those improvements to initiatives carried out by the stimulus act." Read more here.
By Vickie Elmer
The New York Times
"With interest rates at historic lows, the expansion of a federal refinancing program could help more homeowners who owe more than their property is worth move out of higher-rate or adjustable loans into something more affordable and stable. The biggest change to the plan, called the Home Affordable Refinance Program, or HARP, raises the debt limit at which such borrowers can obtain a new mortgage. Those who owe more than 125 percent of their home's value are now eligible; the previous limit for many government programs was 97 percent to 125 percent. The percentage ratio is known as loan-to-value, or LTV. The government also reduced some fees." Read more here.
By Mark Zandi
The Washington Post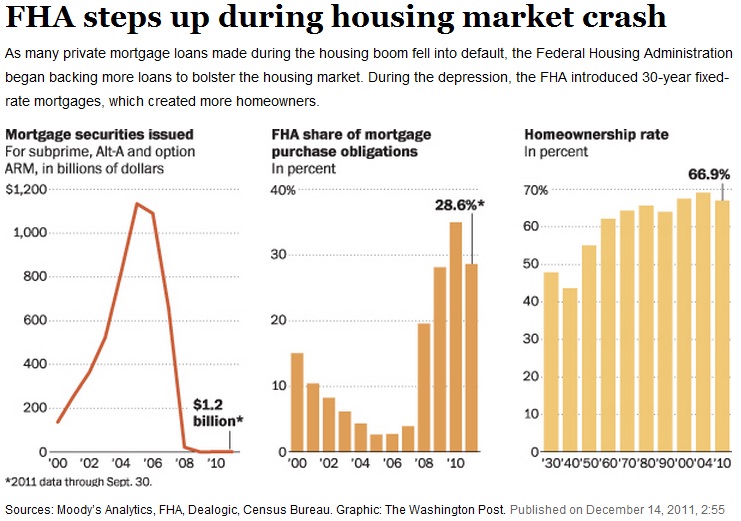 "The Federal Housing Administration is getting a bum rap. The agency, which currently accounts for almost a third of all mortgages received by U.S. home buyers, has done an admirable job during the six-year housing crash. Although the FHA does need to reduce its role in the mortgage market eventually, this must be done judiciously. Private mortgage lending won't revive until the government pulls back. But if that happens too quickly, private lending will remain dormant, undermining the still fragile housing market and economy." Read more here.
By Peter J. Reilly
Forbes
"Of the Echo Boomers I spoke with, 13% were homeowners, yet less than a third reported interest in owning a home someday (with female Echo Boomers wanting homes more than male Echo Boomers). They preferred graduate degrees, living in social areas (not suburbs) and freedom instead of homeownership. A few of these Echo Boomers will need a decade to pay off their student loans after which another large loan, like a mortgage, might lack appeal. And while suburbs seem to offer community and safety, they also add transportation costs with a lack of social diversity." Read more here.
By Neil Irwin
The Washington Post
?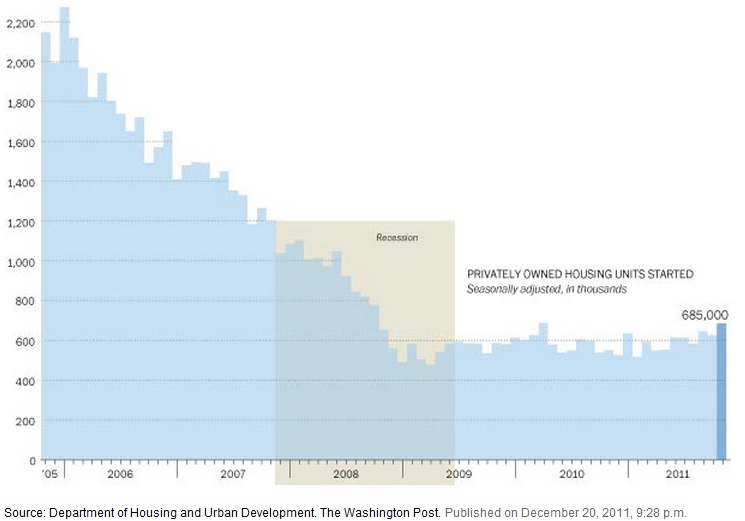 "The deeply depressed housing sector finally seems to have found its bottom ? and may even be starting to bounce back. A wide range of housing indicators ? construction, home sales, prices ? have stabilized in the past few months, although they remain at historically very low levels. And it looks as if construction activity in particular will pick up in 2012. The latest evidence of the momentum ? new-housing starts for November ? was released Tuesday. The surprising 9.3 percent gain bumped the rate of new-housing construction to its highest level in 19 months, to a rate of 685,000 new units a year. The number of building permits issued for new houses and apartments also rose, to 5.7 percent in November." Read more here.
By Suzy Khimm
The Washington Post
"The Senate bill increases the fees that Fannie Mae and Freddie Mac charge for insuring mortgages, raising the rate by 0.1 percentage points. The fee hike would also apply to mortgages from the Federal Housing Administration, which focuses on first-time home buyers and lower-income Americans. Under the change, someone buying or refinancing a $200,000 house through these programs will have to pay about $17 in higher fees per month, or $204 a year, beginning on January 1, the Associated Press reports." Read more here.
By Diana Olick
CNBC
"We already know the housing crash was bad, perhaps the worst in history; tomorrow we will learn that it's worse than we thought. The National Association of Realtors, for a number of reasons I won't get into because they've been widely reported, overcounted home sales during part of the last decade and has spent the better part of this past year figuring out just how badly they did that. Expectations are that home sales could be revised down anywhere from 10 percent to 20 percent. The Realtors' chief economist said the revision would be, 'meaningful.'" Read more here.
By John W. Schoen
MSNBC
"It looks like the housing market isn't going to get any worse. Five years into the worst housing depression since the 1930s, the latest monthly data from the Census Bureau indicate that the homebuilding industry is slowly coming back to life. Housing starts jumped 9.3 percent in November to an annual rate of 685,000, the highest reading in 19 months. Starts were up in the Northeast, South and West but were down in the Midwest. New housing permits, which offer a fairly reliable forecast of future building activity, jumped 5.7 percent to the highest level in 20 months. Much of the construction activity and new permit volume was for multifamily housing, as the heavy pace of foreclosures sends displaced households looking for homes to rent. Rental vacancy rates have been falling and rental prices rising, spurring investors to break ground on more multifamily units." Read more here.
2011-12-21 00:00:00