What We're Reading: December 12
Throughout the week, the BPC Housing Commission will highlight news articles that address critical developments in housing policy. Any views expressed in the content posted on this forum do not necessarily represent the views of the Commission, its co-chairs or the Bipartisan Policy Center.
By Derek Thompson
The Atlantic
"It's always worth repeating: If you have a question about the weak recovery, the answer comes back to housing. Let's try a few. Why do consumers feel so gutted? To begin with, a fifth of mortgages are underwater. Half of families aren't personally investing in the stock market. Their sense of future wealth depends on the value of their home. They're much less likely to spend normally when their house feels like a losing investment. Why is employment growth so slow? To begin with, we don't need any more houses, so we don't need many more construction workers to build them. That's a big deal. 'The decline in construction accounts for nearly 40 percent of the total decline in employment between December 2007 and February 2010,' the St Louis Federal Reserve found…" Read more here.
By Justin T. Hilley
HousingWire
"After examining the average down payment a borrower puts on a home to qualify for a mortgage, online lending exchange LendingTree is reporting no state averages at least 20% down. This means that under the qualified residential mortgage initiative, many of the most-recent originated home loans would not qualify for exemption from risk retention. The rule, mandated under the Dodd-Frank Act, requires lenders to retain 5% of the credit risk on mortgages pooled into securities. This is meant to act as a skin-in-the-game hedge, reducing the chance an issuer will originate risky mortgages. However, a loan classified as a QRM would not require lenders to maintain the risk on a mortgage after securitization if the borrower puts 20% down and other requirements are met." Read more here.
?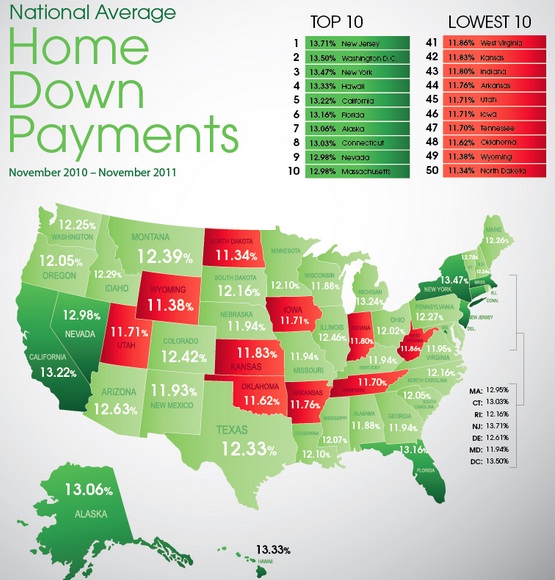 By Kerri Panchuk
HousingWire
"Four years after the housing bust, researchers at the Federal Reserve Bank of New York are putting some of the blame on real estate speculators, saying they played a key role in blowing up the housing bubble that eventually popped, causing home prices to tumble nationwide. In a report titled 'Flip This House: Investor Speculation and the Housing Bubble,' four researchers claim borrowers who owned multiple homes for investment purposes played a key role in running up national home values right before the 2007 housing meltdown. In fact, the report found a third of U.S. home purchase lending in 2006 was issued to borrowers who already owned property. In California, Florida, Arizona and Nevada, investors made up 45% of the 2006 transactions, suggesting the deep pain in these markets was rooted in excessive levels of real estate speculation." Read more here.
By Alan Zibel
The Wall Street Journal
"Congress is considering tapping troubled mortgage giants Fannie Mae and Freddie Mac for cash ? and that has the real-estate industry upset. Major real estate industry groups on Thursday urged lawmakers to reject an attempt to raise money to renew a payroll-tax cut by raising fees charged by Fannie and Freddie, the mortgage giants that have been under government control for more than three years. A move to do so is afoot on Capitol Hill. The idea was floated by the so-called super-committee on deficit reduction, where it appeared to have bipartisan support as an uncontroversial ? and politically painless ? way for lawmakers to raise money." Read more here.
By John Gittelsohn and Kathleen M. Howley
Bloomberg News
"U.S. mortgage debt, a driver of consumer spending during the real estate boom, dropped to the lowest level in almost five years in the third quarter as foreclosures wiped out home loans and housing purchases fell. The volume of outstanding home mortgages declined to $9.88 trillion from $9.94 trillion June 30, according to Federal Reserve data released Thursday. The reading was the lowest since the end of 2006. Mortgage volume peaked at $10.6 trillion in early 2008, the final months of a decade-long borrowing binge." Read more here.
The Associated Press
"Americans' wealth last summer suffered its biggest quarterly loss in more than two years as stocks, pension funds and home values lost value. At the same time, corporations increased their cash stockpiles to record levels. Household net worth fell 4 percent to $57.4 trillion in the July-September quarter, according to a Federal Reserve report released Thursday. It was the sharpest drop since the October-December quarter of 2008 and was the second straight quarterly decline. Household wealth, or net worth, is the value of assets like homes, bank accounts and stocks, minus debts like mortgages and credit cards. The value of Americans' stock portfolios fell 5.2 percent last quarter. Home values dropped 0.6 percent. Lower net worth can hurt the economy. When people feel poorer, they spend less. That slows growth. Businesses typically then cut back on hiring and expansion." Read more here.
By Jon Prior
HousingWire
"Bank of America is looking at a new program to rent a home back to the borrower after foreclosure. 'There are programs that we are quite interested in,' said Ron Sturzenegger, who leads the bank's legacy asset servicing division, in an interview with HousingWire. 'We are talking with investors that would come in and buy these houses and would lease them back to who would now be the now tenant.' In February, BofA formed the division to handle the servicing for delinquent mortgages, loans no longer being written, and to sort out outstanding representation and warranty claims. Currently, more than 35,000 employees at the bank are sorting through 1.1 million loans 60 days delinquent or worse, according to its third-quarter financial statement." Read more here.
By Julie Schmit
USA Today
"The Obama administration's initial foreclosure-prevention programs, launched in early 2009, were intended to help 7 million to 9 million people. So far, they've aided about 2 million, and not all of those are out of foreclosure danger. Programs begun later have also faltered. One intended to help at least 500,000 has helped just a few hundred a year after its launch. Another initiative to extend $1 billion to help the jobless or underemployed avoid foreclosure ended in September, obligating less than half of its funds. The unused money went back to the U.S. Treasury." Read more here.
By Jann Swanson
Mortgage News Daily
"According to the Census Bureau, non-seasonal vacant properties have increased 51 percent nationally from about 7 million in 2000 to 10 million in April 2010. Ten states saw increased vacancies of 70 percent or more. With the incidence of vacant residential properties rising, the Government Accountability Office (GAO) was asked to conduct a study to determine the relationship between trends in vacancies and the recent increase in foreclosure. Using data from the Federal Housing Administration (FHA), the two government sponsored enterprises (GSEs) and the Census Bureau, GAO looked at the costs accruing to vacant properties, who is responsible for those costs, various state and local government strategies to deal with the problem and how the federal government might assist in their efforts." Read more here.
2011-12-12 00:00:00