Senators Work Up a Job-Training Bill


July Bipartisan Champions: Senators Johnny Isakson (R-GA) and Patty Murray (D-WA)

This month, BPC highlights Senators Johnny Isakson (R-GA) and Patty Murray (D-WA) for their bipartisan efforts on the Workforce Investment Act Reauthorization. The senators are drafting a bill to overhaul America's federal job-training programs, and increase efficiencies in the process.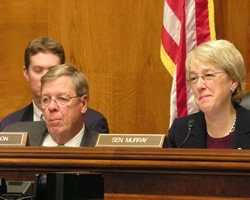 Post a tweet to congrulate Senators Isakson and Murray!

Seeking to make significant progress on legislation this summer, the bipartisan duo has been building on a draft of a bill they created last year with fellow Committee on Health, Education, Labor and Pensions (HELP) members Tom Harkin (D-IA) and Michael B. Enzi (R-WY) to update the 1998 Workforce Investment Act, which expired in 2003. The legislation would streamline existing federal job-training programs. A 2011 Government Accountability Office report found that 44 of the 47 federal job-training programs overlap in some manner.
The legislation seeks to better organize job training in sectors in need of workers, ensure a more efficient delivery of services and provide local communities greater autonomy over training programs. Additionally, the legislation enhances oversight to identify ineffective programs.
Regardless of differing political parties, Senators Isakson and Murray agree on the necessity of finding a solution to overhauling America's outdated job-training programs. Together they are working with members of the HELP Committee to reform and reauthorize the Workforce Investment Act. Reaching across the aisle to find Americans jobs and bolster our economy? That sounds like a solution that truly works.

June Bipartisan Champions: Senator Jeanne Shaheen (D-NH) and Senator Rob Portman (R-OH)


From the Americans with Disabilities Act to Campaign Finance Reform to No Child Left Behind and more, many significant legislative achievements have been successful due to cross-party collaboration. Rather than lamenting cooperation as a relic of days gone by, the Bipartisan Champions series will highlight current lawmakers who are working across the aisle and getting things done. By showcasing those who are putting partisan differences aside in order to put national interests first, BPC hopes to encourage more of this activity among our elected leaders in Washington, DC.
2013-07-01 00:00:00