Obama's Immigration Executive Actions: Two Years Later
Share
Two years ago, President Obama announced a series of broad administrative reforms to the immigration system, including changes to the legal immigration system, border security and interior enforcement, and the unauthorized population. While the controversial deferred action programs for unauthorized immigrants at the center of the administration's 2014 actions remain frozen in the courts after a tied Supreme Court ruling earlier this year, several other reforms have been rolled out or otherwise addressed in the past two years.
The future of these programs is uncertain, as President-elect Donald Trump has promised to undo many of President Obama's executive actions. Some of these programs were created through guidance memoranda, agency policy, or operational changes that can easily be revoked or changed by the new administration. However, several others were done through administrative rulemaking which would need a formal process of notice and comment before repealing or replacing the regulations. For rules that have been published as "final" in the Federal Register, another notice of revocation, with opportunity for public comment, must be published before the rule can be overturned. Rules that have only been published as "proposed," or have not yet been published, are not in force and a new administration could simply choose to not finalize or publish them.
Some programs were created through guidance memoranda, agency policy, or operational changes that can easily be revoked or changed by the new administration.
Below is a summary of the status of the executive actions today along with a note of which have been achieved through regulation, agency policy memoranda or policy/operational changes. For a comprehensive summary of the executive actions as announced, please read our previous overview.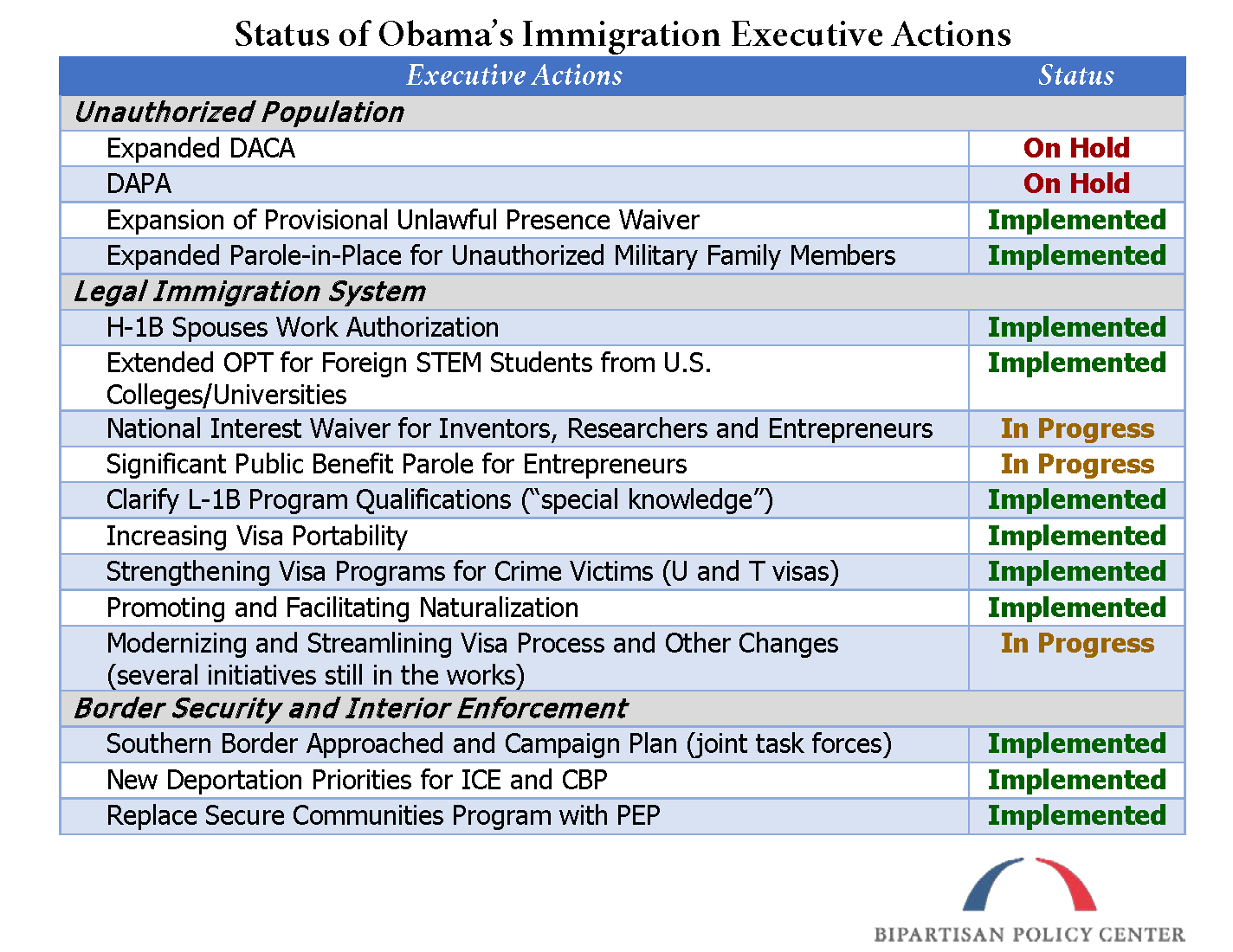 Unauthorized Immigrants


DAPA/Extended DACA


Executive Action | The Department of Homeland Security (DHS) created a three-year deferred action program for unauthorized immigrants whose sons or daughters (of any age, not just children) are U.S. citizens or lawful permanent residents (LPR). The parents must have no serious criminal record and have lived in the country for at least five years, arriving before January 1, 2010. About 3.9 million unauthorized immigrants may be eligible for deferred action under this program. The DACA program was extended to DREAMers of any age (eliminates previous max age of 30). These changes could expand the number of DREAMers eligible for protection by 235,000 to 290,000.
Status ? ON HOLD | While the original 2012 DACA program remains in effect, with now more than 740,000 approved cases, both DAPA and the expanded DACA program remain blocked in the courts after the Supreme Court tied earlier this year on legal challenges brought forward by a group of 26 states. One of the grounds on which the states sued was that the program was not achieved through administrative notice-and-comment rulemaking. (Policy memorandum.)


Expansion of Provisional Waiver Program


Executive Action | DHS sought to extend eligibility for Provisional Unlawful Presence Waivers from the three- and ten-year bar to unauthorized spouses and children of LPRs with an approved immigrant petition. Only immediate relatives of U.S. citizens were previously eligible. At the time, U.S. Citizenship and Immigration Services (USCIS) also pointed out that "there may be instances when the qualifying relative is not the petitioner." This implied that the waiver would also be available to unauthorized immigrants with U.S. relatives who qualify for employment-based visas.
Status ? IMPLEMENTED | In July of this year, USCIS announced the final rule that went into effect on August 29, 2016. As expected, in addition to expanding eligibility to include immediate relatives of LPRs, the rule also expands eligibility for the waiver to foreign nationals that are statutorily eligible for any immigrant visa?immediate relatives, family-sponsored, employment-based, diversity, and special immigrants (refugees and asylees). (Rulemaking)


Expanding parole-in-place for military families


Executive Action | USCIS was directed to issue policies to expand the scope of parole-in-place (another form of temporary protection from removal) for unauthorized family members of persons currently serving or looking to enlist in the U.S. armed forces and. The administration also announced that it would consider deferred action for family members of active or enlisting military who have overstayed their visa or fallen out of status (parole-in-place only applies to unlawful entry).
Status ? IMPLEMENTED | DHS issued a Policy Memorandum on November 23, 2016 clarifying and expanding its use of parole in place and deferred action for spouses, parents, and sons and daughters of military personnel and veterans (alive or deceased), who are also eligible to apply for work authorization. The new policies expanded parole in place from applying to "children" (persons under 21) to sons and daughters of any age. The policy also allows for the use of expanded use of deferred action for military members and their families. (Policy Memorandum)
Legal Immigration System


H-1B spouses work authorization


Executive action. DHS sought to finalize a rule it previously proposed to grant work authorization to spouses of H-1B workers who have been approved for LPR status (green card) through their employer but are waiting on a visa to become available. Previously, spouses of H-1B non-immigrant workers were not allowed to work in the country.
Status – IMPLEMENTED | Effective May 26, 2015, DHS finalized the rule that extended eligibility for work authorization to spouses of H-1B workers with an approved immigration petition. USCIS expects to receive nearly 180,000 work permit applications in the first year, and around 55,000 annual applications in subsequent years. (Rulemaking)


Extended OPT for foreign students


Executive Action | USCIS was called on to extend the time that foreign students in the United States on F student visas in STEM fields have for "optional practical training" (OPT). OPT currently allows all F students to remain in the country for an additional 12 months after graduation for work related to their field of study, and an additional 17 months for students in STEM, for total of 29 months. USCIS also sought to expand the degree programs eligible for OPT.
Status ? IMPLEMENTED | DHS announced the final rule earlier this year that went into effect on May 10, 2016. The rule extends the additional number of months foreign students in STEM fields are allowed to remain in the country after graduation from 17 to 24, for a total of 36 months. Students must have graduated from accredited U.S. universities and be employed by E-Verify-enrolled employers. DHS also proposed a clearer definition of STEM fields according to the Department of Education's National Center for Education Statistics.1 (Rulemaking)


Expanding National Interest Waiver for inventors, researchers and entrepreneurs


Executive Action | USCIS was directed to clarify the standard by which a national interest waiver, which allows certain individuals to apply for a green card without an employer,2 may be granted to foreign inventors, researchers and founders of start-ups to benefit the U.S. economy.
Status ? IN PROGRESS | No clarification or regulation has yet been published to clarify how the national interest waiver would be expanded.


Significant Public Benefit Parole for entrepreneurs


Executive Action | USCIS was directed to propose a new program to grant parole status on a case-by-case basis to inventors, researchers, and entrepreneurs who have "been awarded substantial U.S. investor financing" or "hold the promise of innovation and job creation through the development of new technology or the pursuit of cutting-edge research" but do not yet qualify for the national interest waiver. The rationale was to allow promising entrepreneurs to remain in the country and pursue their economically beneficial projects.
Status ? IN PROGRESS | After conducting "listening sessions" in 2015 and asking for comment and feedback on the proposed parole program for entrepreneurs, DHS published a proposed rule on August 31, 2016 for public comment that would grant up to 5 years of parole to "entrepreneurs of start-up entities whose entry into the United States would provide a significant public benefit through the substantial and demonstrated potential for rapid business growth and job creation." Until finalized, this rule is not in effect.


Clarify L-1B program qualifications


Executive Action | DHS was to issue clarification on the meaning of "specialized knowledge" as it applies L-1B visas, which allow U.S. employers to bring an employee with such knowledge from an affiliated foreign office to the United States. Lack of clear guidance has led to high denial rates (35 percent in 2014). The program has also been subject to criticism that it has been used to transfer employees with little specialized knowledge and replacing U.S. workers.
Status – IMPLEMENTED | After months of listening sessions and public feedback, USCIS implemented a policy memorandum on August 31, 2015 to guide its officers in adjudicating L-1B petitions. The memo combines earlier guidance on the standard and gives further clarification on the meaning of "specialized" or "advanced" knowledge. (Memorandum)


Increasing visa portability


Executive Actions | DHS was tasked with developing new guidelines for working nonimmigrants waiting to adjust to LPR status through an employment-based petition to reduce uncertainty and unnecessary hardships. Current law states that foreign workers waiting for a visa to become available can change jobs only if the new job is in a "same or similar" field as their old job. USCIS sought to clarify "same or similar" to allow for workers to receive promotions or transition without fear of losing their green card petition.
Status ? IMPLEMENTED | DHS published a final rule this November that will go into effect on January 17, 2017. The rule increases job and visa portability for non-immigrant workers and beneficiaries of employment-based green cards. (Rulemaking)


Strengthening visa programs for crime victims


Executive Action | The executive actions sought to strengthen and expand the U and T non-immigrant visa programs3 by strengthening the Department of Labor's (DOL) role in certifying visa requests based on workplace crimes including involuntary servitude and trafficking.
Status – IMPLEMENTED | In April of 2015, DOL's Wage and Hour Division began exercising its authority to certify applications for trafficking victims seeking T visas and added three additional qualifying criminal activities for U visa certification: extortion, forced labor, and fraud. (Policy/operational change.)


Promoting and facilitating naturalization


Executive Action | There are about 8 million eligible LPRs who have not chosen to naturalize for a variety of reasons, including costs. Through a Presidential Memorandum, President Obama created the Task Force on New Americans and directed the interagency task force to "develop a strategic plan to help immigrants and refugees integrate into our communities." USCIS was also tasked with promoting access to U.S. citizenship by considering several steps, including issuing partial waivers of the $680 cost of naturalization depending on levels of income, accepting credit cards to allow applicants to pay over time, and engage in an expanded public awareness campaign through media.
Status – IMPLEMENTED | In April of 2015, the Task Force on New Americans released its strategic plan, Strengthening Communities by Welcoming All Residents. The 70-page report presents 16 goals and makes 48 recommended actions to strengthen the federal government's integration efforts nationwide. Among them are efforts to ensure greater accessibility to naturalization and promoting citizenship. USCIS has begun to accept credit cards and launched citizenship public awareness campaigns. As part of its biennial fee study, it is also evaluating the proposed fee waiver process based on different levels of income. In September, USCIS also awarded nearly $10 million in grants to 40 organizations around the country to help LPRs apply for citizenship. Other recommendations are focused on expanding opportunities for linguistic integration and education and supporting skill development and entrepreneurship. (Policy with some operational changes.)


Modernizing and streamlining visa process and other changes


Executive Action |  A memorandum called on several cabinet agencies to develop recommendations to streamline and modernize immigrant visa processing. USCIS and the State Department were also called on to ensure that all available visas within a given year are used when there is sufficient demand. Lastly, DOL would undertake two additional initiatives: modernize and improve its permanent labor certification program (or PERM) to make sure it is more responsive to labor needs and shortages; and establish an interagency working group to ensure the consistent enforcement of federal labor, employment and immigration laws.
Status ? IN PROGRESS | Per the president's memorandum, the administration released the previously mentioned interagency report on Modernizing & Streamlining Our Legal Immigration System For The 21st Century. The report outlines the legal immigration system modernization initiatives it is undertaking and includes over 30 recommendations to inform the process in the following areas: employment-based immigrant visa issuance, the EB-5 Immigrant Investor Program; international arrivals process for visitors and immigrants; implementing the "Known Employer" pilot program; exchange visitor program; and several humanitarian visa categories. It also calls for efforts to modernize the IT infrastructure of the visa system and digitize forms.
Although many of the proposed initiatives have yet to be officially rolled out, a few have already been implemented. In October 2015, USCIS announced that it had revised procedures for determining visa availability for applicants waiting to file for employment-based or family-sponsored adjustment of status (i.e. waiting for a visa to become available). Aligning the process USCIS uses for applicants applying within the United States more closely with the proactive process that the State Department uses for applicants abroad allows more people in line to file their applications in time.4 The interagency report also recommended that the State Department increase the monthly visa allocation totals during the first three quarters of the fiscal year to ensure that fewer are left at the end of the year and as many visas under the statutory caps are used as possible. (Policy/operational change)
Lastly, after almost two years of reviewing the PERM program and relevant regulations, in October of this year, DOL submitted a draft regulation on modernizing the program to the Office of Management and Budget for initial review.  (Draft rulemaking, not finalized)
Border Security and Interior Enforcement


Border resources


Executive Action | DHS sought to establish three Joint Task Forces as part of a new Southern Border and Approaches Campaign Plan. The new plan aims to strengthen and coordinate efforts to secure the border across relevant agencies and strategically allocate resources along the border going forward.
Status – IMPLEMENTED | Under the plan, three joint task forces were established?Joint Task Force (JTF)-East, JTF-West, and a JTF for Investigations?and each was assigned a commander at the end of 2014. Under one DHS coordinator responsible for the implementation of the JTF model, the task forces direct the combined resources of CBP, ICE, USCIS and the U.S. Coast Guard for their areas of responsibility. (Policy/operational changes)


Deportation priorities


Executive Action | DHS implemented new agency-wide enforcement and removal priorities, which for the first time also applied to CBP in addition to ICE. The new policy replaced the 2011 and 2012 Morton memos, and outlined the following enforcement priorities:
Priority 1: aliens who pose national security threats, convicted felons, gang members and illegal entrants apprehended at the border.
Priority 2: persons convicted of significant or multiple misdemeanors and individuals who entered or reentered this country unlawfully after January 1, 2014.
Priority 3: persons who are non-criminals but have failed to abide by a final order of removal issued on or after January 1, 2014.
The memo also outlines factors that should be considered when exercising prosecutorial discretion, including strong family or community ties and length of time in the country.
Status – IMPLEMENTED | The new priorities went into effect in 2015 and are currently being used by DHS. (Policy/operational changes)


Replace Secure Communities Program


Executive Action | DHS replaced the controversial Secure Communities Program with the Priority Enforcement Program (PEP). Under the new PEP program, ICE will continue to receive the biometric fingerprint information of arrested individuals by state and local law enforcement but will only seek custody if the individual held was convicted of offenses listed the new enforcement priorities above. Additionally, detainer requests will be replaced by two forms:
(1) requests for notification: requests that state or local law enforcement notify ICE of a pending release from custody of a suspected priority removable individual at least 48 hours prior to release; and
(2) requests for voluntary action/immigration detainer: requests that state or local law enforcement maintain custody of the priority individual for no more than 48 hours after the time when they would have otherwise been released; ICE must identify the enforcement priority as well as the basis for its determination of probable cause.
Status – IMPLEMENTED | The PEP program has now been implemented. It has become particularly relevant after the murder of Kate Steinle by an unauthorized immigrant reignited the issue of sanctuary cities. (Policy/operational changes)
---
1 "DHS would define ?STEM field' as a field included in the Department of Education's CIP taxonomy within the summary groups containing mathematics, natural sciences (including physical sciences and biological/agricultural sciences), engineering/engineering technologies, and computer/information sciences, and related fields." Read more. 
2 Under the current EB-2 employment based green-card category, certain individuals may apply for a green card without an employer if they have an advanced degree or possess "exceptional ability" in their field and their admission would be in the "national interest."
3 U and T visas grant non-immigrant status to victims of criminal activity or human trafficking who have suffered abuse and are helpful to law enforcement prosecutions.
4 Read more about the changes: 
Support Research Like This
With your support, BPC can continue to fund important research like this by combining the best ideas from both parties to promote health, security, and opportunity for all Americans.
Give Now
Join Our Mailing List
BPC drives principled and politically viable policy solutions through the power of rigorous analysis, painstaking negotiation, and aggressive advocacy.