United States sets new record for natural gas production
U.S. production of dry natural gas reached the highest levels ever recorded in 2012, according to preliminary estimates released recently by the U.S. Energy Information Administration (EIA). Natural gas production rose to approximately 65.9 billion cubic feet per day (Bcf/d) in 2012, which represents a nearly 5% growth in annual production from 2011.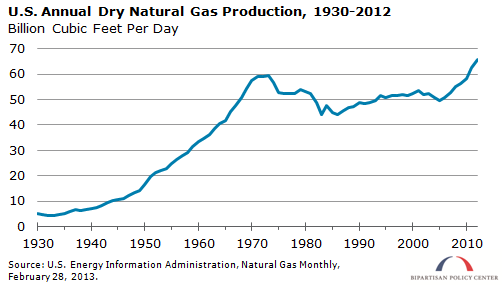 Shale gas represented approximately 39% of total dry natural gas production in 2012, up from 34% in 2011 and just 3% in 2002.?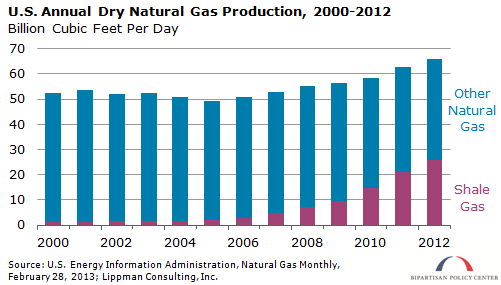 In its February 2013 report, America's Energy Resurgence: Sustaining Success, Confronting Challenges, the Bipartisan Policy Center's (BPC) Strategic Energy Policy Initiative put forward an overarching strategic goal: the U.S. energy system should provide affordable, secure, and reliable supplies of energy and strive for continuous improvement in environmental performance. To achieve this goal, the 20-member Energy Board developed a series of four objectives and over 50 specific policy recommendations.
A number of these recommendations are designed to continue to capitalize on the "good news" energy story of America's surging natural gas production while also ensuring the efficient and environmentally-responsible production of shale gas:
Congress should expand access to oil and gas exploration and production in the Eastern Gulf of Mexico, and the Department of the Interior should accelerate the timetable for leasing areas off the coasts of the Mid- and South Atlantic states?provided that the areas involved have been reviewed and approved based on a rigorous coastal and marine spatial planning process. Stakeholders should work together to identify substantial new acreage in the Eastern Gulf that could be opened to exploration and production in concert with other, ongoing activities, and request that Congress remove the moratorium in these areas; in both the Eastern Gulf and the Atlantic region, we recommend an open, collaborative and science-based planning approach, and we recommend that in conjunction with such planning processes, the Department of the Interior consider reopening its current five-year plan to include at least one lease sale in the Atlantic.
Working with all stakeholders, Congress and the Department of the Interior should improve permitting and leasing for onshore oil and gas production on federal and tribal lands by (1) assuring adequate resources; (2) providing consistent requirements; (3) creating a new commission to identify options for regulatory reforms; (4) creating more litigation transparency; and (5) improving the collection and dissemination of statistics for energy projects on federal lands.
Federal and state regulators should implement the environmental performance recommendations for shale resource development recently issued by the Natural Gas Subcommittee of the Secretary of Energy Advisory Board and the National Petroleum Council.
Interested in reading the report of the BPC's Strategic Energy Policy Initiative? Click here for more information about America's Energy Resurgence: Sustaining Success, Confronting Challenges.
Interested in learning more about shale gas production? Click here to read a report from BPC's Strategic Energy Policy Initiative, Shale Gas: New Opportunities, New Challenges.
2013-03-04 00:00:00
Join Our Mailing List
BPC drives principled and politically viable policy solutions through the power of rigorous analysis, painstaking negotiation, and aggressive advocacy.