Memo: Non-Defense Sequester Mechanics and Economic Effects
Updated July 19, 2012
Rebecca Morris contributed to this post.
Mechanics

Beginning on January 2 of next year, the Fiscal Year 2013 sequester will cut $55 billion from non-defense spending. Of this, $39 billion will come from discretionary accounts. This will:
Amount to an indiscriminate 12-percent cut to almost every domestic discretionary program (with the exceptions of veteran's programs, Pell grants, Indian health, and community and migrant health centers), including grants to states for drinking water infrastructure, rural airports and low-income housing.
Leave agencies unable to eliminate inefficient programs and fund those that are more critical.
Make agencies scramble to determine how the cuts will be made. Sequester cuts will occur at the program, project, and activity (PPA) level, but that terminology is not clearly defined. According to the Government Accountability Office (GAO), the 1980s sequester produced "widespread confusion among agencies in applying the program, project, and activity definitions." As agencies struggle to make sense of the sequester, state receipt of grants could be significantly delayed
The remainder of the domestic cuts will come from mandatory spending:
Most low-income support and income security programs ? which comprise a large portion of the federal budget ? are exempt from the sequester, including: Social Security, federal (including military) retirement, veteran's benefits, Medicaid, the Children's Health Insurance Program (CHIP), unemployment insurance, food stamps (SNAP), and a host of other programs.
Medicare cuts apply to providers and are limited to 2 percent.
Most of these cuts will come from farm programs and other non-exempt mandatory programs.
Economic Effects

Based on Congressional Budget Office data, we project that the non-defense and defense sequester combined could:
Reduce gross domestic product (GDP) by approximately 0.5% in 2013;
Cause more than one million jobs to be lost in 2013 and 2014.
The majority of the jobs lost will be in the private sector.
The amount of services contracted out by both defense and domestic departments has increased significantly over the past few decades.
Further, the majority of the private sector job losses are likely to be in the non-defense sector.
Second-order effects of the cuts will primarily affect non-defense industries: Businesses such as gas stations and grocery stores will bear the loss of consumer expenditures when unemployed workers cut back their spending on out-of-pocket items to compensate for their lost income.
More specifically, according to the Office of Management and Budget, under the sequester:
Approximately 700,000 young children and mothers would lose nutrition assistance.
100,000 kids would lose their places in Head Start, a program promoting school readiness.
More than 25,000 teachers and aides would lose their jobs.
The National Institutes of Health would issue roughly 700 fewer grants to medical researchers.
There would be up to 1,500 grants cut from the National Science Foundation.
Additionally, the Department of Health and Human Services recently stated that with sequestration:
Approximately 80,000 fewer children would receive child care assistance.
Roughly 12,150 fewer patients would receive benefits from the AIDS Drug Assistance Program.
Roughly 169,000 fewer Americans would receive admission to substance abuse treatment programs.
Approximately 14,200 fewer homeless individuals would receive assistance.
Over 2,500 new and competing research project grants at the National Institutes of Health (NIH) and the National Cancer Institute could be eliminated.
The Impacts Are Already Being Felt

Uncertain if the sequester cuts will occur, agencies are unable to effectively plan. Agencies likely will hesitate to implement new programs and start to slow down their obligation of funds.
Due to ambiguity as to exactly where the cuts will fall, program managers are unable to adequately prepare for the sequester's effect on their individual organizations.
Unable to plan accurately, businesses will begin making guesses about where they think cuts will hit so that they can tighten their belts accordingly. In a highly uncertain environment, contractors will have to make personnel, investment, and other significant decisions.
Businesses and government departments must prepare for layoffs in advance and will likely send out notifications shortly before November elections.
The WARN Act mandates that employers with 100 or more employees provide notification 60 calendar days in advance of mass layoffs.
Departments also must give at least 60 days notice of reductions in forces (RIFs) as stipulated by the Office of Personnel Management.
Some states and cities require notification as far in advance as 90 days.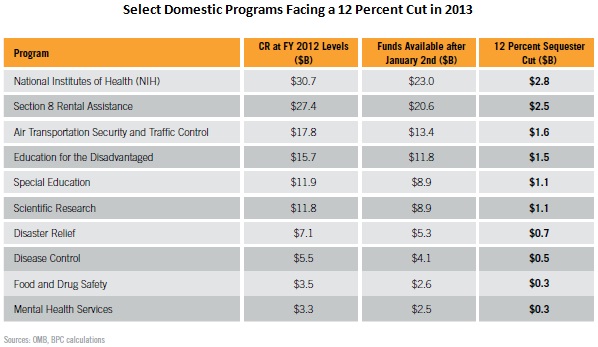 Update
The Coalition for Health Funding is leading a group of nearly 3,000 national, state, and local organizations in bringing attention to the potential impact of the sequester cuts on non-defense discretionary programs. They have urged Congress to avert sequestration by adopting a "balanced approach to deficit reduction that does not include further cuts to NDD programs." Read their letter here.
---
Related Posts
2012-07-19 00:00:00
Non-defense sector businesses will bear the loss of consumer expenditures when unemployed workers cut back their spending