Low Natural Gas Prices Drive Fuel Shifts in the Electric Power Sector
Over the last 30 years, the fuel mix of the U.S. electric power sector has undergone a steady long-running shift away from coal and to natural gas. In the last five years, these shifts have accelerated dramatically as natural gas prices have declined to record-low levels. For the first two months of 2012, coal constituted just 38% of the power sector's generation fuel mix, while natural gas totaled 27%. Five years earlier, coal captured 50% of net generation and natural gas was little more than 20%.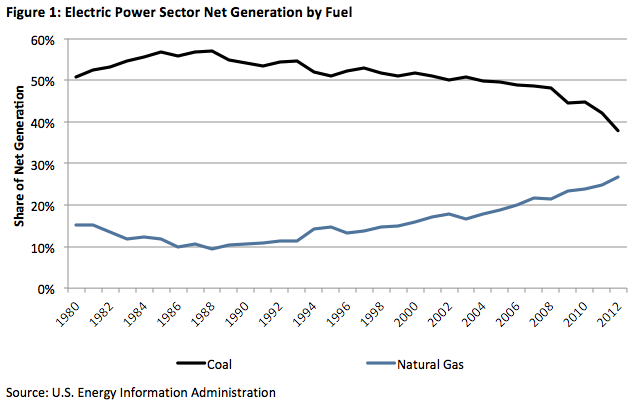 These striking trends are also evident on the disaggregated, utility level. Figure 2 below illustrates the fuel mix breakdown for Southern Company, Tennessee Valley Authority, and American Electric Power, three of the largest coal burning utilities in the U.S. From 2009 to 2011, the percentage of natural gas relative to other fuel sources increased for all three utilities. The trend is particularly pronounced for Southern Company. Southern's natural gas share increased to 42% in January 2012 from only 28% in January of the previous year. Over the same timeframe, the share of coal fell from 53% to 35%.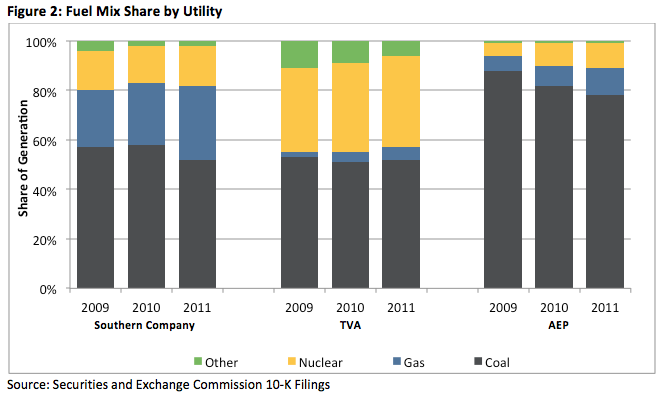 Multiple factors contribute to the changes in the fuel mix of the nation's electric power sector, but it is likely that changes in fuel prices have been the driving force. The discovery and development of previously inaccessible natural gas resources from shale formations greatly increased the domestic supply of gas. With the increase in supply, natural gas prices plummeted, as seen in Figure 3. As the price of gas dropped, natural gas-fired generation became more competitive with coal and is now regularly dispatched, or placed in service, ahead of coal; in March 2012, the natural gas spot even dropped below the price of coal for the first time since 1994.
Gas prices have been low before. In 1994, 1995, 1998, and 1999, spot prices in real terms dipped to levels below $2.50, reaching a nadir in July 1995 at $2.06 (in 2010$). However, there was not as dramatic a change in the fuel mix during those years because of a lack of natural gas capacity in the electric power sector, concerns over natural gas price volatility, and comparatively low coal prices.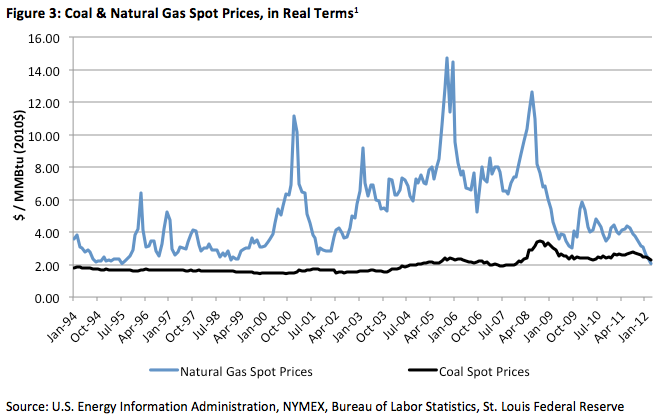 Note: A coal spot purchase represents fuel received under a purchase order or contract with the duration of less than one year according to EIA.
Looking at utility-specific generation costs, the magnitude of the price fluctuations is especially apparent. Figure 4 shows Southern Company's cost of generation for natural gas and coal from 2009-2012. While coal generation costs steadily increased since 2009, the costs of natural gas generation dropped.

In its 2011 10-K filing Southern Company highlighted the connection between relative energy prices and fuel use: "Domestic natural gas prices continued to be depressed by robust supplies, including production from shale gas, as well as lower demand. The combination of higher coal prices and lower natural gas prices contributed to an increased use of natural gas-fueled generating units in 2011." As the price war between coal and natural gas wages on, the fuel mix in the electric power sector is likely to continue to change.
---
Related Posts
2012-06-15 00:00:00
Southern Company's natural gas share increased to 42% in January 2012 from only 28% in January 2011