UPDATE: Layoff Notices Could Wreak Political Havoc Ahead of Election Day
Rebecca Morris contributed to this post.
This post was originally published on July 17, 2012. 
On Election Day this fall, scores of voters may go to the polls only days after being notified of their potential impending layoffs. This is due to a federal law called the Worker Adjustment and Retraining Notification (WARN) Act, which requires private employers with more than 100 employees to send out notifications of plant closings or mass layoffs at least 60 days before the event actually takes place.
While disbursement of WARN notices would be just a small part of the widespread economic damage that the sequester ? automatic cuts in defense and non-defense government spending that are scheduled to begin on January 2, 2013 ? will cause, their timing and visibility could make them politically powerful. 
Amid sluggish economic growth and jobs numbers that continue to disappoint, the sequester could further depress economic growth by 0.5 percent in 2013 and cause the loss of one million jobs in 2013 and 2014, according to our estimates published in Indefensible, a recent white paper from the Bipartisan Policy Center's Task Force on Defense Budget and Strategy. And the majority of these job losses will come from the private sector, as government contracts are cut and laid off employees cut back on spending. Moreover, the Congressional Budget Office has confirmed that the effects are already being felt as businesses are forced to delay decisions on hiring and speculative investments due to uncertainty.
If Congress has not taken action by the end of this year, meaning that the cuts are set to occur and the Office of Management and Budget is forced to detail which specific line items will bear the burden, companies will want to ensure that they have the flexibility to let go of employees whom they can no longer afford as a result of contracts that the government foregoes. 
Certain government contractors have stated that their legal counsels believe that, in order to have that flexibility, the employers must issue notices under the WARN Act. As a result, these companies have announced their intention to issue such notices. And since the WARN Act requires employers to notify any workers who may be laid off at least 60 days in advance, the warnings would have to go out by November 2 if these companies intend to lay off workers on the day that sequestration takes effect. In the context of the weak U.S. economy, individuals and families who are already worried about their financial stability will certainly be unnerved by receiving these warnings of mass layoffs. 
On July 30th, however, the Department of Labor (DOL) issued a legal opinion stating that the WARN Act does not apply to sequester-induced layoffs. Due to the uncertainty of how the cuts will affect individual contracts and employees, DOL has deemed such layoffs to be "unforeseeable business circumstances," which are exempt from the notification law. DOL contends that WARN Act notices must contain specific information that is unlikely to be available in the current uncertain environment. Therefore, according to their reasoning, employers cannot be held subject to the Act in this case.
Despite DOL's guidance, some employers may find it insufficient to make them comfortable that the WARN Act does not apply, as the law is enforced through the district court system. Regardless of the guidance, employees and their representatives, as well as local governments, may file individual or class-action lawsuits if they think an employer has violated the terms. It would then be up to the judicial system to decide whether the specific situation was "unforeseeable" or whether WARN Act notices should have been issued. 
The federal statute states that an employer who fails to provide adequate notice is liable for the back pay and benefits of the laid-off employees for the period of the violation. Additionally, if an employer does not provide sufficient notice to required local government units, the employer faces a civil penalty of up to $500 per day of violation. For most businesses, these potential costs carry a significant risk for delaying notification.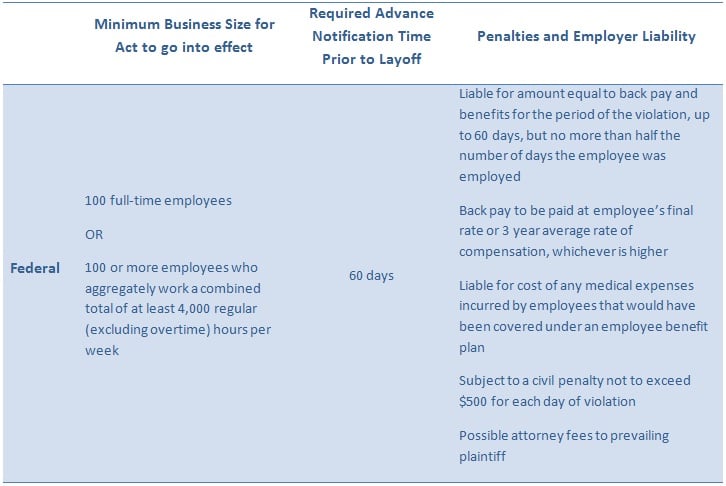 In addition to the national WARN Act statute, employers in many states have to navigate local laws regarding notification of layoffs, but substantial variation among states' statutes in specificity and severity (table below) makes it challenging to compare them. Differences among state laws include the minimum size of the firm to which the WARN Act applies and the advance timing required for compliance. It is important to note that some states, including Illinois, New Hampshire, New Jersey, and New York, will reduce or waive the penalty payments owed under state law if employers are already facing fines under federal law. There are also some states that have suggested guidelines for layoff notices, but those states are not included on the list because they do not do not have their own enforcement measures.
Click here to view a larger version of the chart below.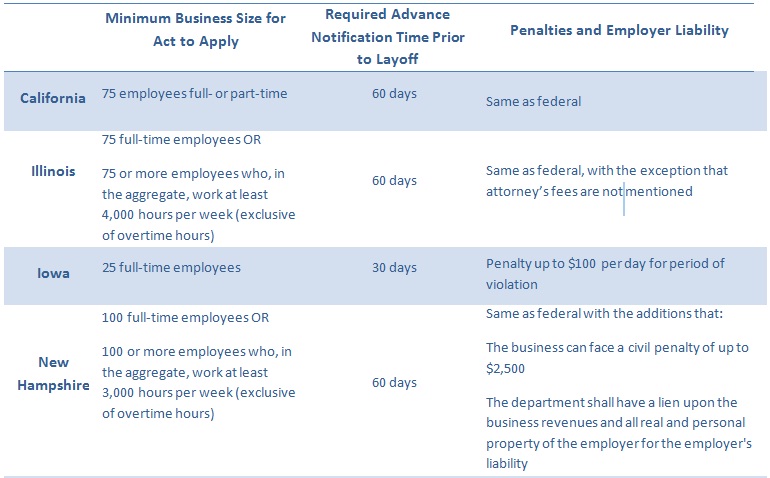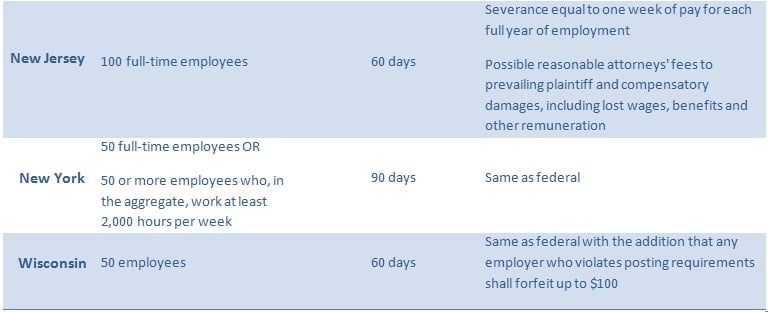 While the WARN Act only applies to the private sector, a similar law from the Office of Personnel Management (OPM) regarding public sector layoffs (which are termed Reductions in Forces (RIFs)) requires that agencies give 60 days of notice to their employees. Therefore, it's likely that by early November, many public AND private sector workers will receive warnings of layoffs as a result of the sequester.
There are two reasons to believe that employers may be liberal with the circulation of their notices. First, as mentioned, businesses will want to maintain flexibility by issuing to all their employees who could get laid off, and the precise decisions may depend on which contracts are affected by the spending cuts. (It should be noted, however, that blanket notices to all of an employer's workers are deemed "not appropriate" by the Act.)
Furthermore, employers wishing to pressure policymakers to overturn the sequester have an incentive to exaggerate the impact (and thus the political pushback) by including as many workers as possible in the mire. In fact, the notices may rightfully point to the federal government, in particular, as the cause of the uncertainty. If incumbent lawmakers fail to remove the threat of the sequester, they will bear the burden of anxious and frustrated voters who will cast their votes with their uncertain economic futures in mind.
If members of Congress wish to avoid this potential political nightmare, they should begin working across party lines to formulate a plan that sidesteps the impending fiscal cliff and instead puts in place a strong process that will force deficit reduction in the next congressional session. Though politicians may differ on their policy preferences, there is no excuse for exacerbating the U.S. economic malaise because of a refusal to compromise. It's time for Congress to show the world that it can still deliberatively and effectively address our most pressing and immediate problems.
This post was updated on July 30, 2012, to reflect the newly-issued guidance from the Department of Labor on the WARN Act as it applies to sequestration.
In the News
The Washington Post: As ?fiscal cliff' looms, debate over pre-Election Day layoff notices heats up
---
Related Posts
2012-07-30 00:00:00
There is no excuse for exacerbating America's economic malaise because of a refusal to compromise