Governor Nathan Deal and Mayor Kasim Reed Working Together to Bring Jobs to Georgia

Nathan Deal is the Republican Governor of Georgia. Kasim Reed is the Democratic Mayor of Atlanta, Georgia's largest city. Thankfully for the citizens of Georgia and Atlanta, Deal and Reed have created their own model for achieving positive results for their constituents by working together.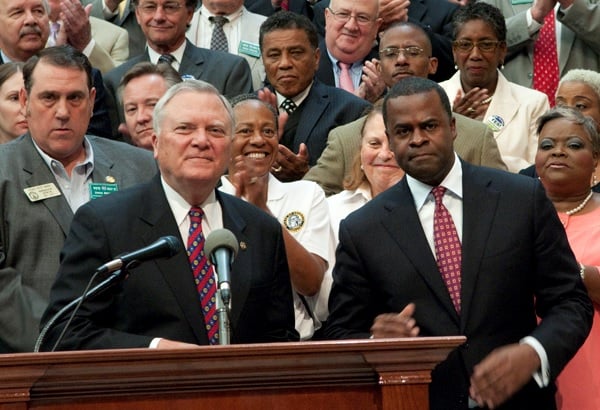 Governor Nathan Deal (left) and Mayor Kasim Reed l Photo credit
Practical Leadership

Whether it is on securing federal approval for deepening the Port of Savannah, reforming Atlanta's public schools or keeping Porsche from moving its headquarters to another state, the two unlikely allies have found success working as a team.
Putting People Above Party

Deal has said about their relationship "I know that Atlanta is our state's most important economic engine. Mayor Reed knows what's good for Georgia and the metro region is good for the City of Atlanta. We have mutually beneficial goals, namely bringing good jobs and maintaining a high quality of life for our constituents. We're more effective working together than working separately. We've tag teamed on attaining federal funding for the Port of Savannah, luring new industry to the region and finding transportation solutions. Our working relationship has led to a friendship and trust. We don't focus on where we differ. How would that help Georgians? We focus on our common ground, and we know how that can help Georgians."
As for Reed, he publicly commends the governor for his steady hand for showing leadership in the moment. Mayor Reed explains their approach, "If you are not going to accomplish as much as you can because the person sitting across the street is from a different party, you're eliminating one-third of what you can do."*
Mayor Reed will face voters again this November and has received donations from officials in the Deal administration and that of his predecessor, Republican Sonny Perdue. Such cross-party support epitomizes what our country needs more of ? leaders willing to support other strong leaders regardless of their party affiliation.
As noted by the Atlanta Journal Constitution's editorial board, "what's most important is their work to create greater economic opportunity and a better quality of life for all Georgians. Deal and Reed have set a good example. It's up to us to support and turbocharge their work."**
Regardless of your party, Reed and Deal should be commended for their ability to reach across the aisle to find solutions for the people of Georgia.

There is much Washington decision-makers can learn from their state and local counterparts. The 50 State Solutions series offers examples of bipartisan leadership in the states with the hope that some of it will rub off on our D.C. representatives, and provide examples for Washington to follow. Please suggest examples in your own community of state and local officials from both parties working together to get things done for you. Use the hashtag #50StateSolutions on Twitter.
2013-06-03 00:00:00