Comparing Projections of Future North American Oil Production
For much of the four decades between 1970 and 2010, U.S. crude oil production was steadily declining, after reaching a historical high of 9.6 million barrels per day (MBD) in 1970. Over the past several years, however, the tight oil boom in the United States, along with the development of Canada's oil sands, has reversed that trend ? increasing the production outlook not only for the United States, but for North America generally. These developments, and how they modify expectations for the future, are reflected in several major modeling studies, including the U.S. Energy Information Administration's (EIA) Annual Energy Outlook (AEO) 2014 Early Release.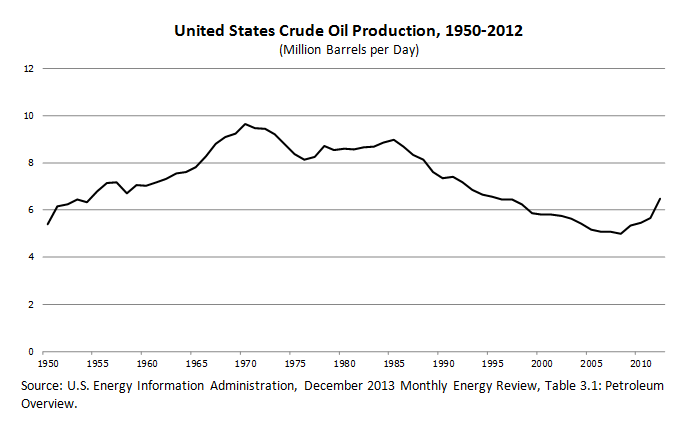 This blog post compares EIA's most recent projections ? for the United States, Canada, and Mexico/Chile (the OECD countries in the Americas) ? against projections from the International Energy Agency's World Energy Outlook 2013 (IEA WEO 2013) and the Organization of Petroleum Exporting Countries' 2013 World Oil Outlook (OPEC 2013 WOO).1 Although these organizations' projections are generally in agreement regarding the course of oil production in the OECD Americas through the year 2035, the OPEC figures show some noticeable deviations, and particularly for the United States and Canada.
As seen in the graph below, EIA's estimates for the United States ? and therefore for OECD Americas ? are the most optimistic of those presented. EIA anticipates continued strong growth in U.S. petroleum and other liquids production over the next decade,2 and in fact, its projections show that ? by 2016 ? U.S. crude oil production will come close to the historical high set in 1970.3
EIA's expectations regarding domestic liquids production increased significantly between AEO 2013 and AEO 2014. In the latest release, EIA estimated the ultimate recovery of tight oil using county-level data.4 EIA states that, "after accounting for infrastructure constraints and general development patterns, oil and natural gas resources in ?sweet spots' are developed earlier than lower quality resources, based on net present value."5 This intensified pace of oil-directed drilling in the near term, combined with ongoing technological advancements and continued fast growth in tight oil production, combine to yield the changes between AEO 2013 and AEO 2014 seen below.6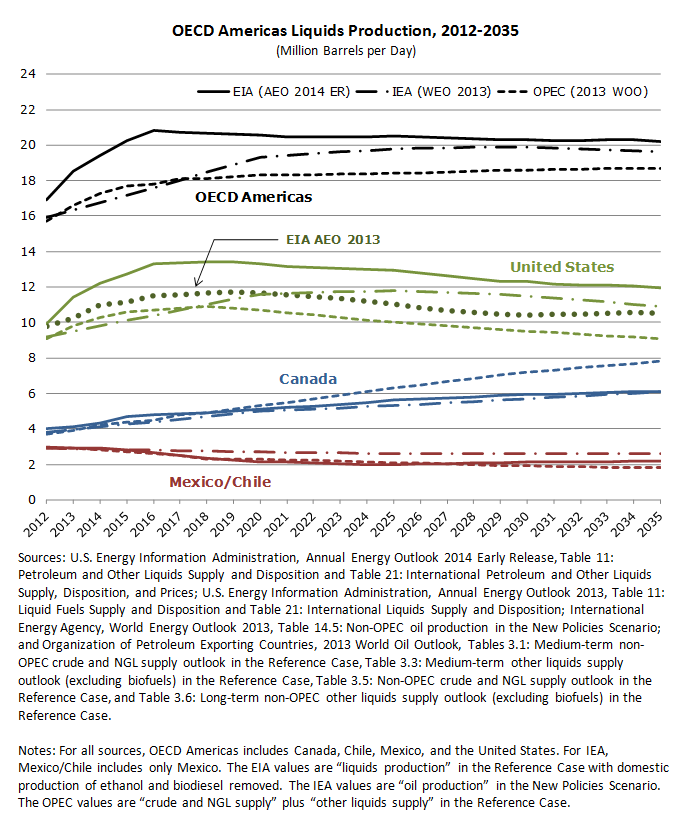 In contrast, OPEC's projections for the United States are significantly lower than those from the other organizations. The difference with EIA's figures is largely a result of EIA's significant upward revision to its estimates since AEO 2013, as discussed. Although such a difference is not present between the OPEC and IEA figures in the near term, these projections diverge in the later part of this decade and remain separated throughout the remainder of the projection period. For instance, between 2025 and 2035, the OPEC figures are, on average, approximately 1.9 MBD lower than IEA's (and about 2.8 MBD lower than EIA's). Notwithstanding the significant changes in EIA's outlook, these differences are also partially due to OPEC's view that "the rapid acceleration of tight oil supply in the US?is not thought to be sustainable over the long term."7 OPEC predicts that the largest increase in supply has already occurred and that production will plateau sometime in the later part of this decade.8 In a general way, these differences in projections highlight the uncertainty surrounding the long-term production prospects of tight oil resources, and reflect the relative youth of an industry that is still rapidly expanding.
On the other hand, OPEC's projections for Canada closely mirror those from EIA and IEA for the years leading up to 2020, but then increase significantly through 2035, resulting in a difference of about 1.7 MBD by the end of the projection period. At the same time, OPEC notes that a key factor in oil sands growth is transportation infrastructure,9 and acknowledges that environmental challenges may adversely affect production potential.10
Although all three organizations present similar projections for Mexico/Chile, these numbers may already require upward revision. As the Bipartisan Policy Center (BPC) described in a recent blog post, Mexico opened its oil industry to competition and to private sector investment for the first time in 75 years. Mexican President Enrique Peña Nieto estimates that the country's oil production could grow to 3.5 MBD by 2025 ? an increase of about 1 to 1.5 MBD compared to the 2025 estimates in the graph.
In all, despite the differences between these projections, it's clear that the prospects for North American oil production have changed substantially in the past several years. A continued increase in North American oil production will have an important economic impact on the region, while also shifting the geopolitical dynamics of oil and natural gas on a global scale. And as these projections and recent developments indicate, we can expect that tight oil, oil sands, and Mexican oil production will continue to be transformed over the next decade.
For more information, see BPC's blog post "Mexico Moves Forward with Energy Sector Reforms" and BPC's discussion series on "The New Geopolitics of Petroleum and Natural Gas."
---
1 Note that IEA presents data for the years 2012, 2020, 2025, and 2030, and as such, the intermediate years in the graph are linear interpolations of the given values. This causes a straight-line effect that is particularly noticeable for the United States and OECD Americas between the years 2012 and 2020.
2 EIA's definition of "liquids" includes petroleum, natural gas liquids, biofuels, and liquids derived from other fossil fuel sources, such as coal-to-liquids and gas-to-liquids. For this post, biofuels have been removed from EIA's figures to make them comparable to the values given by IEA and OPEC.
3 For more information, see: U.S. Energy Information Administration. "Increased tight oil production, vehicle efficiency reduce petroleum and liquid imports." Today in Energy. December 16, 2013. http://www.eia.gov/todayinenergy/detail.cfm?id=14211.
4 See page 5 of: U.S. Energy Information Administration (EIA). Annual Energy Outlook 2014 Early Release Overview. http://www.eia.gov/forecasts/aeo/er/pdf/0383er%282014%29.pdf.
5 Ibid, footnote 11 on page 5.
6 Ibid, pages 12 and 13.
7 See page 130 of: Organization of Petroleum Exporting Countries (OPEC). 2013 World Oil Outlook. http://www.opec.org/opec_web/en/publications/340.htm.
8 Ibid, page 130.
9 Ibid, page 127.
10 Ibid, page 134.
2014-02-19 00:00:00
The expectations of three organizations reflect both consistency and uncertainty regarding the future course of oil production in the region
Join Our Mailing List
BPC drives principled and politically viable policy solutions through the power of rigorous analysis, painstaking negotiation, and aggressive advocacy.