Biometric Entry-Exit Update: CBP Developing Land Border Process
Share
On May 3, 2016, U.S. Customs and Border Protection (CBP) invited several think tank policy experts to tour their pilot of biometric exit technology at the Otay Mesa port of entry in California. The pilot program, which has been running since February, is seeking to evaluate various biometric and biographic collection technologies to record the departures of pedestrians who regularly use the crossing.
While a requirement for a biometric entry-exit system has been in law for over a decade, it is not yet a reality. Many reasons for the long gestating development have been documented in BPC's 2014 report Entry-Exit System: Progress, Challenges, and Outlook, including the technological, operational, and cost challenges of creating exit systems and infrastructure where none exist today. However, many critics, especially in Congress, simply accused the Department of Homeland security of dragging its feet. In 2013, Congress assigned the mission of developing this system to CBP within the Department of Homeland Security in hopes of jump-starting progress, and the agency has been pushing full-speed ahead in evaluating not just technologies, but operational concepts, to deploy biometric exit capability at air, sea, and land borders.
As documented in BPC's report, the major operational, logistical, and technical challenge in implementing exit capability at our ports has been the land borders. Unlike airports and seaports, the land border environment is not physically controlled, there is no means to get advance information on who is arriving, and the sheer volume of travel?both vehicular and pedestrian?creates challenges in any system to not further exacerbate delays. While biometric exit for land vehicular traffic is still in the "what if" stage, CBP is moving ahead and piloting systems and technology to use with the large population of pedestrian crossers at the U.S.-Mexico border.
San Ysidro Port of Entry, Vehicle Processing. Source: CBP. Photo by Josh Denmark
As part of the tour we first stopped at the San Ysidro port of entry. San Ysidro is considered the busiest border crossing in the world, with approximately 50,000 vehicles and 20,000 pedestrians entering the United States each day from Tijuana, Mexico. At this port of entry, hundreds of pedestrian crossers line up at a time under tents in Mexico before being admitted to the large pedestrian processing facility to be inspected by CBP officers.
Pedestrians entering the Port of Entry at San Ysidro from Mexico. Photo courtesy CBP Flickr.
In an effort to manage the flow of people, the lines in the facility are segregated not by citizenship, but by type of document presented: trusted traveler cards (SENTRI is the program at the U.S.-Mexico border); radio frequency identification (RFID) enabled travel documents (such as passport cards, modern green cards, and Border Crossing cards issued to Mexican nationals), and none of the above. This last category represents about a third of the travelers, and most are persons claiming United States citizenship, but who do not have a passport or other approved travel document. On a daily basis, this group may present everything from tattered paper birth certificates, to, as we witnessed during our tour, a credit card. In developing any process to collect biometrics on entry or exit, it is this last population with "non-compliant documents" that presents the greatest challenge.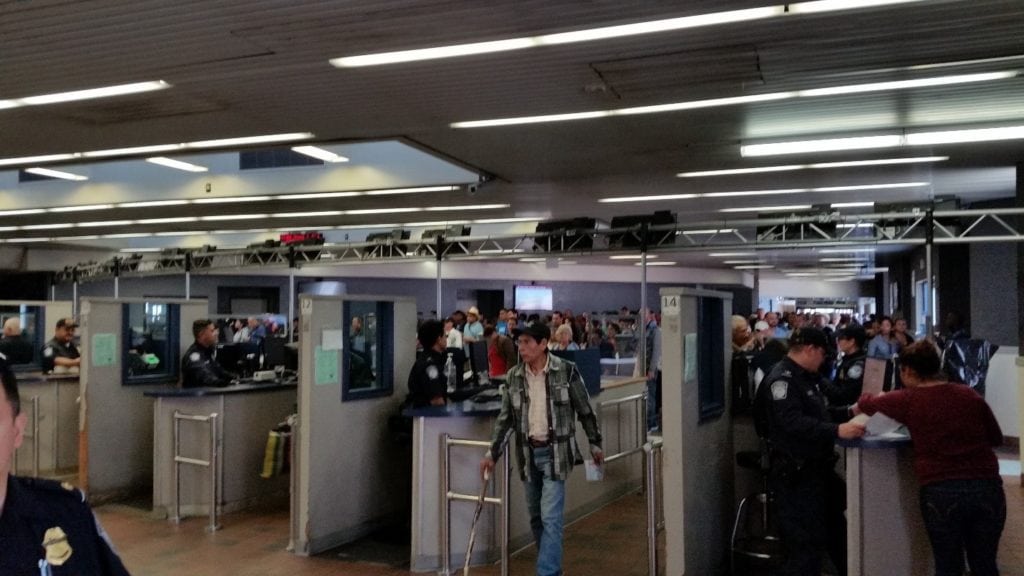 San Ysidro Pedestrian Primary Processing, photo courtesy CBP.
In comparison, at the Otay Mesa facility, just a few miles to the west, CBP is using biometrics to register crossers on entry, locking in their identification for future crossing purposes. When entering the processing facility, pedestrian travelers place their machine-readable documents on a scanner, and for a few seconds are instructed to look at a camera which captures a facial recognition image and an iris scan. These biometrics are matched with the document to establish an enrolled identity. This can help facilitate future crossings for those without specific travel documents, since their biometrics can help establish their identity and authorization to enter.
CBP Officials assist pedestrian with biometric kiosk at Otay Mesa, CA Port of Entry. Photo courtesy CBP.
Under the exit pilot, when departing via the pedestrian exit port at Otay Mesa, a series of test technologies have been used to try to also capture a biometric and match it to the traveler's entry. Three types of technologies were being evaluated. First, for those with RFID documents, so-called "on the move" biometric capture would attempt to scan the face and iris as the traveler walked through a gate while facing a stationary camera, but without having to stop, much like breezing through a toll booth with an EZPass. Second, also for RFID-enabled document holders, was a "pause and look" technology that required the individual to pause for three to five seconds in front of a camera to capture the image. Lastly, for those without RFID documents, the same kiosks that were used on entry could be used to read the machine-readable documents and capture the biometrics.
Pedestrian Biometric Exit Pilot, Otay Mesa, CA. Photo courtesy of CBP. "On the Move" biometric capture on the left, "pause and look" capture in the center and kiosks to the right.
While each technology has its benefits and challenges, the key is to determine which most accurately captures the necessary biometrics that can be accurately matched with entry data, and with the shortest processing time for the traveler. Each of the options is impacted by many factors: the environmental conditions, the compliance of the travelers, and traveler behavior. For example, during the pilot test, the evaluation team put a large canopy over the equipment area to protect from the hot sun. However, over the course of the three months, the position of the sun in the sky moved so that the canopy would have to be repositioned. Also, CBP did not initially take into consideration the amount of baggage and other possessions carried by the average pedestrian border crosser. Everything from large shopping bags and rolling cases and carts to bicycles have to be accommodated, and can impair the individual from accessing their travel documents and allowing the systems to scan them. Travelers trying to stow their travel documents after presenting them may often not look up at the cameras, and therefore their biometric data might not be collected. These and other operational challenges have to be taken into account when designing any final system.
On the enforcement end, CBP is also evaluating what they can learn from this new exit data. CBP analysts see potential in discerning travel trends that could indicate possible criminal activity. For example, persons who entered very recently before their departure may be couriers for money or guns moving south into Mexico. While not dispositive of wrong-doing, this kind of information can provide officers with grounds to examine a traveler more closely, and is regularly used on entry.
Overall, the tour clearly demonstrated CBP's commitment to finally developing a viable exit solution in at least this land border environment. With the data collected from this pilot and additional testing, they will be able to develop a plan and cost-model to present to Congress. While land vehicle processing may still be a long way off, this does represent the most progress in tracking exits at the land border since the requirements were put in place in 1996.
Support Research Like This
With your support, BPC can continue to fund important research like this by combining the best ideas from both parties to promote health, security, and opportunity for all Americans.
Give Now
Join Our Mailing List
BPC drives principled and politically viable policy solutions through the power of rigorous analysis, painstaking negotiation, and aggressive advocacy.