Committee for Economic Development: This Way Down to a Debt Crisis
?Senior Vice President and Director of Research Dr. Joe Minarik of the Committee for Economic Development was the leading author of "This Way Down to a Debt Crisis." Minarik served as a member of the BPC's Debt Reduction Task Force. The BPC is proud to feature CED's report because it is instructive in thinking about how a debt crisis could occur.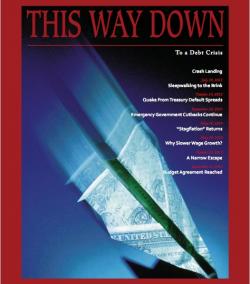 A report summary from CED's website:
"This Way Down to a Debt Crisis" outlines several "alternative futures" — the potential consequences of, and a possible political solution for, a U.S. debt crisis — as they might occur, through hypothetical news articles. Although these articles are of course fictitious, and include fictitious characters to illustrate the human consequences, they are based on sound economics and finance. Because the future is unknowable, it is by no means certain that any one of these scenarios will occur as described. In fact, the future is highly likely to surprise us in many respects. However, CED believes that these scenarios reflect well the serious outcomes of continued policy failure in the stewardship of the federal budget." Read the full report here.
report
2011-03-16 00:00:00
3602
Join Our Mailing List
BPC drives principled and politically viable policy solutions through the power of rigorous analysis, painstaking negotiation, and aggressive advocacy.