Remarks of General James L. Jones, USMC (Ret.)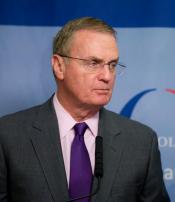 Senior Fellow and Energy Project Co-Chair, Bipartisan Policy Center
The Washington Post ? Smart Energy Conference
November 3, 2011
Good afternoon. I would like to thank the Washington Post for organizing this important forum and for the honor of speaking with you today?a special thanks to Mary Jordan for her leadership and labors in bringing us all together.
I'm particularly grateful to share this time with each of you. There's a world of expertise and experience in this room; exactly the kind of intellectual capital the nation must devote to the complex energy challenges that will so greatly shape the quality of our future?not just America's, but all of mankind. Thank you ? each of you ? for being here and for all that you do.
Despite bipartisan agreement on the need for conceiving and implementing a comprehensive, strategic, and effective energy policy?and I underline those three adjectives?it remains an imperative that has eluded our country for far too long.
America's energy policy today is largely the result of piecemeal attempts over five decades to answer tactical questions and respond to contingencies and short-term market fluctuations. It is not, as it must be, the product of an incisive strategic concept of long-term energy security and how best to achieve it by deftly using all of the appropriate assets in our national toolkit.
Key issues bearing on America's mix of energy sources and the reliability, affordability and sustainability of powering transportation and the utility sector have been treated piecemeal and typically in the heat of the political moment?moments usually triggered by supply disruptions and spikes in the price of oil. Too often the nation's attention and our political appetite for action has waxed and waned with crisis, at the expense of the broad, concerted, consistent, and goal-oriented energy strategy we require.
Despite our historically spasmodic attention, we can take heart in the fact that energy policymaking in the U.S. has often transcended partisan lines, including the 2005 and 2007 energy bills that passed Congress with overwhelming bipartisan support. This is in part because the economic, environmental, and national security implications of energy insecurity and dysfunction are so compelling. What we continue to lack is not the impetus for action, but strategic clarity, a long-term plan, and policies that will get us where we want to go.
America needs a strategy that adroitly and holistically deals with the complex matrix of inter-related energy issues?one based on the fundamental understanding that energy underpins our nation's economic vigor and national security. In practically every Congressional session over many years a raft of "energy bills" are introduced, and from time to time one even passes. I would suggest this routine is itself evidence we have not yet succeeded in being particularly strategic, visionary, long-term, or successful in our approach.
I don't pretend to have all of the answers on what would constitute the most effective U.S. strategy for achieving U.S. energy security, but my experience suggests that a number of specific components need greater emphasis than they currently receive. This is particularly true if we are to have an energy policy that supports economic growth and competitiveness, is low-carbon and sustainable, and efficiently utilizes the multiple energy sources that are available to us.
First, it seems clear that we are under-investing in energy innovation and technology development. Our nation has enjoyed unparalleled success as innovators across a wide spectrum of fields and disciplines?in defense, health, agriculture, communications, and information technology; but we have not undertaken and sustained an innovation campaign in energy commensurate with the national priorities at stake.
Private energy companies invest far less to create new technologies than other industries, partly because the scale of investment is so massive?hundreds of millions and often billions of dollars?and many times doesn't realize returns for years. For these and other perfectly valid reasons, American private sector energy R&D investments constitute only a tiny portion of total energy sales?approximately 0.4 percent per year?in contrast with more than 20 percent of sales in pharmaceuticals, 11 percent in aerospace and 8 percent in computing and electronics.
Unfortunately, the public sector is not taking up the slack, even though there is broad agreement that R&D is a legitimate, in fact, fundamental governmental role. Federal investment in new energy R&D has been as anemic as the private sector ?hovering around $3 billion annually over the last several years? compared with roughly $30 billion that the U.S. government spends annually on health research and $80 billion on defense R&D. Simply put, we are not investing sufficiently to create the new generation of breakthrough technologies capable of producing and efficiently using cheap, abundant, clean energy central to long-term US economic growth and security.
This must change. It is in the vital economic and security interests of the United States to significantly increase our investment in energy technology breakthrough now and over the years ahead. The good news is that America has the best research universities, private and government laboratories, and scientists and engineers. No country is nearly as well placed to create and use these advances.
I have been working with Bill Gates and former Lockheed Martin CEO Norm Augustine?along with a number of other corporate leaders?to underscore the critical importance of creating a powerful and efficient federal energy innovation system. This group, the American Energy Innovation Council (AEIC) recently released its second report: Catalyzing American Ingenuity ? The Role of Government in Energy Innovation. Drawing on their wealth of experience in the private sector, these business leaders outline key steps that the government must take to better the public-private sector interaction necessary to fill the energy innovation pipeline. Even in these challenging fiscal times, the group notes that supporting innovation is an imperative long-term investment to be embraced, not simply a cost to be avoided, and recommends reforms to improve the effectiveness of federal support.
DOE has made some important advances here, focusing basic science programs on technology challenges with high economic and environmental returns and, thanks to bipartisan legislation passed in 2007, creating ARPA-E, a nimble, independent arm of DOE, modeled after the Pentagon's successful DARPA program and focused on fostering game-changing technology. But more must be done. DOE must create new structures with even greater power to leverage investment for faster, greater progress?like the Senate-proposed Clean Energy Deployment Agency, an independent, accountable agency helping the private sector to commercialize advanced technologies? that wall off decisions from injurious political influence.
Innovation is the key to increasing and diversifying our energy supply, and using it more efficiently?and "smartly"?if I may borrow a word from your forum. Innovation, such as three-dimensional seismic imagining and horizontal drilling, has enabled us to access greater reserves of oil here at home; and technological advances have provided the key to unlocking a vast domestic supply of unconventional gas resources, which has the potential to provide cheap and cleaner energy for much of this century. And using natural gas for long-haul trucks and buses and perhaps for electrification of transport suggests that a mix of traditional fuels and new technologies can reduce our imports of oil and eventually overall oil reliance, as well as the size of our carbon footprint
Of course, petroleum will continue to be the dominant supplier of transportation fuels for some time. But recent trends in the U.S. domestic production of oil, which has increased in the last few years for the first time since the 1970s, along with significant supplies coming from Canada and Mexico, means that we are increasingly less dependent on supplies from less stable regions. Beyond increasing and diversifying our oil resources, the U.S. must continue to develop alternative transportation fuels to achieve the higher levels of security and reliability derived from a diversified energy mix.
Though scientific advancement and innovation can help us develop new sources of energy and extract more from domestic sources, we know that a focal point for achieving energy security must be far more efficient use of transportation fuel and electric power. According to the Energy Information Agency (EIA), world energy consumption will grow by over half between 2008 and 2035. Meeting this demand will be a global challenge of enormous magnitude.
There is good news on this front: energy consumption in many countries would have been 63 percent higher in 2006 without the energy efficiency investments that have already been made. Moreover, driving energy efficiency in the U.S. has been a bipartisan effort in the past few years, as my colleagues at the Bipartisan Policy Center's Energy Project Senators Byron Dorgan and Trent Lott note in a recent op-ed. The Senators point to fuel economy standards as one important example: in 2007, President Bush signed legislation to increase fuel economy standards for the first time in 17 years. President Obama's recent decision to increase these standards for cars and light trucks for Model Years 2017-2025 will advance these efforts. In part due to better efficiency and more domestic production, the Department of Energy found that "U.S. net imports [imports minus exports] of petroleum products plummeted in 2010 to their lowest level seen in the data history that begins in 1973." We can build on this success regarding oil use efficiency, and also redouble efforts to improve energy efficiency in the rest of our economy.
An example in the residential sector is the Department of Energy's 2006 standard for new central air conditioners that will save 42 quadrillion Btus by 2030; savings from air conditioner standards dating back to the 1980s total 6,000 MW. Other appliance efficiency standards adopted during and after the Reagan years also reduced peak power demands this summer ? taken together, the savings now exceed 60,000 MW.
But additional cost-effective gains in efficiency are waiting to be made in residential and commercial buildings and the industrial sector. Yet, the United States lacks a cross-sectoral national energy efficiency strategy. Meanwhile, countries like China, France, Germany, Italy, Japan, the UK and Russia move forward with aggressive and comprehensive measures to meet economy-wide efficiency targets. China has made efficiency a major component in the energy component of its 12th "five year plan." It is clear that the United States must reexamine its toolkit for driving energy efficiency across the economy in order to create a clean, efficient and abundant domestic energy system, and to develop the energy efficient products, service, and processes that will be much in demand across the globe. Such tools might include standards, taxes, and innovation policy, among others, and specific policies should be tailored to address discrete technological and economic challenges in all sectors of the economy.
Clearly, some leaders on Capitol Hill are getting the message. The Energy Savings and Industrial Competitiveness Act introduced by Senators Portman and Shaheen is another example of a balanced and bipartisan package that seeks to both increase U.S. energy supplies and ensure the efficient use of those supplies. The Shaheen-Portman legislation is a package of policies that represents a comprehensive, economy-wide energy efficiency strategy aimed at unleashing entrepreneurship.
Such approaches are not a moment too soon. By some estimates we are headed from today's $65 trillion global economy to a $130 trillion global economy in two decades. We are quickly moving from a world of over one billion cars to two billion cars. Hundreds of millions of people are rising out of poverty abroad demanding a better life ? and this means using a lot more energy. The economic, environmental, and national security implications of this global transformation are daunting. While it poses many risks and potential tensions that we must foresee and address wisely and proactively; it also poses unprecedented opportunities.
A modern energy system and innovation in the energy sector are not just a means of fostering America's energy security; they are central pillars of U.S. economic competitiveness. Reliable and affordable energy supply is a major factor for job creators when deciding where to invest, locate, and hire among a world of alternatives in a borderless global economy. And the global market for energy saving products and services will be a major source of employment and national income for those who can get them to market first. We must not lose sight of these realities as we examine research and development investments in determining how best to repair the dysfunction in our national budget?a fix that depends most of all on economic growth.
Finally, if we are to achieve these national imperatives, I believe among our highest priorities must be reevaluating and reforming how the Executive Branch is organized to develop and execute energy policy. Our apparatus as currently conceived has no central mechanism to articulate, coordinate, and be accountable for energy policy strategy and goals. This, in part, is due to the multitude of Federal agencies and Congressional Committees affecting or holding jurisdiction over the energy picture. I would argue that a more central coordinating mechanism is necessary to sustain progress over time?and, importantly, across Administrations and Congresses. Absent more coherent and effective coordination, energy policies will continue to be fractious and ad hoc, and?importantly?less subject to disciplined scrutiny to ensure they are effectively serving long-term strategic objectives and national interests.
My tenure as National Security Advisor reaffirmed my belief in the imperative of coordination?the art of conducting the symphony of agencies and players to achieve overarching strategic goals that transcend agency stovepipes and programmatic turf. That's the approach we need every bit in energy security, as we do in national defense.
Difficult decisions and tradeoffs are inevitable in a strategic approach to energy policy. But if our government is not organized to make and implement policy-decisions in an intelligent and coherent fashion?one that accounts for diverse perspectives and is guided by a clear apprehension of our priorities; and if we are not consistent, vigorous, and agile, in implementing our strategy?we will not deliver the energy security our nation needs to prosper and thrive in the 21st Century.
Today's conference is an important step in the right direction. Convening expert groups like this to discuss smarter uses of energy will undoubtedly yield important insights and outcomes. You have already addressed efficiency in the residential and commercial sectors, and I understand that you will take on transportation next.
I look forward with great eagerness to the lessons learned from your deliberations and discussion in my capacity as co-chair of the Bipartisan Policy Center's Energy Project. I know we will benefit from your experience, wisdom, and counsel.
Thank you again for allowing me to address you and for your service to one of the great causes of our young, highly challenging, but opportunity-filled century.