Nearly 80% of Eligible Voters Don't Participate in Primaries
Washington, DC – Primaries are a critical piece of American elections, and yet year after year, voter participation in primaries remains dismally low.
As a follow-up to previous work on primary turnout, the Bipartisan Policy Center's Structural Democracy Project released a new report, 2022 Primary Turnout: Trends and Lessons for Boosting Participation, comparing primary turnout in midterm years. According to the report, turnout of all eligible voters in 2022 primaries was 21.3%, up from the previous four cycles yet still far short of the national targets of 30% turnout by 2020 and 35% by 2026 set forth by BPC's Commission on Political Reform.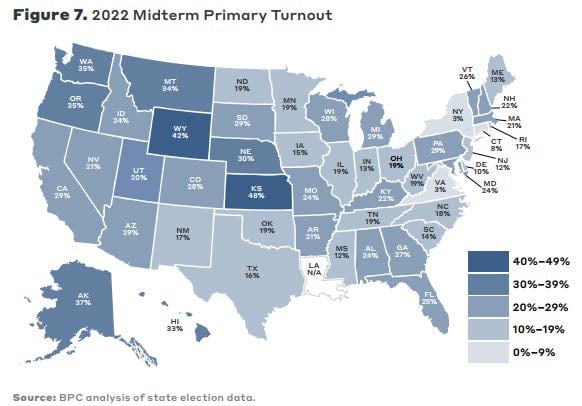 Two of BPC's recommendations for increasing primary election turnout, opening primaries up to all voters and consolidating primaries on a few dates, show promise. For example, states that switched to more open primary systems saw an average turnout of 24.5%, compared with 21.5% for states with semi-open primaries and 20.7% for states with closed primaries. Adopting more recent innovations—like California and Washington's top-two or Alaska's top-four primary system—leads to an average participation boost of around 3 percentage points, equating to 16% higher turnout. Regarding consolidated primary dates, the analysis concludes states that hold their primary on the same day as neighboring states increases turnout by nearly 2 percentage points.
"Primaries hold significant implications for governing and more importantly, bipartisanship. If we're going to make America's democracy more responsive, attention needs to be paid to the lagging voter turnout of the last two decades," said Structural Democracy Director Michael Thorning. "Policymakers must take steps that will better engage potential voters in selecting the leaders that make decisions on their behalf."
While there has been some increase in primary turnout, more can be done to further primary participation. Combining state and federal primaries would focus voters' attention on one set of primaries, provide voters with a greater reason to head to the polls, and increase convenience. Primary turnout in Mississippi, New Jersey, New York, and Virginia lags due in part to separate state and federal primaries.
Along with the recommendations, the report also provides:
50-state midterm primary turnout data since 2010
Analysis of highest and lowest turnout states in 2022
Analysis of states with biggest turnout gains and drops since 2018
Comparison of primary turnout in battleground states like Alaska, New Hampshire, and Pennsylvania
Read the full report.
On March 9, BPC will host a virtual event to discuss the findings and recommendations included in the report. RSVP here.