World Breastfeeding Week: Supporting the Choice to Breastfeed
Parents, childcare centers, schools, and community institutions strive to give children skills, tools, and opportunities for success, yet we often overlook the benefits of an important activity at the beginning of life?breastfeeding. Research shows that breastfed babies experience better cognitive development, develop fewer infections and are less likely to develop asthma or become obese than infants fed formula or other breast milk alternatives. Mothers also enjoy health benefits, such as a decreased risk of breast and ovarian cancers. So why do breastfeeding rates fall short? Breastfeeding may be natural, but that doesn't make it easy. This year's theme for World Breastfeeding Week (August 1-7), "Breastfeeding Support: Close to Mothers," shines light on the need for a circle of support for mothers to make breastfeeding easier.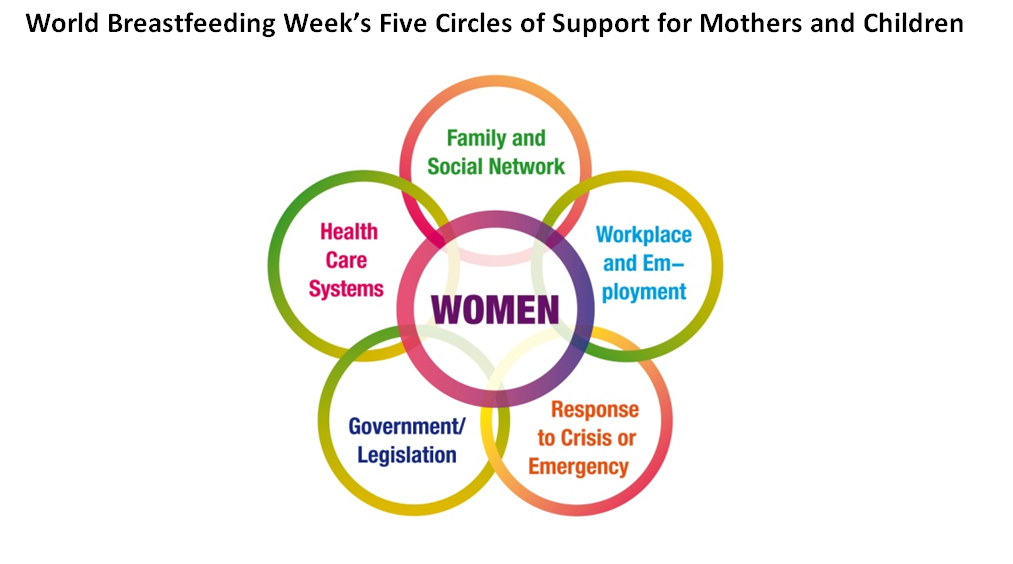 Source: World Breastfeeding Week, http://worldbreastfeedingweek.org/
Organizations from the American Academy of Pediatrics and U.S. Centers for Disease Control and Prevention (CDC) to the World Health Organization (WHO) and UNICEF, recommend exclusively breastfeeding infants for the first six months of life and then supplementing breast milk with complementary foods up to two years of age or longer. While breastfeeding rates are increasing, they are still lower than desired. Though more than 75% of women initiate breastfeeding in the hospital, rates decline quickly after mother and baby return home. In 2010, fewer than half of infants were breast fed at six months, and only a quarter were breastfed at twelve months. As we described in our June 2012 report, Lots to Lose: How America's Health and Obesity Crisis Threatens Our Economic Future, the high rate of breastfeeding initiation suggests that most women want to breastfeed, yet face significant barriers once they leave the hospital. To make sustained breastfeeding easier, we must better support breastfeeding mothers during the first two years of their child's life.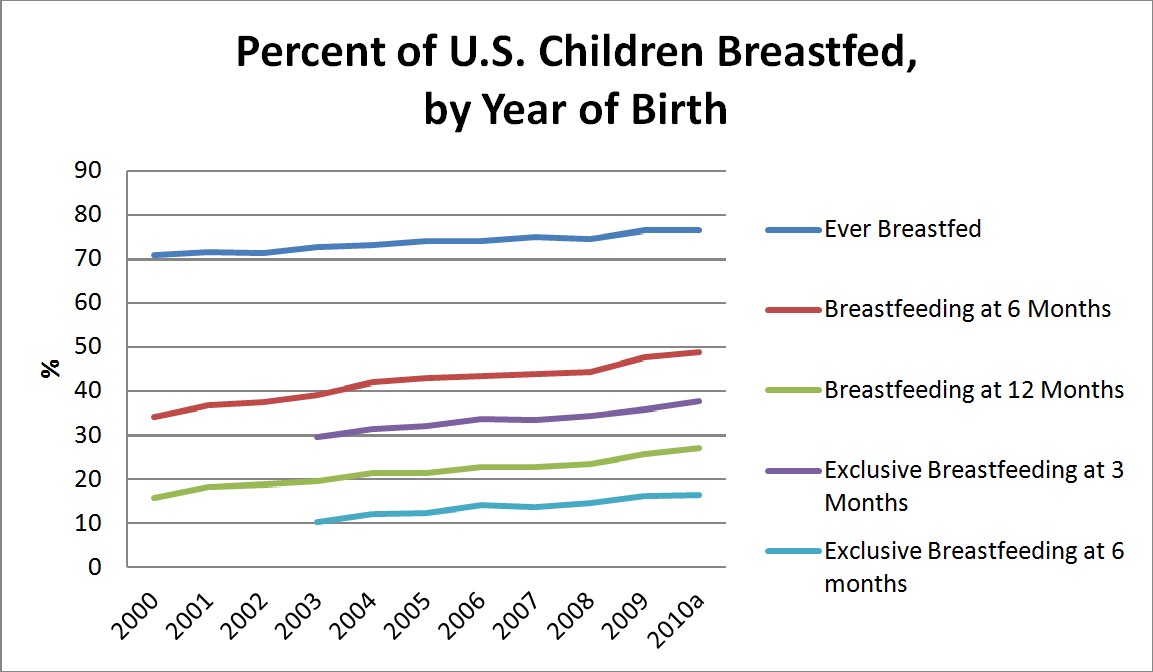 CDC, Breastfeeding among U.S. children born 2000-2010, CDC National Immunization Survey
a – 2010 data is provisional, final data will be available August 2014
Recognizing the need for more support, Healthy People 2020 set objectives to: increase the proportion of employers that offer worksite lactation support programs, decrease the proportion of infants who receive formula in the first two days of life, and increase the proportion of births that occur at Baby-Friendly Hospitals. Complementing these objectives, our Lots to Lose report recommended that all key institutions?including hospitals, workplaces, communities, government, and insurance providers?support and promote breastfeeding with the goal of substantially increasing U.S. breastfeeding rates for the first six months of an infant's life.
Hospitals and healthcare providers play a key role in encouraging the initiation and continuation of breastfeeding, and hospitals can take a big step forward by becoming Baby-Friendly. Baby-Friendly hospitals must follow the Ten Steps to Successful Breastfeeding, which address policies and procedures to promote successful breastfeeding. The CDC reported that only 7% of babies were born in Baby-Friendly hospitals in 2010. To increase the number of hospitals that promote exclusive breastfeeding, we recommended that the Joint Commission, which accredits hospitals, include the Ten Steps to Successful Breastfeeding in its Perinatal Care Core Measure Set.
Certain large health systems are paving the way for the adoption of policies to support breastfeeding. In the U.S., two large systems, the Indian Health Services and Kaiser Permanente, have committed to meet Baby-Friendly standards in all their hospitals. We encouraged other large institutions, including the Military Health System within the Department of Defense (DoD), which serves over 9 million beneficiaries, to become Baby-Friendly.
Employers also have an incentive to promote breastfeeding among their employees, because research shows that breastfeeding can save money for employers, insurance companies, families, and society. The Department of Health and Human Services has published a Business Case for Breastfeeding, which cites multiple examples of positive returns on investment for workplace lactation support programs. Current law requires that employers provide nursing breaks (unpaid), and a private, sanitary place for mothers employed on an hourly basis to express breast milk. In our report, we call on employers to extend this support to salaried workers as well.
The U.S. Surgeon General issued a Call to Action to Support Breastfeeding, citing the challenges in the lack of health care provider knowledge and training to provide effective breastfeeding support and services. BPC is working to enhance nutrition and physical activity education for healthcare providers, which would ideally include the knowledge and skills they need to help mothers breastfeed.
Research shows that progress is being made; a greater proportion of babies were breastfed in 2010 than in 2000. But the numbers are still low, and decrease significantly during the first six months of life. More change is needed. Too many mothers stop breastfeeding because our institutions, policies, and communities do not provide enough support. Public and private sector support through educational events like World Breastfeeding Week and National Breastfeeding Month, , programs like the Baby-Friendly Hospitals Initiative, and other efforts on the part of employers and health care providers, are together helping us move in the right direction. We need to expand the reach of effective education and interventions to help ensure that all infants get a start in life that will help them grow to be happy, healthy, and prosperous.
Sarah Mott serves as a summer intern with BPC's Nutrition and Physical Activity Initiative and is a graduate student in public health at the University of Michigan.
2013-08-26 00:00:00
Too many mothers stop breastfeeding because our institutions, policies, and communities do not provide enough support
Join Our Mailing List
BPC drives principled and politically viable policy solutions through the power of rigorous analysis, painstaking negotiation, and aggressive advocacy.