What's New in Energy: September


Energy Secretary Moniz to Keynote October 8 Geopolitics Event on Natural Gas and Climate Change

This event, the third in a four-part series on the new geopolitics of petroleum and natural gas, will examine whether natural gas and low-carbon energy technologies can play complementary roles in transitioning the global economy to a cleaner, more sustainable trajectory. Specifically, we will consider the prospects for these technologies, as well as the economic and politically-practical options for deploying them.
Online registration for the event is available here. An agenda and full list of participants can be found here.

Bipartisan Policy Center Holds First Workshop in Series on Regulation of Greenhouse Gases under the Clean Air Act

The first workshop provided an overview of the context, precedent and contours of future regulations, as well as possible state options for implementing the emission reduction requirements. With speakers from geographically diverse states, resource-diverse utilities, and government, the discussion was lively and informative.
For an agenda, complete list of participants, and panelist PowerPoint presentations, please visit our website.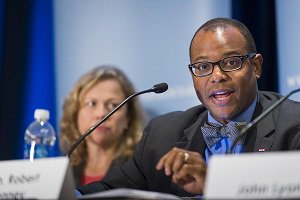 Greater coal use raises stakes for Obama climate rules
The Wall Street Journal | by Tennille Tracy and Keith Johnson | September 25, 2013
"Outside the noise of the Beltway, the rest of the country knows that climate change is real, and they know that we have to act. If anything, Washington needs to catch up to the rest of the country," said Heather Zichal, President Obama's adviser on energy and climate change, in a Washington appearance Wednesday. She said the administration aims to make its guidelines for existing power plants final by the summer of 2015.
---
States brace for EPA's emissions rule on existing power plants
E&E News | by Tiffany Stecker | September 26, 2013
"I've got a big job on my hands," said Jim Lyons, assistant secretary for climate policy for Kentucky, at an event yesterday hosted by the Bipartisan Policy Center. "Over the years, it hasn't been a goal for the state to diversify, due to our coal resources."
---
How the Obama administration could hit its climate target, in 1 chart
The Washington Post | by Juliet Eilperin | September 26, 2013
Heather Zichal, the deputy assistant to the president for energy and climate change, said at a forum Wednesday at the Bipartisan Policy Center, that a new, biennial report "outlines how U.S. action on climate change puts us on a path" to meet its 2020 goal and would serve as "a benchmark" for other countries, which are obligated to report on their own climate policies next year as part of the U.N. climate negotiations.
2013-09-27 00:00:00
Join Our Mailing List
BPC drives principled and politically viable policy solutions through the power of rigorous analysis, painstaking negotiation, and aggressive advocacy.