What We're Reading: June 21
Throughout the week, the BPC Housing Commission highlights news items that address critical developments in housing policy. Any views expressed in the content posted on this forum do not necessarily represent the views of the Commission, its co-chairs or the Bipartisan Policy Center.

Americans are digging themselves out of mortgage debt

By Kathleen M. Howley The Washington Post
"Home equity in the first quarter rose to $6.7 trillion, the highest level since 2008, as homeowners taking advantage of record-low borrowing costs to refinance their loans brought cash to the table to pay down principal. The 7.3 percent gain was the biggest jump in more than 60 years, according to Federal Reserve data."
Read more here.
---

Young adults' hesitance is reshaping home-buying market

By Michelle Zayed
The Denver Post
"Millennials, those born between 1983 and 2003, are putting their white-picket-fence dreams on hold as increasingly mobile lifestyles and strict mortgage requirements combine with still-fresh memories of the housing crisis."
Read more here.
Click here to view BPC's new infographic on the generation gap in household formation.
---

Halfway home on mortgage reform

Editorial
The Washington Post
"Various proposals are circulating in Congress, including a plan from Sen. Bob Corker (R-Tenn.) to phase out government support to Fannie and Freddie over a decade, at the end of which the mortgage-backed security market would be left to the private sector. Former investment banker and Obama Treasury official Jim Millstein has suggested creating a new federal corporation, modeled on the Federal Deposit Insurance Corp., that would protect investors in qualifying mortgages against catastrophic losses, in return for a fee. "So far, all we've heard from Mr. Romney's camp is a promise to 'wind down' the GSEs, details still to come. We'd like to hear a lot more from both him and Mr. Obama. Given the huge size of the GSEs, and given the vital importance of housing to the U.S. economy, it's not asking too much for the contenders for the next presidency to offer specific plans instead of general principles."
Read more here.
---

Homeowner Aid Boosts Big Banks

By Christian Berthelsen and Alan Zibel
The Wall Street Journal
"A government program that helps struggling homeowners take advantage of low interest rates to cut monthly mortgage payments is providing an unexpected revenue boost to large banks such as Wells Fargo & Co. and J.P. Morgan Chase & Co. Banks that collect those payments, known as mortgage servicers, could get as much as $12 billion in revenue this year refinancing mortgages under the federal Home Affordable Refinance Program, or HARP, according to data compiled by Nomura Holdings Inc."
Read more here.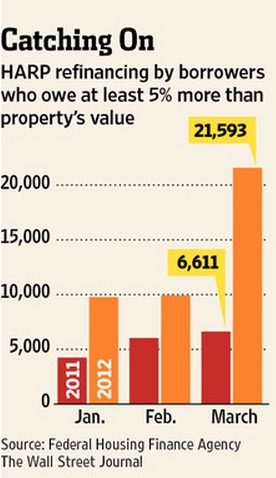 ---

What Home Builders Need: Locations, Locations, Locations

By Robbie Whelan
The Wall Street Journal
"During the housing boom, developers?the companies that pave roads and sidewalks, dig ditches for sewage pipes and power lines and bring in bulldozers to clear space for construction?prepared hundreds of thousands of lots and sold them to home builders, which in turn built subdivisions. "Today many of these lots remain empty. They often are in distant suburbs of cities and still owned by banks, builders or developers. The problem is that they are in places where few home buyers want to live. In fact, builders are running low on land in suburbs that have well-regarded school districts and reasonable commutes to city and job centers."
Read more here.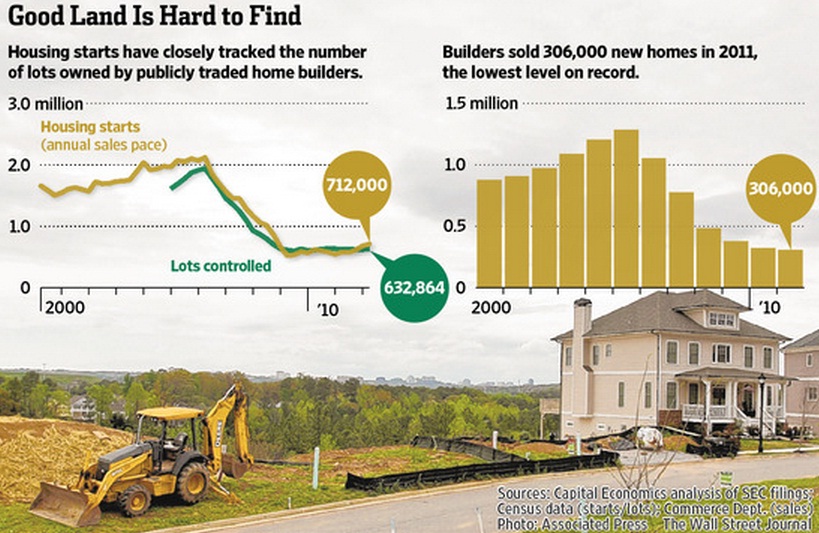 ---

Data suggests U.S. housing recovery on track

By Jason Lange Reuters
"Housing starts fell in May from a 3-1/2 year high, although permits to build new homes rose sharply, suggesting a nascent housing recovery remains on track. The Commerce Department said on Tuesday that groundbreaking on new homes dropped last month to an annual rate of 708,000 units, falling short of analysts' expectations."
Read more here.
Click here to view details on the new data.
---

Imagining U.S. Housing Without Fannie Mae And Freddie Mac

By Ronald Li Realty & Investments
"The dissolution of Fannie Mae and Freddie Mac, the two largest U.S. mortgage guarantors, would have only a minimal impact on home ownership levels, according to a new report that downplays the link between low interest rates and increased ownership. But don't expect them to disappear any time soon."
Read more here.
---

The Myth of the National Housing Market

By Nick Timiraos
The Wall Street Journal
"While the media are often pressed to generalize about the national market, or to highlight cities that, on the whole, are rising or falling, most real-estate agents will remind buyers that broad housing indexes may not hold much water when it comes to pricing their homes."
Read more here.
---

U.S. housing market remains deeply segregated

By Ilyce Glink
CBS MoneyWatch
"The real estate market today reflects an ugly, if often forgotten, truth: Residential segregation in the U.S. is alive and well. Although that problem is commonly thought of as a relic of America's racially troubled past, a recent study shows that fewer black and white families are today moving into multi-ethnic neighborhoods."
Read more here.
2012-06-21 00:00:00