What We're Reading: January 30
Throughout the week, the BPC Housing Commission will highlight news articles that address critical developments in housing policy. Any views expressed in the content posted on this forum do not necessarily represent the views of the Commission, its co-chairs or the Bipartisan Policy Center.
By Michael A. Fletcher
The Washington Post
"With the battle for the Repub­lican presidential nomination moved to Florida, the candidates find themselves confronted with a question central to the health of the state's weak job market: What are their plans for solving the housing mess? Florida's economy rests heavily on housing, which has struggled in the years since the bubble burst. New construction has slowed to a crawl and home prices have tumbled, sapping consumer confidence, choking tax revenue and leaving the state with one of the nation's highest unemployment rates.
President Obama has acknowledged that his housing policies have been ineffective, an assertion vividly illustrated by the many half-built developments and large inventory of financially distressed properties that dot the Florida landscape. That might sound like a political opportunity for the GOP candidates, particularly in Florida, which is seen as pivotal to their party's chances to capture the White House. But so far, the candidates have not been specific on how they would address the housing problem." Read more here.
By Jacob Gaffney
HousingWire
"Housing is not nearly the battleground in the presidential election it should be. Republican candidates so far have focused on employment as a way to aid the ailing economic recovery. This narrow focus on the ailing recovery reinforces the notion that jobs is the best income barometer for repairing the health of the housing industry economic. An article in HousingWire today explains the erroneous thinking:
'Yet, while fewer than one in 10 Americans are unemployed, two-thirds own a house so it could be argued that more Americans are affected by home values than by the unemployment rate, according to a new report from the Progressive Policy Institute,' the article states.
I would like to take the thinking one step further. For one, using the unemployment rate as a de facto standard for measuring borrower resiliency needs to end. When it comes to housing solutions, unemployment is simply too broad a brush for determining default risk." Read more here.
By Robert J. Samuelson
The Washington Post
"It wasn't that they didn't see the housing boom or recognize that it was ending. At 2006's first meeting, a senior Fed economist noted 'that we are reaching an inflection point in the housing boom. The bigger question now is whether we will experience (a) gradual cooling .?.?. or a more pronounced downturn.' At that same meeting, Fed Governor Susan Bies warned that mortgage lending standards had become dangerously lax. She explained that monthly payments were skyrocketing on mortgages with adjustable interest rates. She worried that many borrowers couldn't make the higher payments. The flagging housing boom concerned many Fed officials.
But they ? and most private economists ? didn't draw the proper conclusions. Hardly anyone asked whether lax mortgage lending would trigger a broad financial crisis, because America had not experienced a broad financial crisis since the Great Depression. A true financial crisis differs from falling stock prices, which are common. A financial crisis involves the failure of banks or other institutions, panic in many markets and a pervasive loss of wealth and confidence." Read more here.
Calculated Risk
"The following graph shows existing home sales (left axis) and new home sales (right axis) through December. This graph starts in 1994, but the relationship has been fairly steady back to the '60s.
"Following the housing bubble and bust, the "distressing gap" appeared mostly because of distressed sales. The flood of distressed sales has kept existing home sales elevated, and depressed new home sales since builders can't compete with the low prices of all the foreclosed properties."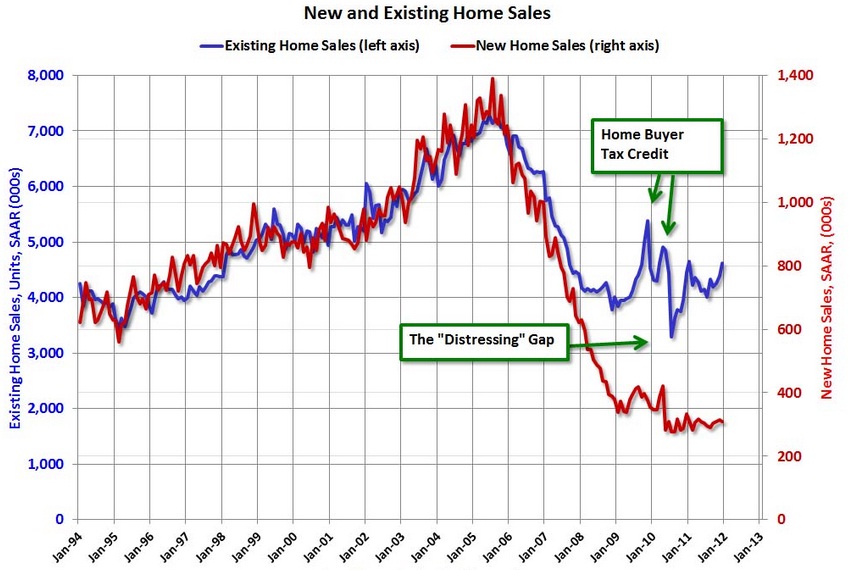 Read more here.
By Matt Bevilacqua
Next American City
"For those of us who would call it a steal to rent a studio apartment for under $1,000, consider this: Last year the average annual salary of the nation's working poor was $9,400?up only $100 since 2009. There's not a single county in the U.S. where this sum could support a prolonged stay in even the cheapest room on the market.
These numbers, found in a report released last week by the National Alliance to End Homelessness (NAEH), help explain why 24 states and the District of Columbia saw an increase in homelessness between 2009 and 2011, despite the country's overall homeless population shrinking slightly over the same period. Though about 7,000 Americans who lacked a home two years ago now have one, over 635,000 people ? or about 21 in 10,000 ? remain homeless nationwide. Of those, two in five go nightly without shelter." Read more here.
By Suzy Khimm
The Washington Post
"When Newt Gingrich and Mitt Romney weren't trading barbs at Monday night's debate, they were united in blaming President Obama's policies for wrecking the economy. One such point of consensus was their claim that federal regulations ? namely Dodd-Frank ? were making it harder for people to 'get housing' and 'renegotiate mortgages.' Romney has previously said that banks were simply too scared to lend in the face of so much regulation. But beneath the rhetoric, there are some legitimate concerns that new regulations might tighten up a housing market that's still ailing ? though most of the major changes have yet to go into effect.
Under Dodd-Frank, there are a slew of different regulations that impose stricter standards for receiving, selling and securitizing mortgages in an attempt to curb the abuses that led to the 2008 financial crisis in the first place. The rationale is that healthier borrowing and lending could ultimately give investors more confidence in the mortgage market. The concern, however, is that the new rules will overreach ? particularly at a time when the mortgages market still needs to get back on its feet." Read more here.
By Jody Shenn, Lorraine Woellert and Prashant Gopal
Bloomberg
"President Barack Obama answered Ben S. Bernanke's appeal for more action to fix the U.S. housing market that's restraining the economic recovery by proposing a plan to help borrowers reduce their monthly mortgage payments. Obama is sending Congress legislation that would allow homeowners to tap record-low borrowing costs, potentially boosting housing as he seeks re-election this year. The proposal could save participants about $3,000 a year, Obama said in his State of the Union speech to Congress. Even with unemployment at the lowest level since February 2009 and housing sales increasing, homeowners have been blocked from refinancing by house prices that are 32 percent below their 2006 peak and tightened bank lending. " Read more here.
By Nate Berg
The Atlantic
"A house in Cleveland might run you $115,000. A similar home in San Diego would cost you three times that, probably more. Different locations have different housing values, which won't be news to anyone. Whether the people who live in those metro areas can truly afford to buy them is another matter altogether."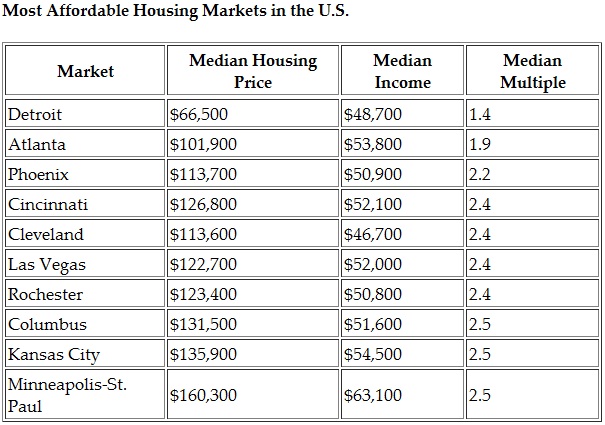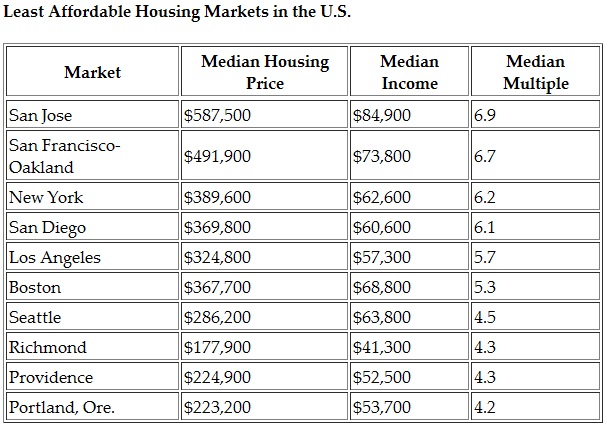 ?
Read more here.
By Ian McKendry
Market News International
"Just two days after the Federal Housing Finance Agency released a report saying principal reductions for Fannie Mae and Freddie Mac mortgages would cost taxpayers an additional $100 billion more than what they are already on the hook for, Federal Reserve Chair Ben Bernanke said Wednesday principal reductions 'very likely could be helpful.'
'I have spoken about this in the past and it certainly has some advantages,' Bernanke said at a press conference. 'A lot depends on how it's structured and what the alternatives are that you're considering.'
The Fed put out a white paper earlier in the month that broached the idea of principal reductions, along with a number of other possible housing policies, but said the intent of the paper was to explore the pros and cons of certain ideas rather than advocate any one suggestion." Read more here.
---
"Using the unemployment rate as a de facto standard for measuring borrower resiliency needs to end. When it comes to housing solutions, unemployment is simply too broad a brush for determining default risk"

---
By Les Shaver
Multifamily Executive
"In 2010 and 2011, rents went up 2.3 and 4.7 percent across the country, according to Carrollton, Texas-based rental data provider MPF Research. However, during that same time frame, wages only jumped two percent from the third quarter of 2010 to the third quarter of 2011, according to the Bureau of Labor Statistics. That's led a number of industry observers to ask an obvious question: how long can rent growth continue without an improvement in wages?
'At what point do individual renters feel they've hit the wall with they can afford,' says Greg Willett, who heads the research and analysis team at MPF Research. 'It is really hard to calculate when that picks up. In the long term, over the remainder if the decade, I think that's our key challenge.'
Another data provider Novato, Calif.-based RealFacts found that aggressive rent hikes in the second and third quarter of 2011 weren't sticking. In its year-end survey, the company found that rents in 24 of its 47 markets had gone down. The qualifier, of course, is that the fourth quarter can typically be a very sluggish rental season and it's hard to use performance in that quarter as a gauge for the health of the rental industry." Read more here.
By Kathleen Madigan
The Wall Street Journal
"Both monetary and fiscal policymakers share one mutual problem: housing's drag on the economy. The lack of new construction is cutting economic growth and payrolls. Falling home prices are reducing household wealth, a drag on consumer confidence and spending. The ideas coming out of Washington aren't new but mainly extensions or continuations of previous efforts to help homeowners, especially those with underwater mortgages, and to keep mortgage rates low to attract new buyers. Those past moves have helped homebuilding find a bottom, but that bottom is well below boom levels. Housing starts are less than a third of their record highs of 2006, and home prices are almost 18% below their peaks of 2007, according to Federal Housing Finance Agency data released Wednesday." Read more here.
Room for Debate forum
The New York Times
"In his State of the Union address, President Obama announced the creation of a joint federal-state unit to investigate mortgage abuses and outlined a proposal to reduce the monthly payments of homeowners whose mortgage debts exceed the value of their homes. There are, of course, many ideas like this and others for mortgage relief, but which are the most promising to restore the housing market and revive the economy?" Read more here.
By Jim Puzzanghera and Alejandro Lazo
Los Angeles Times
"Two new initiatives from President Obama to address the foreclosure crisis ? more help for struggling homeowners and aggressive investigations of financial firms ? face significant hurdles as the nation's real estate troubles linger in a volatile election year. A new refinancing plan that expands on an existing initiative would allow homeowners who are current on their mortgage payments to retool their loans and save as much as $3,000 a year on payments. This expansion would be paid for by a new tax on large banks that Obama originally proposed in 2010 that has gone nowhere in Congress ? and is unlikely to be approved by Republicans facing reelection in the fall." Read more here.
2012-01-30 00:00:00