What We're Reading: January 23
Throughout the week, the BPC Housing Commission will highlight news articles that address critical developments in housing policy. Any views expressed in the content posted on this forum do not necessarily represent the views of the Commission, its co-chairs or the Bipartisan Policy Center.
By Vicki Needham
The Hill
"An overhaul of Fannie Mae and Freddie Mac is unlikely again this year despite recent Republican efforts to move the issue up the agenda. Congressional Republicans, along with some Democrats ? and even GOP presidential candidate Newt Gingrich ? are renewing calls to craft an agreement to reduce the involvement of Fannie and Freddie in the nation's mortgage market. But without a broader accord, passage of any legislation this year is slim, housing experts say." Read more here.
By Kerri Panchuk
HousingWire
"Improved employment figures and record home affordability levels could spawn a minor housing recovery this year, analyst Mark Fleming said Wednesday in the CoreLogic MarketPulse report. Fleming says economic concerns peaked in the summer of 2011 when politicians were stuck wrangling over the nation's debt ceiling and the economy seemed poised for stagnation. Fast-forward a few months, and Fleming says conditions are better, making way for a possible recovery in 2012. Fleming's more optimistic outlook is mirrored in the Freddie Mac U.S. Economic and Housing Market Outlook survey for the month of January. The Freddie report says economic growth will strengthen by 2.1% in the first quarter of 2012, while mortgage rates will remain low at least through the beginning of the year. In addition, the Freddie Mac survey predicts home sales will grow another 2% to 5% from 2011." Read more here.
---
---
By Jon Prior
HousingWire
"President Obama could mention in the State of the Union address Tuesday new developments in the negotiation between mortgage servicers and government officials, according to two members of Congress. 'There seems to be evidence that he may do something,' said Sen. Sherrod Brown, D-Ohio, in a conference call with reporters Monday, 'and we hope 'the something' is launching a wider investigation.' Rep. Brad Miller, D-N.C., said rumors were floating around Washington that the president may even announce the settlement, though he couldn't confirm that. The White House did not immediately comment. However, a spokesman for Iowa AG Tom Miller, said not to expect a full announcement this week." Read more here.
By Allan Sloan
The Washington Post
"Mass Fannie and Freddie mortgage refis could provide billions of dollars of economic stimulus and support the prices of homes, many Americans' biggest single asset. All while costing taxpayers nothing. This is entirely different from using taxpayer money to subsidize people who have defaulted on their mortgages, a proposal that stirred considerable resentment (including on my part) and gave birth to the tea party. Rather, I'm talking about helping 13 million or so families who have played by the rules and kept up their house payments but haven't been able to refinance their loans, often because their houses have fallen sharply in value. Remember, taxpayers are already on the hook for those loans; thus, refinancing them adds no risk, and arguably reduces it by shaving the monthly payment burden and giving homeowners less incentive to default." Read more here.
By Les Christie
CNNMoney
"The housing collapse has dramatically changed the nation's foreclosure landscape. Neighborhoods boasting modern homes, cul-de-sacs and tree-lined streets in and around Western cities now dominate the list of the top 100 U.S. zip codes hit hardest by foreclosures and claim and comprise all of the top 10 spots, according to data generated for CNNMoney by RealtyTrac. In 2011, Western states claimed 82 of the 100 worst hit zip codes with 38 in California and another 28 in Nevada." Read more here.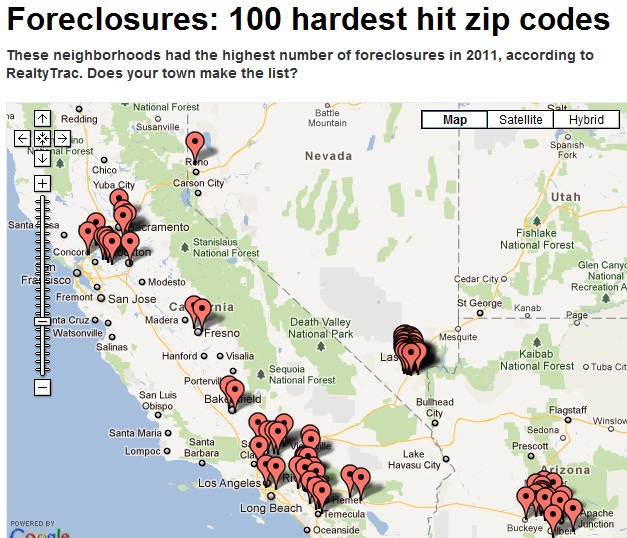 View the full map here.
By Mary Ellen Podmolik
Chicago Tribune
"The Federal Housing Finance Agency is seeking a summary judgment in its case against Chicago's vacant building ordinance before the city even files a response to the lawsuit. The FHFA, which oversees Fannie Mae and Freddie Mac, filed suit against Chicago last month, claiming that federal law prohibits the ordinance from being imposed on the regulator. The suit seeks to exempt all Fannie Mae and Freddie Mac-owned mortgages from the ordinance, a number that tops 250,000 within the city. In a court filing the FHFA made last week in support of a ruling in its favor without a trial, it also noted that in addition to those mortgages it owns, it guarantees another 750,000 loans in Chicago." Read more here.
By Donna Kimura
Housing Finance News
"Converting foreclosed single-family homes into affordable rental properties through the low-income housing tax credit (LIHTC) program is an idea that's getting increasing attention inside the Obama administration. With a few changes, the program could become another tool used to transform the vacant properties, said Carol Galante, acting assistant secretary for housing at the Department of Housing and Urban Development (HUD) and Federal Housing Administration (FHA) commissioner. She noted that developers have been using LIHTCs to finance scattered-site developments for years." Read more here.
By Margaret Chadbourn and Aruna Viswanatha
Reuters
"About one million American homeowners would get writedowns in the size of their mortgages under a proposed deal with banks over shady foreclosure practices, U.S. Housing and Urban Development Secretary Shaun Donovan said on Wednesday. The deal, which could be struck within weeks, would mark the largest cut in the mortgage load since the start of the credit crisis. 'We're very close to a settlement that would both fix the servicing problems, but also help over a million families around the country stay in their homes and get help,' Donovan said at a U.S. Conference of Mayors meeting in Washington." Read more here.
---
"About 22 percent of U.S. homes have negative equity totaling about $750 billion, according to CoreLogic."

---
By Jon Prior
HousingWire
"The Federal Housing Administration will toughen its standards for approving lenders that insure mortgages on its behalf and force more of them to buyback defaulted loans. FHA Commissioner Carol Galante said the upcoming rule changes will help the agency protect its Mutual Mortgage Insurance Fund, which, according to some, is in danger of needing a bailout. The fund slipped to a 0.24% capital ratio in the fiscal year 2011, down from 0.5% the year before. The rule was initially proposed in October 2010 and finalized Friday. The rule changes apply to lenders authorized to insure mortgages for the FHA without first submitting documents to the agency. Roughly 80% of all FHA-insured mortgages are done this way." Read more here.
By Sara Kehaulani Goo
The Washington Post
"The average rate on a 30-year fixed mortgage reached a new low this week, falling to 3.88 percent, according to data released Thursday by Freddie Mac. The average 30-year rate fell a fraction of a percentage point below last week's 3.89 percent, the previous record low, and marks the seventh consecutive week in which the average has been below 4 percent. The average 15-year mortgage rate, which is popular among homeowners who are refinancing, hit 3.17 percent, up from last week's 3.16 percent figure." Read more here.
2012-01-23 00:00:00