What We're Reading: January 10
Throughout the week, the BPC Housing Commission will highlight news articles that address critical developments in housing policy. Any views expressed in the content posted on this forum do not necessarily represent the views of the Commission, its co-chairs or the Bipartisan Policy Center.
By Mark Felsenthal and Margaret Chadbourn
Reuters
"The Federal Reserve on Wednesday said expanding the role of government-controlled mortgage firms Fannie Mae and Freddie Mac could speed a housing market recovery and lift the overall economy. In a white paper to leading members of Congress, the Fed outlined an array of steps that could be taken to help the housing sector. It focused on ways to keep a lid on the vast inventory of unsold homes, make it easier for borrowers to get credit and contain an onslaught of foreclosures." Read more here.
Full detail's on the Federal Reserve white paper are available here.
By Edward Glaeser
Bloomberg
"It is a popular mantra, even among some economists, that the economy cannot recover until the housing market does, but I can't imagine how either economic theory or history justifies that connection. Housing prices remained at 1991-crash levels through most of the good years of the mid-1990s. There is a tendency to spend some housing wealth, but that wealth isn't the only driver of consumer demand. The current drop in the unemployment rate wasn't produced by rising housing prices, and a sustained recovery depends far more on the fate of banks in Frankfurt than on home values in Atlanta." Read more here.
By Diana Olick
CNBC
"The Obama administration, in conjunction with federal regulators and led by the overseer of Fannie Mae and Freddie Mac, are very close to announcing a pilot program to sell government-owned foreclosures in bulk to investors as rentals, according to administration officials. There are currently about a quarter of a million foreclosed properties on the books of Fannie Mae, Freddie Mac and the Federal Housing Administration (FHA) and millions more are coming." Read more here.
By Clea Benson, Lorraine Woellert and Roben Farzad
Bloomberg Businessweek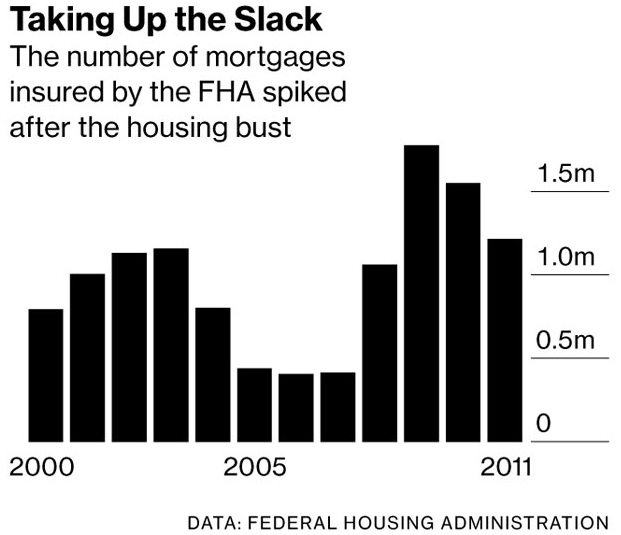 "Lawmakers began 2011 with sweeping ambitions to shrink the U.S. government's involvement in mortgage finance. They ended the year enacting policies that increase it. An 11th-hour extension of the payroll tax cut, signed into law on Dec. 23, will for the first time divert funds from Fannie Mae (FNMA) and Freddie Mac (FMCC), the two mortgage finance companies under U.S. conservatorship, to pay for general government expenses. Congress also took steps that are likely to increase the role of the Federal Housing Administration in the market?at the same time that the agency's reserves hit a record low. And some economists are charging that the FHA's finances are even worse than they appear." Read more here.
By Ezra Klein
The Washington Post
"Hubbard is an advocate for using Fannie Mae and Freddie Mac to set off a nationwide wave of mortgage refinancing. In a paper co-authored with Columbia economist Christopher Mayer, Hubbard estimates that more than 75 percent of the homeowners with 30-year mortgages backed by Fannie or Freddie are paying interest rates higher than 5 percent. But for the past two years, interest rates have been closer to 4 percent. That means tens of millions of Americans are paying more than they need to every single month. "Some of these homeowners have good reason to resist refinancing. They plan to move soon, or they lied on their initial mortgage application. Some have been scared off of new financial products by the events of the past few years. But many simply don't follow the month-to-month gyrations of interest rates. Others are deterred by conditions set down by Fannie and Freddie ? although those have been substantially eased over the past few months, albeit with little fanfare. "Those homeowners represent one of the president's few remaining opportunities to help a substantial number of Americans. That's because a major push on refinancing is one of the few policies the Obama administration could accomplish without the help of Congress." Read more here.
By Kenneth R. Harney
The Nation's Housing
"How big a whack did your credit score take during the grim years of economic distress following the housing bust? Was it 20 points, 50 points, 100 points ? or maybe no drop at all? These are key questions affecting millions of potential home buyers who hope to qualify for mortgages as well as current owners looking to refinance. New research from a major credit-risk evaluation company suggests that the drop in huge numbers of Americans' scores was dramatic. FICO (formerly known as Fair Isaac Corp.), which developed and markets the eponymous score that dominates the home mortgage field, found that during 2008-09, about 50 million people saw their FICO scores plunge by more than 20 points. Nearly 21 million of these lost more than 50 points. Many lost 100 points or more because of the most severe delinquencies." Read more here.
By Mark Felsenthal
Reuters
"The Federal Reserve has launched a potentially controversial push to revive the battered U.S. housing market, calling on other government officials to act after largely exhausting its own tools to support the fragile economic recovery. After the Fed slashed interest rates to near zero more than three years ago and amassed $2.3 trillion in bonds to spur growth, the U.S. economy showed some momentum toward the end of 2011. But many analysts are doubtful the recovery will achieve take-off velocity in 2012 and housing is one of the biggest drags. House prices have fallen 33 percent from their 2006 peak, resulting in an estimated $7 trillion in household wealth losses, the Fed said last week as it took the unusual step of making an array of recommendations on housing policy to Congress." Read more here.
The Associated Press
"Former President Bill Clinton says the key to fixing the nation's economy is to address the struggling housing market and foreclosures. Clinton, in a speech Saturday night at the Las Vegas Anti-Defamation League's annual American Heritage Dinner, said 'it's as simple' as fixing the mortgage business, cleaning up banks' books and letting 'them start loaning again.'"
By Jacob Gaffney
HousingWire
"Mortgage finance firm Freddie Mac will give unemployed borrowers a break on their mortgage for up to one year. 'These expanded forbearance periods will provide families facing prolonged periods of unemployment with a greater measure of security by giving them more time to find new employment and resolve their delinquencies,' said Tracy Mooney, senior vice president of single-family servicing and REO at Freddie Mac. 'We believe this will put more families back on track to successful long-term homeownership,' Mooney adds. Freddie said the new deal expands the powers of mortgage servicers. The edict gives servicers the ability to forebear a mortgage for six months without prior approval from Freddie. Freddie Mac can approve an additional six months after that." Read more here.
By Andrew Haughwout, Donghoon Lee, Joseph Tracy, and Wilbert van der Klaauw Federal Reserve Bank of New York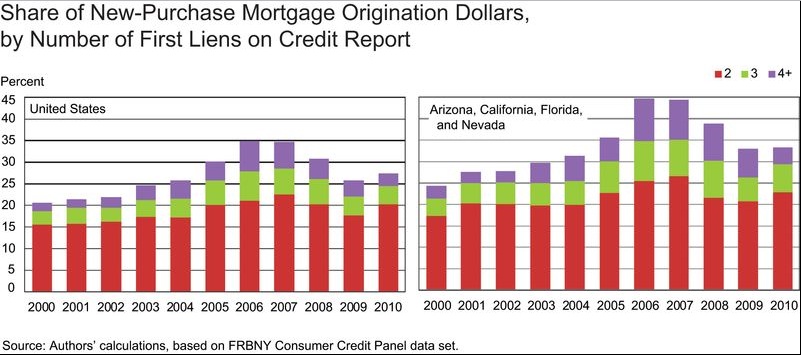 "The recent financial crisis?the worst in eighty years?had its origins in the enormous increase and subsequent collapse in housing prices during the 2000s. While the housing bubble has been the subject of intense public debate and research, no single answer has emerged to explain why prices rose so fast and fell so precipitously. In this post, we present new findings from our recent New York Fed study that uses unique data to suggest that real estate "investors"?borrowers who use financial leverage in the form of mortgage credit to purchase multiple residential properties?played a previously unrecognized, but very important, role. These investors likely helped push prices up during 2004-06; but when prices turned down in early 2006, they defaulted in large numbers and thereby contributed importantly to the intensity of the housing cycle's downward leg." Read more here.
By Jon Prior
HousingWire
"The Home Affordable Modification Program expires at the end of 2012 and the Treasury Department is not ruling out guideline changes before then. The program launched in March 2009 to pay mortgage servicers for modifying loans on the verge of foreclosure. The Treasury capped its payments to servicers at $29.8 billion, according to its December transaction report. The Treasury initially expected to spend $75 billion through the program, with $50 billion from the Troubled Asset Relief Program and the rest from Fannie Mae and Freddie Mac. Through October, participating servicers offered 1.9 million three-month trials and transferred 883,000 of them into permanent status. After redefaults are counted, the Congressional Oversight Panel, which kept watch on the implementation of the program, expected roughly 800,000 permanent modifications by the time the program expires Dec. 31." Read more here.
Chicago
Agent Magazine
"Richard Cordray, the former Attorney General of Ohio, was officially sworn in as director of the Consumer Financial Protection Bureau (CFPB), a long-awaited appointment that had been stalled by Congressional stonewalling. The question for real estate professionals, though, is a heady one. What will Cordray's impact be on housing, given the powers he is granted as the agency's director?." Read more here.
2012-01-10 00:00:00