What We're Reading in Housing: January 31
Throughout the week, the BPC Housing Commission highlights news items that address critical developments in housing policy. Any views expressed in the content posted on this forum do not necessarily represent the views of the Commission, its co-chairs or the Bipartisan Policy Center.
What We're Reading posts include a compilation of useful links in the Housing Visualized section below. These resources offer the latest economic indicators, expert insight, and statistical trends related to the U.S. housing market.
Housing Visualized
2010 Census l Mapping the Census l Comparing Recessions and Recoveries
Infographic: Rental Housing Market Trends l Housing by the Numbers
Infographic: Household Formation Gap l Who Gains Most From Tax Breaks
Infographic: Housing's Economic Impact l Measuring Economic Mobility
Past Commissions and Reports l Trulia's Housing Barometer
Credit Conditions l U.S. Housing Summary l Mortgage Data
Changes in Home Prices l Wells Fargo Monthly Economic Outlook
WF Real Estate & Housing Reports l Prices and Inventory by Metro Area
---

A New Housing Boom? Don't Count on It

By Robert J. Shiller
The New York Times
"The bottom line for potential home buyers or sellers is probably this: Don't do anything dramatic or difficult. There is too much uncertainty to justify any aggressive speculative moves right now. If you have personal reasons for getting into or out of the housing market, go ahead. Otherwise, don't stay up worrying about home prices any more than you do about stock prices." Read more here.
---

The Biggest Housing Bubble in the World Is in … Canada?

By Matthew O'Brien
The Atlantic
"Canada has a new worthwhile initiative. After years of booming prices, that bastion of politeness north of the border is looking to avoid a catastrophic housing bust for something more, well, boring. Initiatives don't get more worthwhile, and perhaps not more difficult considering Canada just might have the biggest housing bubble in the world right now." Read more here.
---

HARP success could trickle down to non-agency borrowers

By Christina Mlynski
HousingWire
"With the success of the Home Affordable Refinance Program for Fannie and Freddie borrowers, there is an expected push on the part of the Obama Administration to offer performing borrowers falling outside the agency's purview a way to lower their mortgage payments ? through either a refinance or loan modification, Amherst Securities Group said." Read more here.
---

The death of the mortgage broker?

By AnnaMaria Andriotis
MarketWatch
"Starting next year, mortgage brokers, who serve as middlemen between homebuyers and lenders, will be subject to new rules that experts say could push many to leave the business. Issued by the Consumer Financial Protection Bureau last week, the new rules prohibit brokers from raking in more compensation in exchange for placing borrowers in more expensive mortgages; they also disallow brokers from getting paid by both the borrower and the lender on a mortgage transaction. While the rules will make working with a broker safer for consumers, experts say they may also leave them with fewer brokers to choose from." Read more here.
---

Foreclosure review fees questioned

By Christina Mlynski
HousingWire
"New York Democrat Carolyn Maloney is calling for detailed information about contractors hired to look into foreclosure processes at mortgage servicers. The high cost of reviewing foreclosures at big banks ignited Maloney, a member of the House Financial Services Committee, to request federal regulators who oversee foreclosure reviews to provide details about the independent contractors examining borrowers' cases, the New York Times reported." Read more here.
---

The Wildly Different Age Demographics of U.S. Cities

By Emily Badger
The Atlantic Cities
"The Urban Institute today unveiled a far-reaching data dashboard for metropolitan areas all across the U.S. that visualizes datasets ? and the connections between them ? on a long list of quantifiable aspects of urban life, from local unemployment to crime rates to housing prices. The tool reveals some interesting macro-trends. For one, crime appears to have fallen in many cities during the recession, contradicting the widespread hypothesis that the exact opposite might occur." Read more here.
---

Cooking Up a Solution to Foreclosures

By Chris Bentley
The Architect's Newspaper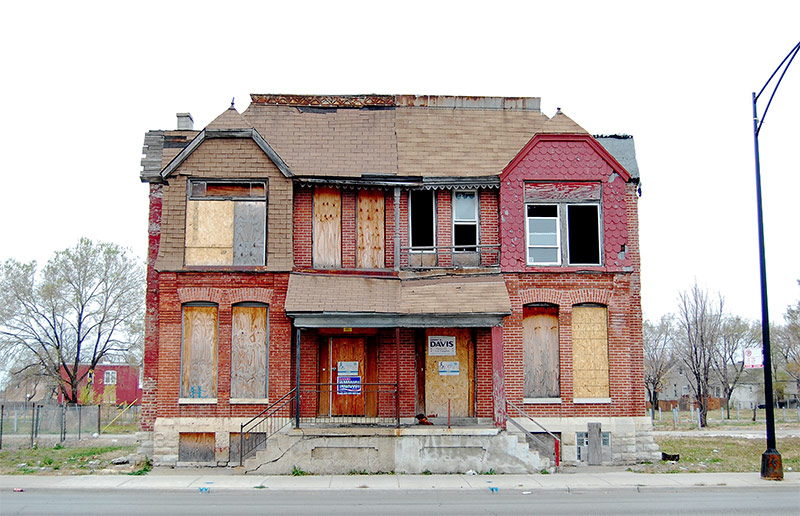 Abandoned houses in Chicago's East Garfield Park neighborhood (Eric Allix Rogers)
"Cook County is home to the nation's third largest city, as well as some of the deepest economic craters left by the ongoing housing crisis. Some 40,000 vacant units, many of them underwater, restrain economic development in the second-most populous county in the U.S. Now, following similar efforts underway in Kansas City, northeast Ohio's Cuyahoga County, Atlanta, and Michigan, Cook County will establish a redevelopment authority aimed at stabilizing the region's housing market." Read more here.
---

Rental demand to grow by 6.6 million through 2016

By Christina Mlynski
HousingWire
"Many factors will play into the rental housing growth trend including more inventory going into rentals as well as an attractive single-family rental sector for large institutional grade investors ? national providers that are present in multiple states and/or cities, said chief marketing officer Jim Warren of FirstService Residential Realty." Read more here.
---

Fannie To Allow Walkaways by On-Time Borrowers: Mortgages

By Kathleen M. Howley
Bloomberg
"Fannie Mae (FNMA) and Freddie Mac will let some borrowers who kept up payments as their homes lost value erase their debts by giving up the properties, helping Americans escape underwater loans while adding to losses at the mortgage giants bailed out with $190 billion of taxpayer money." Read more here.
---

Housing advocates push for new type of subprime loan

By E. Scott Reckard
Los Angeles Times
"With home prices rising, interest rates falling and builders building, some prominent housing advocates are calling for a new kind of loan for buyers with lower incomes or bad credit. They'd like to call it the Dignity Mortgage, but it has another name ? one that's become more of an epithet since the housing crash: subprime." Read more here.
---

Moody's: Single-family rental equity securitization poses more risk

By Christina Mlynski
HousingWire
"The "equity" structure favored by bankers for deals in which real-estate investors create securities backed by the rental payments of single-family homes poses significant risks to investors, Moody's Investors Service noted in its research report. Such a structure would expose investors to risks that are not typically present in residential mortgage-backed securitizations and commercial mortgage-backed securitizations." Read more here.
---

Housing emerges as economic bright spot after years in the dark

By Ylan Q. Mui
The Washington Post
"The number of homes for sale is at its lowest level since before the recession, sparking competition among buyers that has led to 10 straight months of price increases. The volume of activity is the highest since 2007." Read more here.
2013-01-30 00:00:00