What We're Reading: February 5
Throughout the week, the BPC Housing Commission will highlight news items that address critical developments in housing policy. Any views expressed in the content posted on this forum do not necessarily represent the views of the Commission, its co-chairs or the Bipartisan Policy Center.
By Binyamin Appelbaum
The New York Times
The Fed's chairman, Ben S. Bernanke, was sharply questioned by members of a House committee about the Fed's announcement last week that it planned to hold short-term interest rates near zero until late 2014, a measure that the Fed described as necessary to support a faster pace of economic recovery. 'I think this policy runs the great risk of fueling asset bubbles, destabilizing prices and eventually eroding the value of the dollar,' said Representative Paul Ryan, the Wisconsin Republican who is chairman of the House Budget Committee… Mr. Bernanke repeated the Fed's assessment, released last week, that the pace of growth would increase modestly this year, but that the economy still faced significant challenges, including the depressed state of the housing market and the risk that problems in Europe would infect the rest of the world. Read more here.
By Polyana da Costa
Bankrate.com
"President Barack Obama has proposed allowing underwater homeowners to refinance their mortgages with FHA-insured loans. The proposed program would extend today's low rates to homeowners who owe more than their homes are worth. The plan would be similar to the Home Affordable Refinance Program, or HARP, but it would apply to private mortgages that are not owned by Fannie Mae or Freddie Mac. HARP allows refinances only for homeowners whose loans are owned by the two agencies… The proposed program would also require lenders to reduce the principal of mortgages that are greater than 140 percent of the value of the home." Read more here.
Associated Press
"The government will triple the financial incentives for private lenders to reduce the principal amount of mortgages for homeowners at risk of losing their homes. And for the first time, the government will offer incentives for principal reductions to government-controlled mortgage giants Fannie Mae and Freddie Mac. The three-year old program has strived to help those at risk of foreclosure lower their monthly payments. But it has failed to help more than half of those who have applied lower their payments on a permanent basis. Many have complained that the program is a bureaucratic nightmare." Read more here.
Housing Commission's Henry Cisneros discusses Obama's mortgage refinance plan
CNBC
Click here for more reaction to the administration's new plan.
By John W. Schoen
MSNBC
"The percent of loans that required "full documentation" declined steadily from 2000 through 2006, hitting a low of less than 60 percent. Those "no-doc" loans were a big part of the reason mortgage bankers made the bad underwriting decisions that created the mortgage mess. Today, nearly 90 percent of mortgage applications require full documentation. That's much higher than the pre-bubble level. You'll also have to show a much higher credit score than you did in the go-go days of the housing boom. In a separate report, Mortgage Marvel, an online mortgage-shopping website, analyzed data from more than 700,000 mortgage applications filed last year and found that the average FICO score was 730. That's a significant jump from the days when borrowers with scores in the high 500s were routinely steered to high-cost subprime loans." Read more here.
By Jared Bernstein
The Christian Science Monitor
"I've long held that of all the stuff on the White House's "we-can't-wait" list?things they can do to help the economy and jobs without going through that legislative death trap formerly known as Congress?housing policy is the one with the greatest potential to actually move the needle. And the most helpful policy in housing is the reduction of mortgage principal for underwater homeowners. Research has clearly revealed that owing more than the value on your home is the strongest predictor of foreclosure, and housing finance analysts widely agree that principal reduction is the best medicine to avoid this outcome. But what does any of this have to do with stuff we could actually do right now? Good question. The answer is that the Federal Housing Finance Agency, which regulates Fannie Mae and Freddie Mac, could quickly reduce the principal on millions of home loans they own or insure, without going through Congress." Read more here.
By Neal Lipschutz
The Wall Street Journal
"Housing was at the start and heart of the U.S. and global financial crisis and recession. So it makes sense to many that a strong and sustained U.S. economic recovery needs at least stable housing prices after a long period of price declines. Some recent data may be encouraging, but still you 'just can't tell' if that data really are indicative of a housing turning point, said Yale University Economics Professor Robert Shiller, who is, among other things, a noted expert in the field." Read more here.
By Jay MacDonald
Bankrate.com
"Bank of America's cash-for-short-sales pilot program to help Florida homeowners stave off foreclosure has been something of a good news/bad news scenario since its debut last October. Under the program, Bank of America offered $5,000 to $20,000 to homeowners who agree to sell their distressed property in a short sale rather than let it slip into foreclosure. Florida, where I live, was chosen for the pilot because we have plenty of foreclosures. The deadline to apply was Dec. 12. If the program shows promise, it may be rolled out in other states." Read more here.
By Andrew Mayeda Bloomberg
"Canadian lenders are loosening standards, offering mortgages similar to U.S. subprime loans that pose an "emerging risk" to financial institutions, according to the country's banking regulator. Banks and other lenders are becoming 'increasingly liberal' with mortgages and home-equity credit lines that don't require individuals to prove their income, according to 152 pages of documents obtained by Bloomberg News under freedom of information law from the Office of the Superintendent of Financial Institutions. The mortgages, typically granted to the self-employed and recent immigrants, 'have some similarities to non-prime loans in the U.S. retail lending market,' the documents show." Read more here.
---
"The nation's home ownership rate fell for the seventh year in a row, nearly touching levels unseen in 14 years."

---
By Justin T. Hilley
HousingWire
"Don't expect housing improvements to play a major part in any overall national economic recovery. Because housing now makes up only a small share of the economy, the sector is unlikely to add much more than 0.2% to annual gross domestic product growth in 2012 and 2013, according to analysts at Capital Economics. So although housing may soon support growth, it won't help much. Normally in the first two years after a recession, residential investment adds an average of 0.7% to annual GDP growth. This time, it has added nothing, they say. If residential investment had performed as well as during past recoveries, then GDP growth in 2011 would have been close to 2.5% instead of 1.7%." Read more here.
How the Housing Market Could Shape the 2012 Election PBS NewsHour
By Jon Prior
HousingWire
"The Consumer Financial Protection Bureau will spend the first half of 2012 finalizing the wide-reaching qualified mortgage standard, its new director told Congress Tuesday. CFPB Director Richard Cordray said his office has received "hundreds, if not thousands" of comments on the pending QM proposal. Many top mortgage executives at the largest banks believe the rule will set the market for years to come, and a critical detail could affect foreclosure proceedings in the future."
Read more here.
By John W. Schoen
MSNBC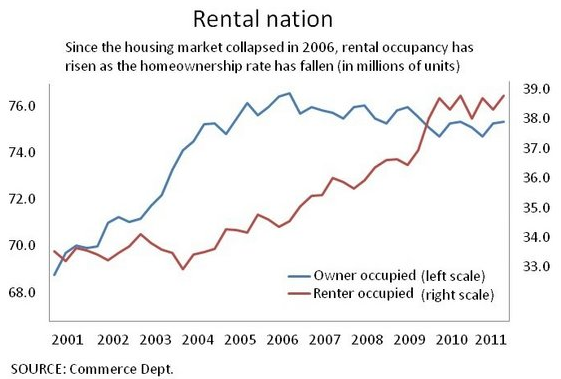 "The share of all U.S. privately-owned houses that stood empty fell in the fourth quarter to its lowest since 2006 as the number of houses occupied by renters rose faster than the pace of new vacancies created by homeowners moved out, according to the Commerce Department. There number of housing units occupied by renters rose by 749,000 in the fourth quarter compared to a year earlier; some 91,000 fewer homes were occupied by owners, the data show. With the fast pace of foreclosures showing no sign of letting up, the U.S. homeownership rate continues to fall. Just 66.0 percent of U.S. homes were occupied by their owners in the fourth quarter of last year ? half-a-percentage-point lower than a year earlier. That's the lowest level of homeownership since the second quarter 1998." Read more here.
By Nin-Hai Tseng
CNNMoney
"Since the housing market imploded, analysts have predicted year after year that prices might at long last bottom out. Will it finally happen this year? Perhaps next? Bottoming out necessarily precedes turning the corner — and until that happens optimists should be cautious. Economists widely cite the short-term obstacles weighing down prices. These factors range from high unemployment and household debt to the so-called "shadow inventory," or all the properties that have yet to come into the market because of pending foreclosures or skittish homeowners delaying sales until prices improve. These threats are very real. But there's a bigger threat — and drag on any future recovery — that doesn't get nearly the attention it deserves: rising interest rates." Read more here.
By Justin T. Hilley
HousingWire 
"The nation's home ownership rate fell for the seventh year in a row, nearly touching levels unseen in 14 years. U.S. home ownership in the fourth quarter of 2011 dropped 0.5% from the year-ago period to 66%, according to a U.S. Census Bureau report released Tuesday. The rate hasn't dropped that low since 1997 when it was 65.7%. Since then, it steadily rose until 2005, reaching 69%. Vacant units that were held off market comprised 5.4% of the total housing stock. Of these units, 1.7% were for occasional use, 1% were temporarily occupied by persons with a usual residence elsewhere, and 2.7% were vacant for a variety of other reasons." Read more here.
By Louis Hyman
The New York Times
"Richard M. Nixon came to office in 1969, so it was left to a Republican administration, and Mr. Romney, to preside over the first mortgage-backed security sale in 1970, which they enthusiastically embraced. 'This event,' Mr. Romney said, 'marks a revolutionary step forward in our efforts to increase the funds available for mortgage financing.' But in an eerie prefiguring of the 2000s, the subprime lending program soon fell apart as predatory lenders and unscrupulous house flippers defrauded first-time buyers. The government found itself insuring mortgages on houses that could never be resold. After first denying the problems, Mr. Romney was ultimately forced to freeze the program in 1971. Yet even as the lending program ended, the mortgage-backed security sector blossomed, at least for higher-quality, middle-class homes. Securitization worked as an instrument to connect local demand and global capital. Bypassing traditional bank deposits allowed money to come from almost anywhere: small-town banks, union pensions and European investors could all buy American mortgages. Lending on houses, at least for middle-class housing, became easier than ever before." Read more here.
The Wall Street Journal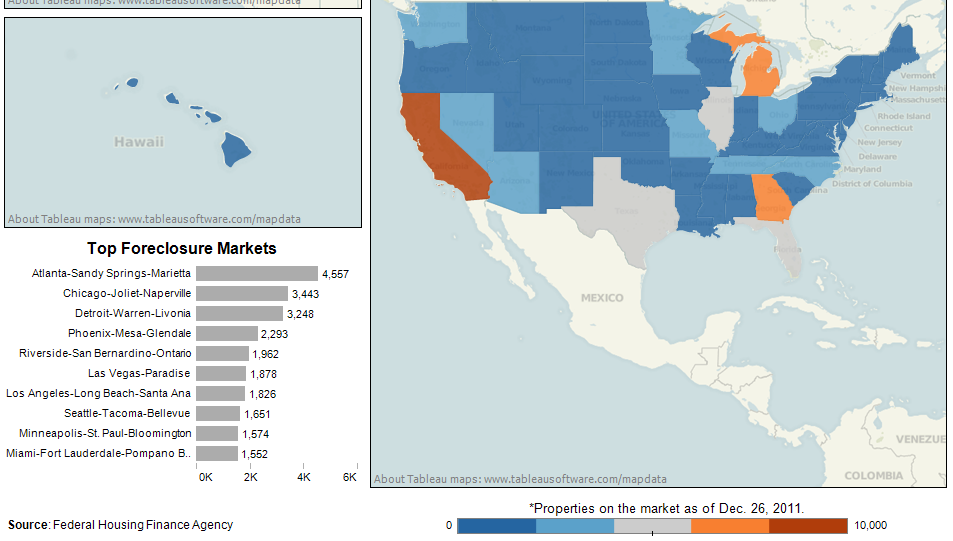 Read more here.
By Alan Zibel and Jeffrey Sparshott
The Wall Street Journal
"Treasury Secretary Timothy Geithner defended the Dodd-Frank financial-overhaul law against mounting attacks on Thursday, the latest in a series of moves by the Obama administration to push ahead with its signature Wall Street overhaul. 'Those who are still working to delay and weaken reforms will only increase uncertainty and damage our efforts to get the rest of the world to adopt a level playing field,' Mr. Geithner said in a briefing with reporters. He added that there was no evidence that repealing the law would help the economy, as Republican candidates for the GOP presidential nomination have argued." Read more here.
Dodd-Frank in one graph.
By Jerry Ascierto
Multifamily 
Executive
"The shadow market now has its first formal government program. The Federal Housing Finance Agency (FHFA) took the first step in its Real Estate Owned (REO) Initiative on Wednesday, outlining how investors could pre-qualify to bid on transactions in the initial pilot phase. The Initiative allows investors to purchase pools of foreclosed single-family properties in the nation's hardest-hit metros, with a catch?those properties must remain rentals for a certain number of years. During the pilot phase, Fannie Mae will offer pools of various types of assets, including homes already being rented, vacant properties, and non-performing loans. But it's just a guinea pig to test investor interest, operational strategies and financing structures to prove the idea out." Read more here.
Could more mortgage shopping prevent foreclosures? "About 20 to 30 percent of mortgage borrowers contacted only one lender [and] a similar fraction considered two lenders." Read more here.
2012-02-05 00:00:00