What We're Reading: February 24
Throughout the week, the BPC Housing Commission will highlight news items that address critical developments in housing policy. Any views expressed in the content posted on this forum do not necessarily represent the views of the Commission, its co-chairs or the Bipartisan Policy Center.
The Lead

By Kerri Panchuk HousingWire The Federal Reserve Bank of Chicago said its national activity index, which reflects inflationary pressures and economic growth, remained in positive territory in January for the second straight month, while housing issues continue to stifle overall growth.
Read more here.
MSNBC: Housing market perks up, but prices are still falling
The View from Washington

By Zachary A. Goldfarb
The Washington Post
"Senior Federal Reserve officials are injecting themselves into a noisy debate over how to solve the housing crisis, drawing criticism from some lawmakers who say the Fed has no business straying from its traditional role as the U.S. central bank. Amid complaints that the Fed has encroached on Congress's territory, Chairman Ben S. Bernanke has tried to allay concerns on Capitol Hill over the past few weeks, in the latest flap in a broader debate about the Fed's proper role in the economy. "That discussion began after the Fed started taking un­or­tho­dox measures in 2008 to address the financial crisis, including several rounds of massive bond purchases and steps to shore up lending markets. All the Republican presidential candidates have criticized Bernanke on various counts, saying he has printed too much money, damaged the value of the dollar and carried out programs that simply haven't worked. In Washington, the reaction to the Fed's efforts to bring down unemployment has divided along partisan lines. Democrats say the steps are necessary, but Republicans say they risk sparking inflation and undermining the currency."
Read more here.
By Mark Felsenthal
CNBC
"The Fed ran headlong into a culture clash between its own cerebral, deliberative norms and the sound-bite driven, polarized election-year political environment on Capitol Hill. The interest-rate sensitive housing sector usually helps lead economic recoveries, but this time was different. Two years after the economy bottomed out, even with interest rates around record lows, housing remained in the tank. As Fed officials studied how long it took for credit to recover after recessions, they were struck by parallels between the residential mortgage markets of today and the commercial mortgage markets that went bust in 1991. Then, it took 10 years to achieve a full recovery."
Read more here.
Editorial
The Washington Post
"Temporary government rescues have a way of becoming permanent. The history of the FHA (the agency was born in 1934 at the height of the New Deal) teaches that lesson. Yet the price of institutionalizing the FHA's expanded role could be high, both directly to taxpayers and indirectly through crowding out private-sector entities that could do the same job more efficiently. The longer Congress and the administration wait to return the FHA to its core mission ? helping a limited segment of needy home buyers ? the higher that price may be."
Read more here.
Editorial
The Plain Dealer
"Vacant and abandoned homes, the rotting carcasses of the mortgage massacre (formally known as the foreclosure crisis), poison neighborhoods from Cleveland to Corpus Christi. For many of these plundered properties, the only antidote may be burial by bulldozer, but the costs add up. Who will pay? A bipartisan coalition led by U.S. Rep. Steven LaTourette, a Bainbridge Township Republican, seeks to answer that question. LaTourette — along with Republican Rep. Jim Renacci and Democratic Reps. Marcia Fudge, Dennis Kucinich, Betty Sutton, Tim Ryan and Marcy Kaptur, Sens. Sherrod Brown and Rob Portman, as well as some Republican legislators in Michigan — plans to introduce legislation in the next two weeks to fund an innovative demolition program through the issuance of government bonds."
Read more here.
HousingWire: Treasury shields HAMP dollars away from AG settlement
Rental Roundup

By Robbie Whelan
The Wall Street Journal 
"The foreclosure crisis has been a four-year nightmare for many homeowners, more than 3 million of whom have lost their homes. Many of these ex-homeowners are middle class people with jobs and safety nets, and have become renters or traded down for more inexpensive homes after losing their primary residences. But for the very poor, options are limited, and the situation is dire, according to a report out Wednesday from the National Low Income Housing Coalition. "Using data from the Commerce Department's American Community Survey, the advocacy group found that for every 100 extremely low income families, there are only 30 affordable units available for rent nationwide. The number of these ELI renters grew by 200,000 between 2009 and 2010, to 9.8 million, or nearly a quarter of all the renters in the U.S. Extremely low income renters are defined as families that earn less than 30% of the median income in their metropolitan area." Read more here. Center for Housing Policy: An Annual Look at the Housing Affordability Challenges of America's Working Households
---
"Buying a home still works for many people, but it should no longer be taken as the embodiment of the American dream."

---
By Justin T. Hilley
HousingWire
"The government's program to turn foreclosed Fannie Mae, Freddie Mac and Federal Housing Administration properties into rentals "is here to stay," according to housing analysts at Morgan Stanley. One of the greatest effects of it, the bank's analysts say, is job creation, with the possibility of creating more than 1 million jobs in the hard-hit construction and real estate industries. The jobs could be created by private capital without the use of taxpayer dollars. The program's purpose is to clear the national backlog of distressed housing." Read more here. The Wall Street Journal: Economists Argue Government Should Boost House Rental Stock The Bay Citizen: How Rent Control Subsidizes San Francisco's Super-Rich The New York Times: Rents Keep Rising, Even as Housing Prices Fall
Market Trends

By Matt Phillips
The Wall Street Journal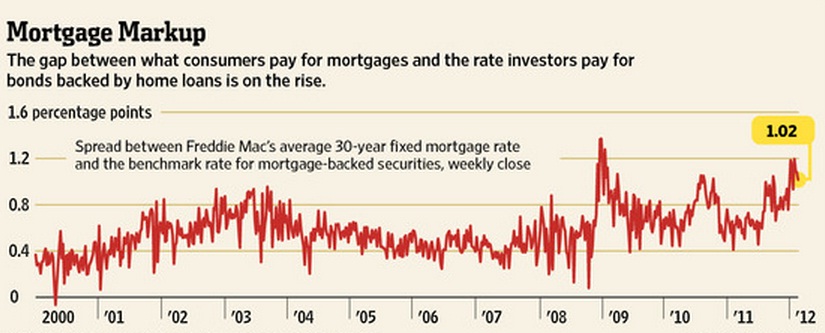 "Mortgage rates are the lowest on record. But by a key historical measure, they should be even lower. Over the past year, a wide gap ripped open between the mortgage rates house hunters see and a benchmark interest rate investors demand to buy bonds backed by home loans. In normal times, this obscure metric would only be of interest to bankers, brokers and traders of mortgage-backed securities. But with housing still dragging on the economy, the spread is potentially slowing the recovery?and important to everyone from top Washington policy makers to strapped homeowners who could use a few extra dollars each month. For months, a key interest rate on mortgage-backed securities?known as the current coupon yield?has tumbled faster than average U.S. 30-year mortgage rates."
Read more here.
By Azam Ahmed
The New York Times
"More broadly, the nascent recovery in the mortgage bond market supports a view that the housing slump may have bottomed out. Sales of existing homes are picking up. State and federal authorities have reached a $26 billion settlement with the big banks that is expected to provide some mortgage relief. And the Federal Reserve Bank of New York has been able to auction off billions of dollars of mortgage securities that it acquired as part of the financial crisis bailouts."
Read more here.
The Atlantic: The High Cost of a Homelessness Surge
The New York Times: Measuring Housing's Drag on the Economy
Demographics

By Will Doig Salon
"'You've got this whole generation that moved to the suburbs thanks to government subsidies,' says Howard Gleckman, author of 'Caring for Our Parents' and a fellow at the Urban Institute. 'They got tax breaks for moving there and now they're staying.' Even city-dwelling boomers ? up to 65 percent of them ? head for the land of the lawns once the kids move out. As they have every right to. But a census-busting generation growing unprecedentedly old while scattered so wide will make caring for aging boomers vastly more complicated. Yet rather than incentivize the next generation of seniors to move to urban areas ? where transit, services and walkable neighborhoods abound ? an array of factors actually discourage them from doing so. How do we fix this?"
Read more here.
By Kate Bolick
The Wall Street Journal
"Single women have been buying homes like never before?a development that my father has seen firsthand, given that his bread and butter is real estate. In 1981, six years after the Equal Credit Opportunity Act made it illegal for lenders to discriminate according to sex or marital status, single women represented 11% of all homebuyers. That figure reached a peak of 22% in 2006, although it has dropped a few percentage points since then, due to the economy… According to the Harvard Joint Center for Housing Studies, over a three-year period in the early 2000s the value of single women's home purchases added up to more than $550 billion.
"Such a trend would seem the very image of female empowerment: a single woman buying a home of her own. Whether a middle-age divorcee or a professional in her 30s who has bypassed the marriage-and-baby track?for now, at least?she's seizing control of her life through real estate…
"This all sounds liberating, but is it really? That so many single women are proud to invest in themselves, and have the means to do so, is obviously an encouraging development. But I'm skeptical of the idea of anyone buying a home to 'signal' his or her arrival. Homeownership, like marriage, is so encrusted with cultural projections and unquestioned assumptions that surely at least some of these women who have figured out that they should marry later (if at all) are unwittingly transferring a desire to feel 'settled' or to be considered 'grown up' into buying a house because 'it's time'?which is to say, swapping out one piece of conventional wisdom for another.
"Just as the 'marriage crisis'?the fact that we are marrying later and less?has given us the opportunity to rethink traditional marriage as society's highest ideal, the housing crisis is our chance to reconsider the centrality of homeownership to the national psyche. Buying a home still works for many people, but it should no longer be taken as the embodiment of the American dream."
Read more here.
---

Related Posts

2012-02-24 00:00:00