What the Omnibus Spending Bill Means for Energy Innovation
The FY2014 bipartisan spending bill just passed by Congress allocates $10.2 billion for science and innovation at the U.S. Department of Energy (DOE) ? a $600 million (6.5%) increase over FY2013 appropriations. All programs were appropriated funds above their FY2013 appropriated levels, although to varying degrees:
DOE's Energy Efficiency and Renewable Energy office will receive $1.9 billion, an increase of $100 million from FY2013.
DOE's Nuclear Energy office will receive $889 million, an increase of $131 million from FY2013; this includes continued funding for the Yucca Mountain depository.
DOE's Fossil Energy R&D office will receive $562 million, an increase of $29 million from FY2013. Interestingly, DOE's offices of Fossil Energy R&D received appropriations greater than levels initially proposed by both the House and the Senate and the President's budget request.
The Advanced Research Projects Agency ? Energy (ARPA-E) received $280 million, a $15 million increase from FY2013.
In passing this budget, Congress also relieves DOE's budgets of the burdens of sequestration. According to AAAS, sequestration in FY2013 resulted in DOE's program budgets 8% lower than their appropriated amounts. With FY2014 appropriations secured, DOE's program offices will have significantly more budget to work with than last year?effectively getting back to just above where they were in 2010.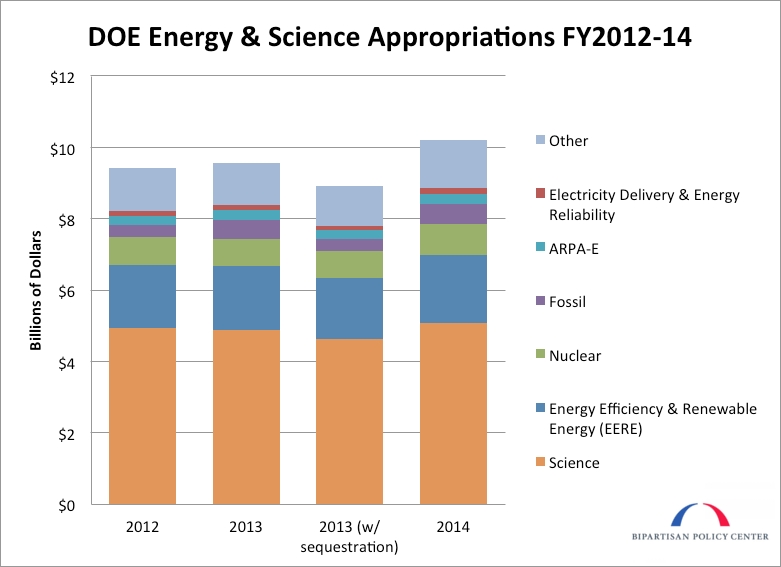 Not all budgets in DOE program offices are spent directly on R&D?some is spent on R&D facilities construction and maintenance, non-R&D grantmaking, and other expenditures. When examining R&D activities specifically, budgets remain relatively flat. AAAS data indicate that FY2014 R&D budgets are just 11% above FY2004 levels in constant dollars?an average growth rate of just over 1% per year.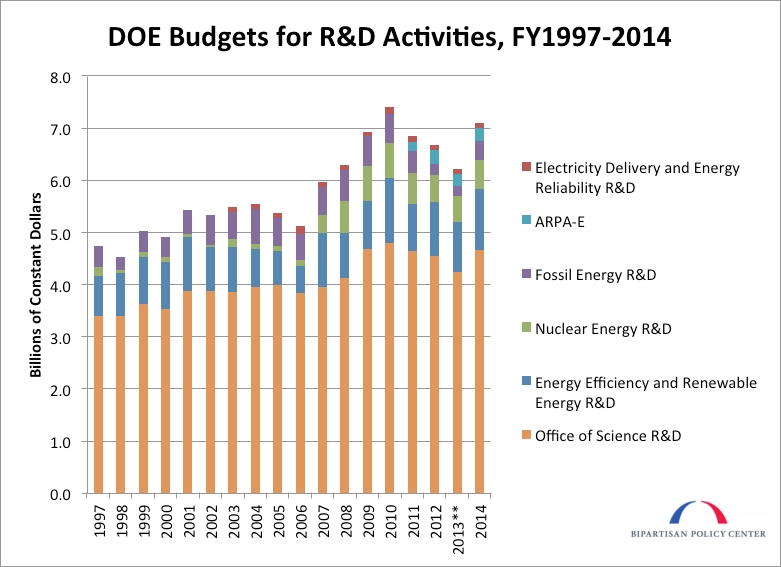 The figure above for 2013 is an AAAS estimate of the budget that includes the impact of sequestration.
Both BPC's American Energy Innovation Council and BPC's Strategic Energy Policy Initiative note that the United States must significantly increase its public investments in energy innovation if it is to meet the challenges of reliable, affordable, lower-carbon energy and create the foundations for economic growth at home.
2014-01-22 00:00:00
DOE's program offices will have significantly more budget to work with?effectively getting back to just above where they were in 2010