Trump's Defense Budget Plan in Perspective
Share
President Donald Trump's announced $603 billion FY2018 defense budget could actually represent a slight cut from anticipated FY2017 total national defense spending levels.
White House Budget Director Mick Mulvaney recently announced a 2018 budget "blueprint" that would allocate $603 billion towards "top line defense discretionary" funding, saying it represents a $54 billion increase from the Budget Control Act spending caps and is "one of the largest increases in history" for a defense budget. While the details of the administration's FY18 defense budget are still forthcoming, this blueprint provides some insight that can be compared to other recently announced defense budget plans (see Figure 1).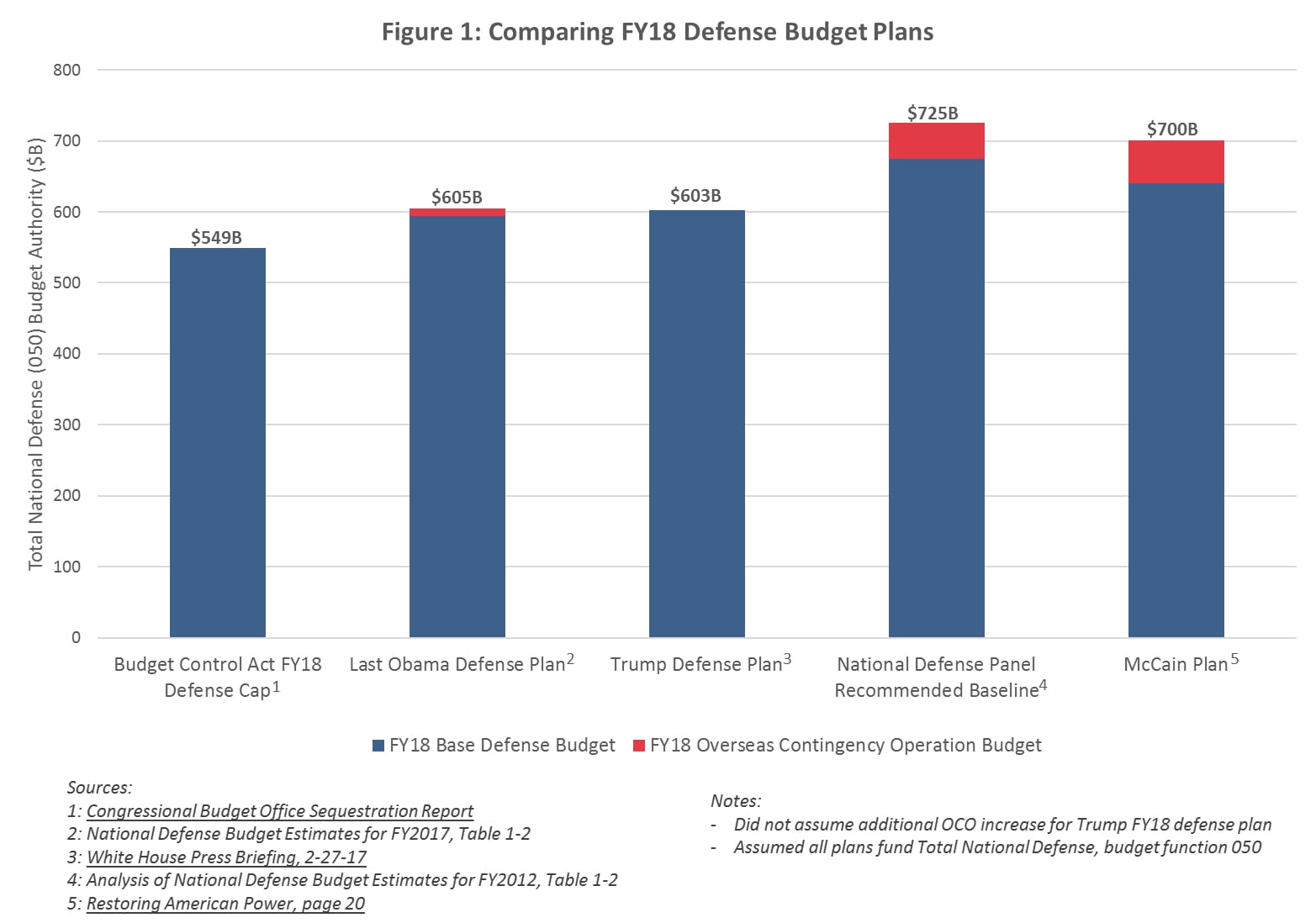 At the top-end of the of the spectrum is the $725 billion proposed by the 2014 National Defense Panel. This recommendation is based on former Defense Secretary Robert Gates' FY2012 budget request, which they described as "the minimal baseline for appropriate defense spending in the future." BPC assumes $50 billion in overseas contingency operation (OCO) funding, which aligns with the Gates budget projections and is slightly lower than recent OCO appropriations.
Sen. John McCain (R-AZ), Senate Armed Services Committee chairman, released his own plan, which called for $700 billion in total defense spending for FY2018. This figure includes both base defense and OCO funding, since both funding streams are, according to McCain's plan, "real dollars paying for real activities."
As part of his last budget request, former President Barack Obama sought $605 billion for total national defense in FY18. That included $594 billion in base funding and a "placeholder" of $11 billion for OCO.
All four plans exceed the caps put in place by the Budget Control Act of 2011. According to the Congressional Budget Office, the cap for total national defense discretionary spending is $549 billion.
In historical terms, Trump's budget request is one of the lower defense spending increases in recent memory.
BPC assumes total defense spending in FY2017 will amount to approximately $608 billion. This assumption includes a full-year continuing resolution that sets the base defense budget at $522 billion, approximately $65 billion in OCO funding, and a defense supplemental budget request that is likely to come in at around $22 billion.[i] The defense supplemental is still in development and is expected to be released in the coming months.
There are many unanswered questions about the Trump defense plan. Mulvaney did not specify whether the $603 billion blueprint includes OCO funding and/or whether the figure covers total national defense spending, which includes funding for the Energy Department and other executive agencies. However, in the past, Mulvaney has said in reference to OCO, "it is time to do away with the slush fund entirely." For this analysis, BPC assumed the Trump plan covers total national defense and represents the entire defense budget.
In historical terms, Trump's budget request is one of the lower defense spending increases in recent memory (see Figure 2). For comparison, President Reagan boosted defense spending by 10.4 percent in his first full-year defense budget. Depending on final FY2017 defense spending levels and what the administration proposes for OCO, President Trump's first full-year defense budget could represent a small increase or even a small budget cut from the prior year.

---
[i] $22 billion defense supplemental is the mean between Rep. Thornberry's "at least $18 billion" and Sen. Cotton's call for an additional $26 billion.
Support Research Like This
With your support, BPC can continue to fund important research like this by combining the best ideas from both parties to promote health, security, and opportunity for all Americans.
Give Now