Snaps of Service Winners
In our Snaps of Service photo contest, we asked people to send us a photo of their public service. We were thrilled to receive submissions from all over the country, not to mention a number of international entries. Here are the winners:
First Place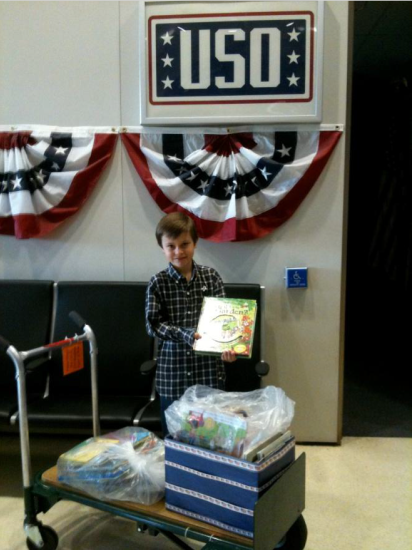 The first-place entry is a picture submitted by Jenny and Adam Weber from Dallas, Texas. Jenny Weber explains in her submission that her son, Adam, "realizes that when one person serves in the military, the entire family serves." Consequently, Adam does his part to help families of those in the military ? he collects books for servicemen and women to read to children. The readings are then recorded onto CDs and given to the children of the military members. Jenny and Adam Weber truly show us how Americans of all ages can serve their country and will be receiving a $500 donation to the charity of their choice – the Food Trust. The Food Trust has been working for the past 20 years to ensure that everyone, inside and outside of Philadelphia, has access to affordable, healthy and nutritious food.
Second Place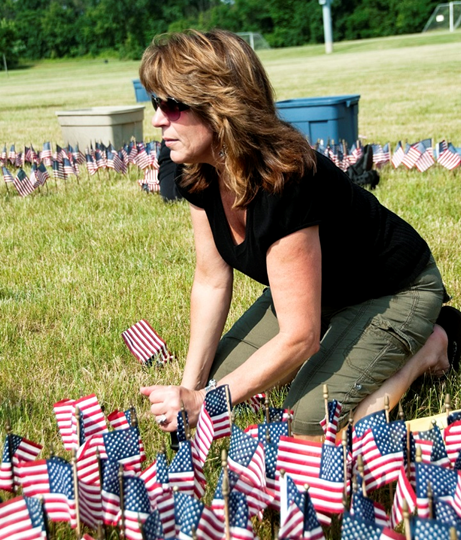 The second place award goes to Pennsylvania State Representative Tina Davis. As she stated in her submission, "this picture was taken of me while I was participating in a Flag Memorial ceremony for military veterans in June 2012 at a cemetery in Bucks County, PA." Representative Davis serves the 141st District in Bucks County, located in southeastern Pennsylvania and was a former member of the Pennsylvania House Veterans' Affairs & Emergency Services Committee. She has created a "Veterans Cabinet" comprised of local Pennsylvania veterans who advise her on the issues most pressing to them. This picture exemplifies not only her service to the residents of Bucks County, but also her commitment to the heroes who serve this country. Representative Davis will be receiving a $500 donation to her charity of choice ? the Bucks County chapter of Big Brothers Big Sisters. Big Brothers Big Sisters is a national nonprofit organization that helps children realize their true potential by matching them with mentors.
Honorable Mention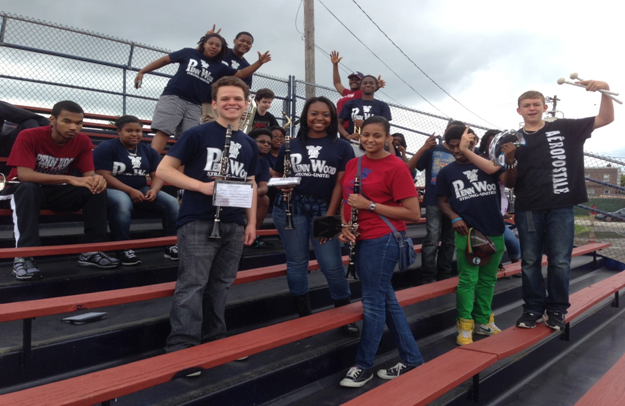 Jennifer Hoff from Pennsylvania submitted this photo, which received an Honorable Mention. The smiling students were members of a high school band that had almost ceased to exist. As Jennifer writes in her submission, "this is a picture of Penn Wood Marching Band, prepared to play at the Penn Wood United and Strong Rally, an event planned by the Penn Wood High School Class of 2013 after an arsonist damaged and shut down the high school on April 18, 2013." With over 75% of the school's students receiving a free or reduced lunch rate, Jennifer and another band parent, ShaQuan Buffaloe, recognized the importance of maintaining a vibrant music program, and restarted the Penn Wood Band Boosters two years ago. Jennifer and ShaQuan demonstrate the power of a few ordinary citizens working together to serve their community and let the band march on.
Facebook Fan Favorite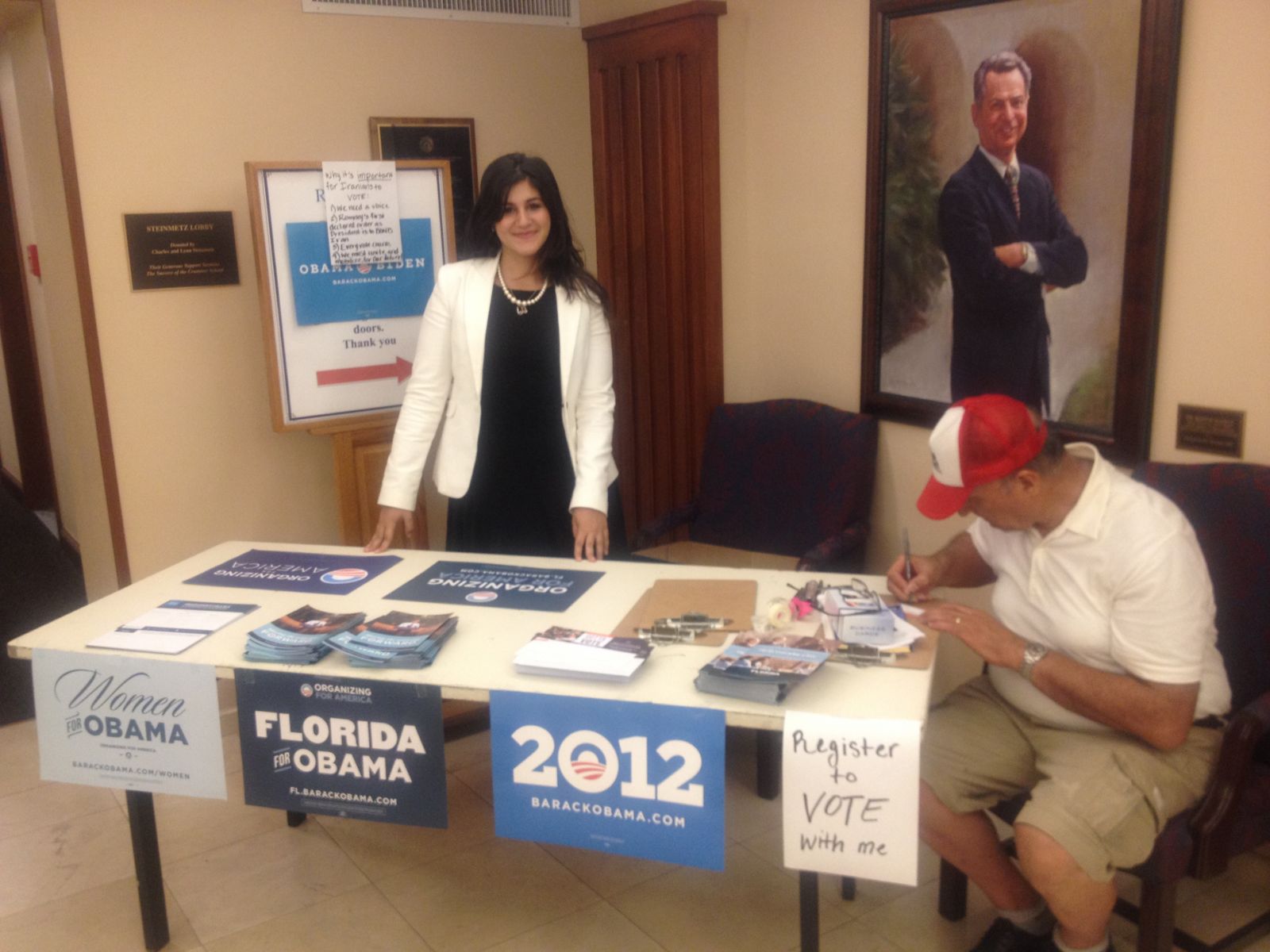 Racking up more than 440 likes, Donya Nasser's submission garnered the title of Facebook Fan Favorite, which earned her a trip here to Philadelphia. Donya, a rising junior at St. John's University, submitted a photo of her time as a fellow for the Obama Campaign in 2012, in which she not only registered people to vote on Election Day, but also engaged with her local Persian-American community. As she explains, "I requested to table at an event hosted by the Central Florida Iranian American Chamber of Commerce at Rollins College. Iranians and Iranian-Americans are underrepresented in politics and their voices are muted, so I wanted to ensure that they went out to vote and to make their voices heard. If we mobilized in unison, then we could become more represented, a voice for change, and have a seat at the table." As a millennial, Donya represents a new generation of leaders in America ? a generation that understands and appreciates the importance of service.
Todd Bernstein – Public Service Award

The Bipartisan Policy Center's Commission on Political Reform recognizes Todd Bernstein, President of Global Citizen, as the inaugural recipient of the Public Service Award. In 1994, Todd started Global Citizen, a "non-partisan organization dedicated to promoting civic engagement, community volunteering, civic responsibility, and sustained active citizenship among diverse groups, particularly young people." In conjunction with Global Citizen, Todd launched the first King Day of Service in Philadelphia in 1996, which has since boasted 760,000 volunteers for the past 17 years. That effort led to the founding of MLK365 in 2008, which aims to "transform the King Day of Service into a year-round civic engagement initiative." A graduate of Ithaca College and the University of Pennsylvania's Fels Center of Government, Todd has been recognized by the Philadelphia Association of Black Journalists, the National Association of Blacks in Criminal Justice, the Jewish Social Policy Action Network, as well as the White House Champions of Change, for his steadfast work and dedication to service and social justice. Todd Bernstein has devoted his entire career to public service and BPC is honored to grant him this award.
Todd will also take part in the Town Hall on Public Service on July 23 in Philadelphia. Learn more here.
2013-07-18 00:00:00
Join Our Mailing List
BPC drives principled and politically viable policy solutions through the power of rigorous analysis, painstaking negotiation, and aggressive advocacy.