Obesity in America: Graphics, Links and Resources
On June 5, BPC's Nutrition and Physical Activity Initiative will release a major report on the urgent need to restore America's physical (and fiscal) health. The initiative is led by a bipartisan group of four former U.S. cabinet secretaries: BPC Senior Fellow and Agriculture Secretary Dan Glickman; former Utah Governor and Health and Human Services Secretary Mike Leavitt; University of Miami President and Health and Human Services Secretary Donna E. Shalala; and former Executive Director of UNICEF and Agriculture Secretary Ann M. Veneman. Click here for full event details. Ahead of the event, check out the roundup below for information on obesity and its impact on society. BPC would also like to hear from you. What are your favorite exercises and food tips? What are your ideas for improving your surroundings at home, the office and school to make them healthier places to live, work, learn and play? Readers can leave comments below, or post thoughts on Facebook and Twitter.
The Centers for Disease Control and Prevention has an animated map displaying year-to-year U.S. obesity prevalence across states and regions from 1985 through 2010. Here is a stunning sample: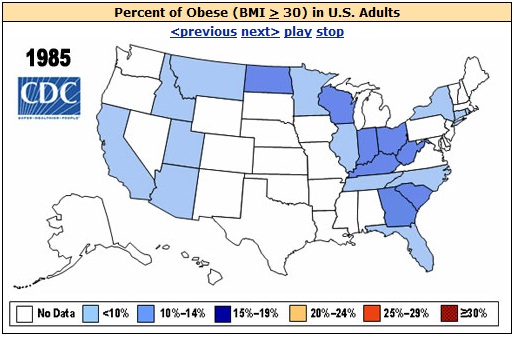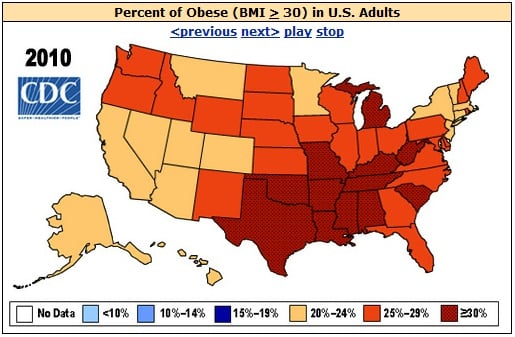 "By state, obesity prevalence ranged from 21.0% in Colorado to 34.0% in Mississippi in 2010. No state had a prevalence of obesity less than 20%. Thirty-six states had a prevalence of 25% or more; 12 of these states (Alabama, Arkansas, Kentucky, Louisiana Michigan, Mississippi, Missouri, Oklahoma, South Carolina, Tennessee, Texas, and West Virginia) had a prevalence of 30% or more."
Calculate your body mass index here.
PBS NewsHour posted an infographic that compiles obesity statistics from numerous agencies, health experts, and news outlets. Two nuggets stand out:
Losing as little as 5 to 7 percent of a person's total weight lowers blood pressure, improves blood sugar levels and lowers diabetes by nearly 60 percent in people with prediabetes.
The average size of a bagel more than doubled between 1983 and 2003, going from a three-inch diameter and containing 140 calories to a six-inch diameter with 350 calories.
HBO's new Weight of the Nation TV special has a website with pages dedicated to weight loss, nutrition, physical activity, the work environment, food marketing, and schools and early childhood care. View the trailer:
Watch the full film series here.
On May 8, the Institute of Medicine (IOM) of the National Academies released a report, Accelerating Progress in Obesity Prevention: Solving the Weight of the Nation, from a committee that included Secretary Glickman. As part of its report presentation, IOM produced the valuable infographic below:

Finally, BPC's Economic Policy Project laid out the fiscal consequences of rising health care costs: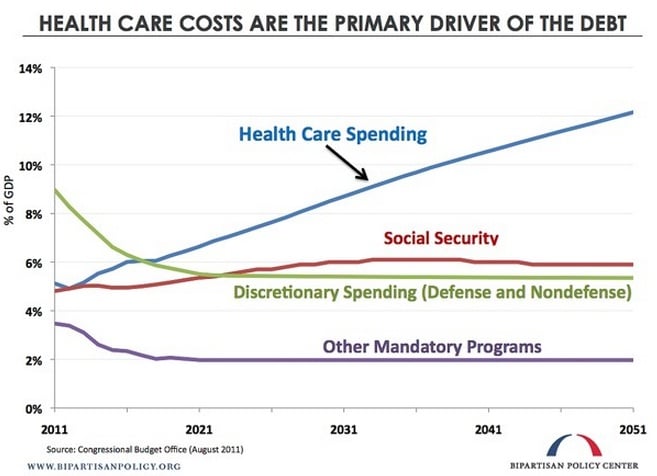 ---
Related Posts
2012-05-23 00:00:00
Statistics released last month project that 42 percent of the U.S. population will be obese by 2030