Millennials in Retirement: Rising Home Equity But Declining Homeownership
This is the third post in our Millennials in Retirement Series, which explores how today's young people will fare in retirement. Read the first and second installments of the series.
Key Takeaways

Among older Americans, median wealth held in home equity is projected to increase by 22 percent (in inflation-adjusted dollars) by 2065.
However, home wealth is not projected to increase across the board. Individuals with higher amounts of home equity are forecast to see a greater percentage increase by 2065, whereas those with lesser amounts may even see decreases in their home equity.
Homeownership is projected to decline by six percentage points among older Americans over the next 50 years?from 80 percent to 74 percent.
For many Americans, home equity is a crucial form of retirement savings. A home serves as a low-cost place to live in older age (assuming it is paid off), and home equity can also be converted to cash through borrowing or downsizing.
According to new projections from the Urban Institute, which were prepared for the Bipartisan Policy Center, median home equity among older Americans (age 62 and up) will increase substantially over the next several decades. This growth, however, is not projected to occur for the entire age cohort. Individuals with less home wealth (the bottom 25th percentile) could see home equity decrease, mirroring the forecast of a declining homeownership rate among older Americans.
By 2065, median housing wealth for those age 62 and up is projected to increase by 22 percent, from $78,700 to $95,900 (in inflation-adjusted dollars). Similarly, for the 75th percentile, home equity is forecast to rise by 42 percent, from $179,400 to $254,000. But projections indicate that these gains will not materialize for all. Home equity among individuals in the 25th percentile is projected to decrease from $17,600 in 2015 to $0 by 2065.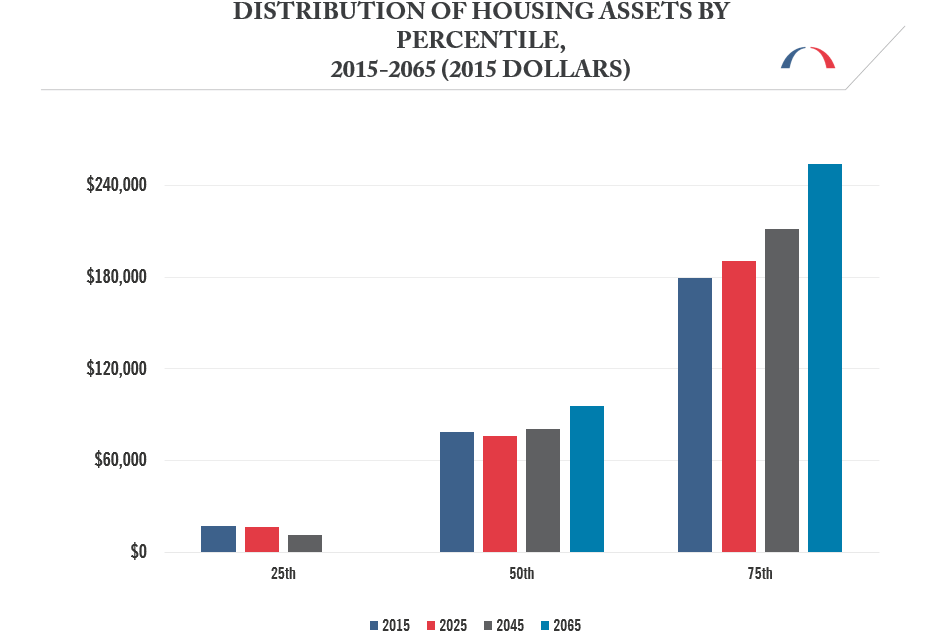 Source: Urban Institute, DYNASIM 3
Correspondingly, the Urban Institute anticipates that homeownership will decline over the next several decades. By 2065, the percent of older Americans who own a home is projected to decrease by six percentage points, from 80 percent to 74 percent.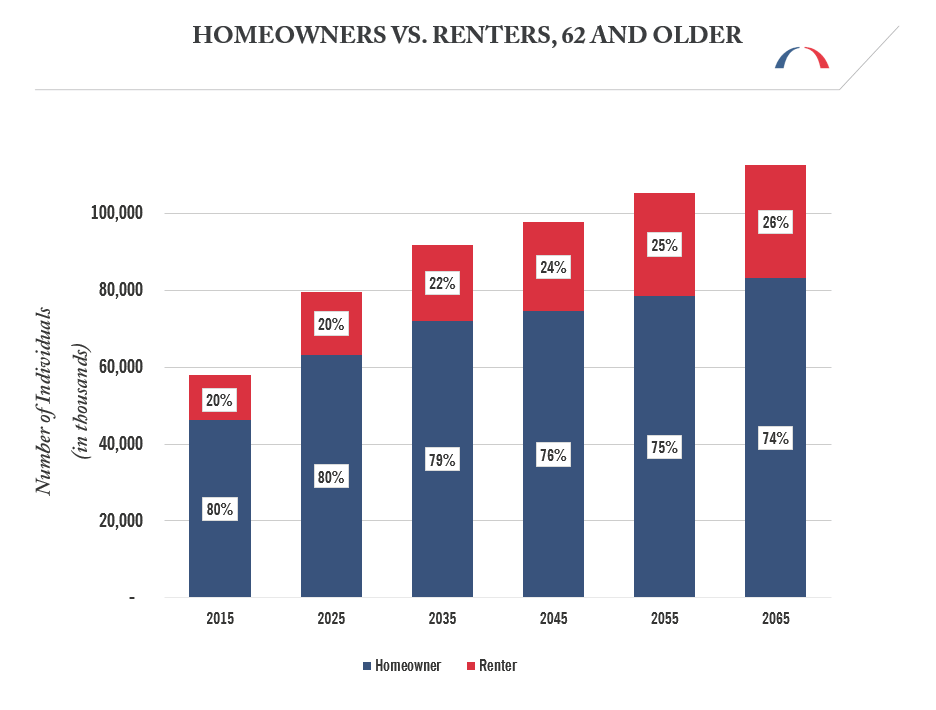 Source: Urban Institute, DYNASIM 3
These new projections point to a few key takeaways. First, an increase in median home wealth could bolster retirement security for some older Americans, providing them with an additional source of equity to finance retirement consumption. Second, the decline in home wealth for others?as well as decreasing homeownership overall?is partially a reflection of growing disparities, with significant home equity becoming increasingly concentrated among individuals closer to the top of the income distribution. (Indeed, this echoes the findings from our previous posts in the series, which discussed similar long-term trends with regard to retirement asset growth and poverty.)
Projections indicate that the number of older renters will more than double by 2065, from around 11.7 million today to 29.3 million, in part the result of population growth, and in part due to lower rates of homeownership. As millions more older Americans will need to fully fund their housing consumption in retirement, their savings could be stretched increasingly thin.
The homeownership projections above are also likely being driven by an aging U.S. population. By 2065, the percentage of the age 62 and up population that is more than 80 years old is projected to increase from 20 percent to 30 percent. As individuals grow older, they are more likely to sell their homes and move in with family or into assisted living facilities.
Ultimately, these projections indicate that home equity will remain a vital source of savings for many Millennials in retirement, and may actually grow for the median homeowner. But given that the Urban Institute's projections actually show declining home wealth for some, relative to today's retirees, Millennials should also recognize the importance of other forms of retirement savings. Ultimately, having a mix of savings vehicles?like a 401(k), an IRA and a home?drastically improves one's chances of being financially secure in retirement.
BPC's Commission on Retirement Security and Personal Savings has convened experts from across the political spectrum to address America's retirement and savings challenges. In 2016, the Commission will publish recommendations to improve personal savings, increase retirement security, and empower Americans to make prudent financial choices.
Join Our Mailing List
BPC drives principled and politically viable policy solutions through the power of rigorous analysis, painstaking negotiation, and aggressive advocacy.