Mexico Moves Forward with Energy Sector Reforms
On Thursday, Mexico's Congress approved a bill that would open Mexico's oil industry to competition and to private sector investment for the first time in 75 years. The bill, which delivers on a major campaign promise made by President Peña Nieto, would amend articles 25, 27 and 28 of Mexico's constitution, and must now gain approval by a majority of the state legislatures in Mexico before it becomes law. However, according to The New York Times, President Nieto's party controls a majority of the state legislatures in Mexico, so approval is all but expected.
For more than 60 years, Mexico's Constitution has prohibited private sector entities from competing with Pemex, Mexico's national oil company, to develop oil and gas resources in Mexico. It may come as a surprise to find that President Nieto's proposal is not a new one in Mexico; President Lázaro Cárdenas, famous for nationalizing Mexico's oil resources in 1938, also enacted laws that explicitly allowed private investment in oil exploration as well as profit sharing in 1940. It wasn't until 1960, during the height of the Cold War, that Mexico enacted the provisions still in place today that block private investment in the energy sector.
As a result, Mexican oil production has lagged in recent years and has failed to keep pace with domestic consumption, dropping by over 800,000 barrels per day over the last decade, from 3.4 million barrels per day in 2003 to 2.6 million barrels per day in 2012. However, reform could turn these declines around. As BPC's President Jason Grumet and BPC Senior Fellow Senator Pete V. Domenici (Ret.) wrote in an October 10 op-ed: "It is hard to overstate the opportunities that could flow from the effective and sustainable development of Mexico's vast natural resources. Even though in decline, energy production remains a leading source of high-wage jobs in Mexico and funds more than one-third of all government activities. The U.S. Energy Information Administration believes that Mexico has the fourth-largest shale gas potential in the world. Many of the most productive oil and gas plays in the Eagle Ford Shale in South Texas extend south of the Rio Grande and significant shale reserves lie along Mexico's Gulf Coast."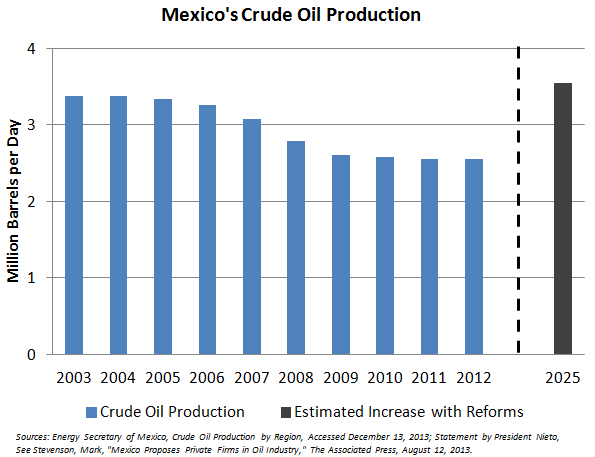 If these efforts are successful, President Nieto estimates that oil production in 2025 could grow to 3.5 million barrels per day, almost 1 million barrels per day over 2012 levels. Some supporters estimate that implementation of the reforms could add "a full percentage point to Mexico's annual growth rate," while other commentators see the dissolution of Pemex's monopoly "as the biggest economic change in Mexico since the North American Free Trade Agreement in 1994."
Adding increased production from Mexico to an equation that already includes growing U.S. and Canadian oil output (not to mention reductions nearing 1 million barrels per day in U.S. oil demand from fuel economy improvements) sets the stage for a fundamental improvement in the economic and energy security for North America. If realized, the increases in production from North America will diversify worldwide oil production. This would be very good news for global markets, because a diversified market with growing production from stable regions is almost always associated with lower and more steady global oil prices.
Read more on the implications of Mexico's energy sector reforms here and here.
Interested in the geopolitics of petroleum and natural gas markets? Read more here.
2013-12-17 00:00:00
Move will end 75-year state monopoly and has profound implications for North American energy and economic security
Join Our Mailing List
BPC drives principled and politically viable policy solutions through the power of rigorous analysis, painstaking negotiation, and aggressive advocacy.