The International Energy Agency's Golden Rules for a Golden Age of Gas
David Rosner contributed to this post.
In recent posts, we've discussed how the dramatic increase in economically recoverable supplies of natural gas from shale formations has impacted natural gas prices, fuel switching in the electric power sector, and industry drilling activity. In this post, we will examine the International Energy Agency's (IEA) recently released report, Golden Rules for a Golden Age of Gas, which offers suggestions to policymakers, regulators, and industry for balancing the economic, environmental, and social impacts associated with increased unconventional natural gas development.
The IEA report has garnered widespread attention, much of it positive, from a wide range of stakeholders including industry and editorial boards alike. The report was even discussed by the G-8 during its recent Camp David Summit.
The report lays out a series of suggested principles that the authors refer to as "Golden Rules." According to the IEA, the application of the Golden Rules "?can bring a level of environmental performance and public acceptance that can maintain or earn the industry a ?social license to operate' within a given jurisdiction, paving the way for the widespread development of unconventional gas resources on a large scale, boosting overall gas supply and making the golden age of gas a reality."
The rules are summarized in Figures 1 and 2 below: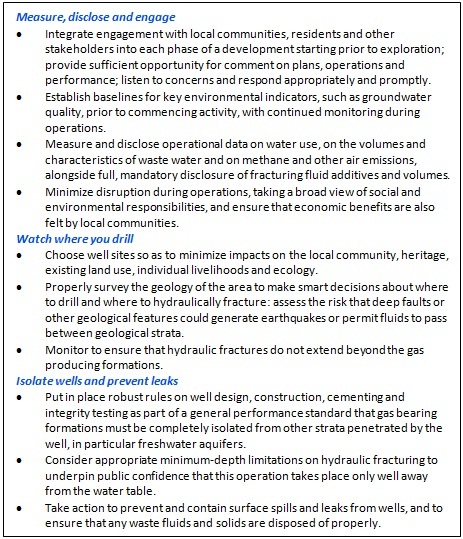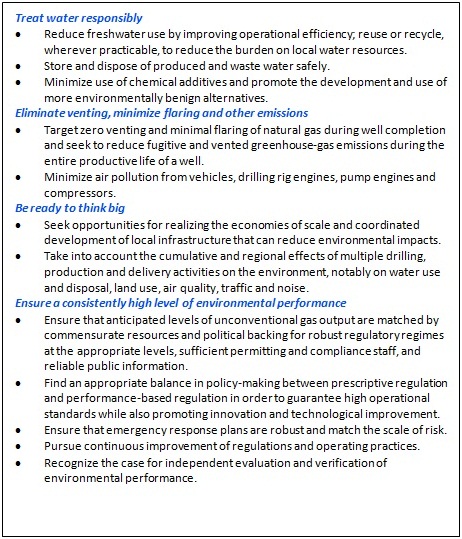 Source: International Energy Agency, Golden Rules for a Golden Age of Gas Report
In addition to high-level directives regarding community engagement, economies of scale, and striking a balance in policy-making, the report endorses a set of concrete regulations to address some of the more prominent criticisms of shale gas development: impacts on water supplies and air quality, as well as management and disposal of wastewater. Through disclosure of the contents of fracturing fluids, monitoring of groundwater quality, proper well cementing and isolation practices, environmentally conscious fluid handling, thorough subsurface characterization, and minimization of methane leakage, the IEA believes that the industry can extract natural gas in a socially responsible manner.
The IEA believes that its recommendations will have modest cost implications for operators, and that implementing these practices would add 7% to drilling and completion costs for a typical well in a shale gas formation. Most of the additional investment would go towards water recycling, more expensive fracturing fluid additives, and higher drilling and cementing expenditures (it is also worth noting that these assumptions do not take into account the additional revenue that would be generated from capturing and selling methane that would otherwise be vented during the completion process). The predicted incremental cost would go a long way towards ensuring public acceptance of hydraulic fracturing without jeopardizing the profitability of shale gas development.
Some of the recommendations put forth in the report have already been adopted in recent months by the EPA (minimization of methane venting and flaring) and in the Department of the Interior's draft rule (ensuring mechanical integrity of the well during hydraulic fracturing operations, disclosure of chemicals used in fracturing fluid, and proper wastewater handling), though the DOI draft rule would only affect oil and gas development on federal lands. These developments have occurred in parallel to similar efforts by many state regulatory agencies as well. While there is much work yet to be done, the IEA believes that report provides a starting point for a regulatory framework that will protect the public's environmental interests while still meeting its energy needs.
---
Related Posts
2012-06-29 00:00:00