House-Passed Suspension Would Add Approximately $1 Trillion to Debt Limit in March 2015
Share
On February 8, the statutory debt limit was reinstated; prior to that, it had been suspended since October 17, according to the terms of the Default Prevention Act, which was enacted along with the agreement that ended the government shutdown. The new debt limit is set at $17.2 trillion, a $542 billion increase from the previous limit, reflecting debt issued to cover deficit spending since May 2013.
On Tuesday, February 11, the House of Representatives passed a suspension of the debt limit through March 15, 2015, as an amendment to an unrelated Senate-passed bill (S. 540) to expedite Senate consideration. If S. 540 becomes law, upon reinstatement next year, BPC estimates that the new debt limit will be roughly $1 trillion higher.
The Bipartisan Policy Center (BPC) has incorporated updated government financial data through February 10 into its projections, and the results do not warrant a change in BPC's X-Date estimate. Without passage of the debt limit suspension as part of S. 540, BPC continues to project that the X Date ? the day upon which Treasury would have no borrowing authority and the combination of cash on hand and daily revenue would be insufficient to meet all federal financial obligations in full and on time ? would be most likely to occur between February 28 and March 25, with a high probability for the X Date to occur before March 14.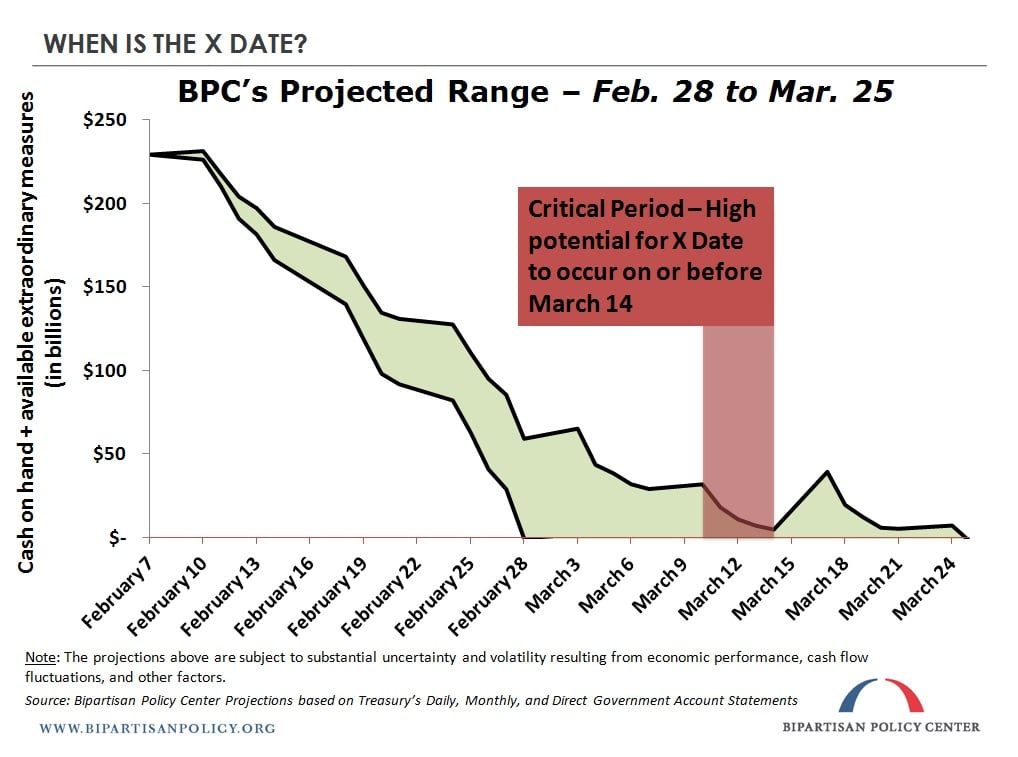 Alex Gold contributed to this post.
Support Research Like This
With your support, BPC can continue to fund important research like this by combining the best ideas from both parties to promote health, security, and opportunity for all Americans.
Give Now
Join Our Mailing List
BPC drives principled and politically viable policy solutions through the power of rigorous analysis, painstaking negotiation, and aggressive advocacy.