George Mitchell: In Search of a Collective Answer at a Critical Moment
Share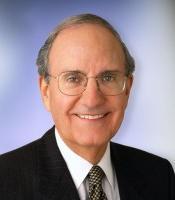 ?It has been nearly five years since I joined with fellow Senate Majority Leaders Howard Baker, Tom Daschle and Bob Dole in founding the Bipartisan Policy Center (BPC). In that time, BPC's reputation for convening policymakers from both sides of the aisle and forging compromise on some of our most challenging issues has become a trademark in Washington.
BPC's groundbreaking work on economic, energy, health, national security and transportation policy has elevated the national dialogue as America confronts new obstacles in these arenas.
While I had to leave BPC to attend to other challenges overseas as a Special Envoy in the Obama Administration, I admire its continuing work ? in particular the culminating report of BPC's Leaders' Project on the State of American Health Care. Released in June 2009 at the height of the health care reform debate, Crossing Our Lines: Working Together to Reform the U.S. Health System, presented realistic goals for establishing insurance exchanges and lowering costs. The Leaders' Project proved that devoted partisans could still negotiate a comprehensive plan that could win support from both parties.
I am pleased to be a part of BPC's new Housing Commission, which is launching today. As an author of the Low-Income Housing Tax Credit, a major component of the 1986 tax reform package, I look back with pride at a program that helped to build and preserve affordable housing for low and moderate income families. A quarter-century after crafting that legislation, I recognize the need for a new generation of proposals to address shifting demographic and cultural trends. Like its timely work on debt reduction, BPC launches the Housing Commission at a moment when our collective answer to the housing crisis will determine the potential for reigniting economic growth and shaping a sustainable path for the nation's future housing landscape.
2011-10-26 00:00:00
Support Research Like This
With your support, BPC can continue to fund important research like this by combining the best ideas from both parties to promote health, security, and opportunity for all Americans.
Give Now
Join Our Mailing List
BPC drives principled and politically viable policy solutions through the power of rigorous analysis, painstaking negotiation, and aggressive advocacy.