Gates, Mullen Echo Leaders of Debt Commissions: America's Fiscal Challenge is a Matter of Arithmetic
When Admiral Michael Mullen was chairman of the Joint Chiefs of Staff, a reporter asked him to name the most significant threat to U.S. national security. His response? Our debt. On Monday, speaking to a panel of former members of Congress, Admiral Mullen elaborated on the dire implications of America's fiscal path to our national security:
"A nation with our current levels of unsustainable debt, being this far out of fiscal balance, cannot hope to sustain for very long its superiority from a military perspective, or its influence in world affairs. That was not intended as a partisan statement then, and it has no partisan meaning now. I was using our growing and unsustainable debt as shorthand for the abundant disorder in our fiscal house, brought upon us, by ourselves, by our own doing. While much has been said since then, little has changed. In fact, I would argue that the mere passage of time, combined with a lack of solutions in the interim, has compounded the problem, as our debt increases seemingly exponentially, and solutions that require compromise seem a figment of the imagination."
Also addressing the panel was former Secretary of Defense Robert Gates, who starkly depicted the risks ahead:
"At some point, financial insolvency at home will turn into strategic insolvency abroad. We are not there yet, but the longer the United States government delays in dealing with the country's long term fiscal problems will only make dealing with them later more painful and potentially more risky in terms of national security. We will get a preview of how damaging this scenario could be at the end of December, when hundreds of billions of dollars of mindless, across-the-board spending cuts will take effect for 2013."
Monday's event, the second in a series of four, is part of a new initiative, Strengthening of America?Our Children's Future, a joint effort of the Center for Strategic and International Studies (CSIS), The Concord Coalition, and the Bipartisan Policy Center (BPC), co-chaired by former Senators Sam Nunn (D-GA) and Pete Domenici (R-NM).
Both Gates and Mullen reminded the audience that the defense department is already scheduled to take hundreds of billions in cuts over the next decade, largely stemming from the Budget Control Act of 2011. Admiral Mullen said that he supported those cuts when he was chairman of the Joint Chiefs of Staff and continues to support them.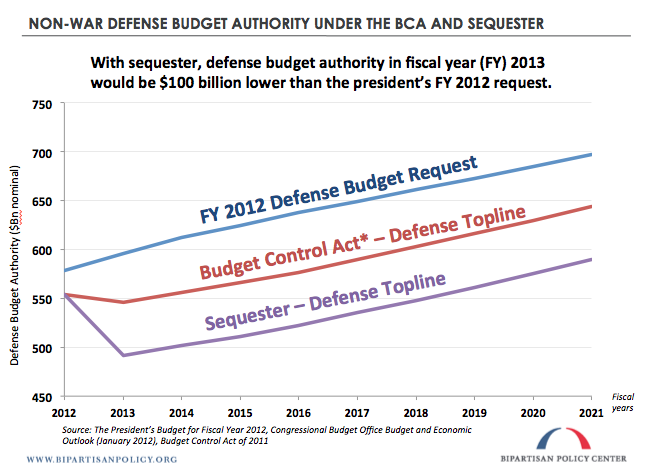 Sequestration, which would take effect in January 2013 if Congress fails to act, would require another half trillion dollars in across-the-board cuts to defense, along with a half trillion dollar cut to non-defense spending, which includes education, medical and scientific research, homeland security, food and drug safety, payments to Medicare providers, and many other important functions.
Gates argued that allowing sequestration to take effect would result in grave damage to the U.S. military, with a particularly large adverse effect on force readiness. Fighter pilots would have reduced flying time, soldiers would receive less training and fewer bullets to train with, and ships would remain in port because there would be no funds to operate them, all at a time when almost 70,000 troops continue to serve our nation in Afghanistan. He argued that across-the-board cuts are the worst way to reduce spending, calling it "managerial cowardice, a refusal to make choices and establish priorities." Admiral Mullen warned the panel that the result of sequestration would be "a hollow force, a force unable to conduct its training, a force unable to maintain its equipment, and a force unable to fight. A force also unable to readily recover from the ravages of over a decade of war." Secretary Gates called on our leaders to act:
"In order to maintain strong institutions of national defense and international influence, the United States must get its government finances in order. Doing so requires our country's political class to show leadership and make decisions that may be unpopular in the short run, but will strengthen the country for the long haul. So far, there appears to be little evidence that this is taking place."
Secretary Gates cited several trends that he believes have contributed to the paralysis in the American political system, including gerrymandered congressional districts that elect representatives beholden to an ideological base, a series of wave elections that have intensified this effect, the decline of congressional power brokers who could make deals and ensure they were kept by committees and caucuses, and a 24/7 media that highlights extreme and vitriolic opinions, coarsening the national political dialogue. He added:
"As a result of these and other polarizing factors, the moderate center, the foundation of our political system, is not holding. Moderation is now equated with lacking principles; compromise means selling out. So just at a time when this country needs bipartisan strategies that can and must be sustained through more than one presidency and more than one Congress, to deal with our most serious long term problems, most of the trends are pointing in the opposite direction. Critical ideas and progress in our history often have come from thinkers and ideologues on both the left and the right. But the laws and policies that ultimately implemented the best of those ideas have come from the vital political center, usually as a result of compromise. At a time when our country faces deep economic and other obstacles at home and a world that just keeps getting more complex and more dangerous, the inability of so many political leaders today to step outside their ideological cocoons or offend their most partisan supporters has become a real threat to America's future. Across the spectrum, too many of our politicians seem more concerned with winning elections and scoring ideological points than with saving the country. My hope is that, following the presidential election, whatever adults remain in the two political parties will make the compromises necessary to put this country back in order. Doing so would remove the economic pall that hangs over the American economy at home and American power and credibility overseas."
Afterward, the principals of the Simpson-Bowles deficit reduction commission and the BPC's Domenici-Rivlin task force addressed the panel on what it will take to solve the nation's fiscal problems. Former White House Budget Director Dr. Alice Rivlin outlined the situation succinctly:
"I don't think the problem facing us is mysterious or hard to understand. It's crystal clear. America faces two big challenges. We must grow the economy faster and spread the benefits of that growth more widely. And we must put our federal budget on a sustainable track so that the debt is no longer rising faster than the economy can grow."
Former White House Chief of Staff Erskine Bowles identified the main drivers of the nation's fiscal imbalance, including health care costs that are higher than other nations and growing faster than the economy, defense spending, an inefficient, uncompetitive income tax code, a Social Security program that, if unchanged, will become insolvent, and growing interest on the debt, which could crowd out vital investments in defense and domestic priorities if allowed to grow unchecked. He added:
"These deficits are like a cancer, and I say that because they are going to destroy our country from within if we don't do something about it and do it very quickly."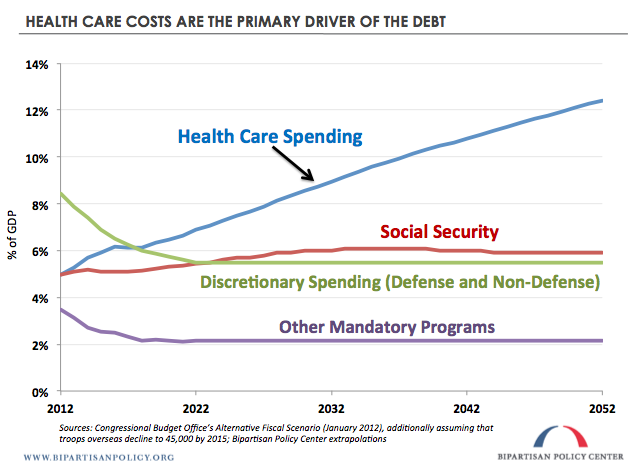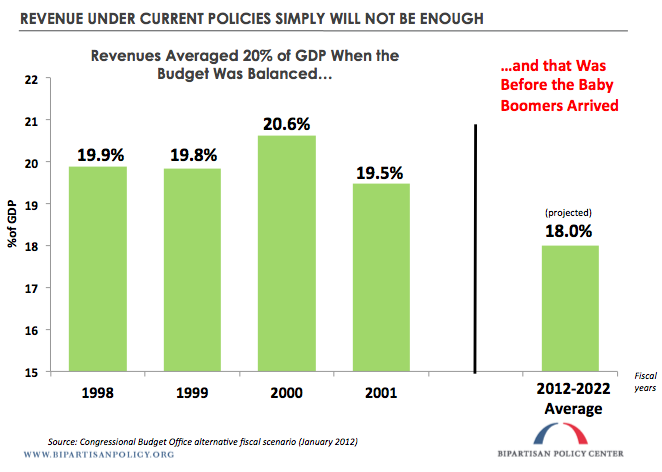 Dr. Rivlin noted that the Simpson-Bowles and Domenici-Rivlin plans are quite similar, not because of collusion, but because simple arithmetic and realistic projections lead any bipartisan group to the same conclusion: fixing the deficit requires entitlement reform, tax reform and spending cuts.
Entitlement reform is hard for Democrats, tax reform is hard for Republicans, and spending cuts are hard for everyone. But the good news, Rivlin said, is that spending cuts are already in process, as the Budget Control Act of 2011 established caps that would cut domestic and defense spending by about $1 trillion over ten years, similar to the amount of cuts recommended by both Simpson-Bowles and Domenici-Rivlin.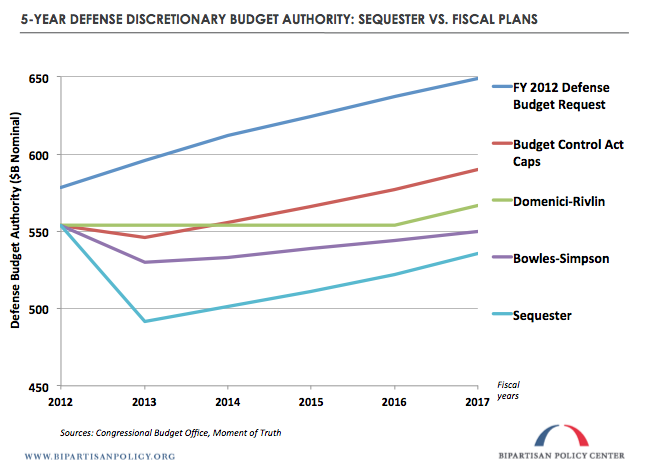 Because of this progress on spending, Rivlin emphasized the danger of allowing sequestration to take effect in January, which would add another $1.2 trillion in cuts to the reductions already agreed to:
"In this fragile economy, raising taxes for everyone and making big, senseless cuts in both domestic and defense programs would be really stupid policy and it would show that our democracy is too broken to function."
Rivlin, however, is optimistic that a bipartisan solution can be found on entitlement and tax reform, arguing:
"The Simpson-Bowles commission and the Domenici-Rivlin task force proved that Republicans and Democrats can engage in serious and civil dialogue about how to get the debt under control, even people currently serving in government."
Senator Domenici addressed the challenges that congressional rules and processes pose to achieving a grand bargain. He noted that the deficit reduction task force was able to come to a bipartisan agreement because they took one vote on an entire package of reforms, as opposed to voting on provisions one-by-one, which would have been far more divisive. Senator Domenici called on Congress to take steps by the end of this year to establish a streamlined process that would clear a path to a debt deal in 2013:
"Don't believe those that say you cannot begin this fundamental reform this year. We believe budget action to stabilize the debt must begin as soon as the election is over. It would be a serious mistake to allow the fragile economy to plunge over the fiscal cliff. Tax increases for all income groups combined with large, mindless defense and domestic spending cuts would endanger the recovery and risk a new plunge into recession, as the CBO has warned. Moreover, kicking the can down the road one more time would demonstrate that the political system of the world's largest economy is unable to face up to problems and resolve them. We should not invoke another commission or super-committee. We need to show that the regular processes of our elected government can function."
An accelerated regular order process could be adopted by the lame duck Congress this year that would enable the 113th Congress to produce and pass a truly historic fiscal reform plan. Authorizing committees would be given clear deficit reduction goals, and the fast-tracked process would allow full participation of members of Congress, all committees, and full floor consideration in both chambers.
The third forum in the series will be held in New York and will focus on tax reform. The date and time for the next event will be announced shortly.
Watch video of the event here.
Learn more about the Strengthening of America project here.
---
Related Posts
2012-09-19 00:00:00
Real deficit reduction requires entitlement reform, tax reform and spending cuts, not sequestration