Fellow Fridays: Former U.S. Senator Olympia Snowe
Share
Fellow Fridays is a series of profiles of the Bipartisan Policy Center's (BPC) roster of nine Senior Fellows. This week, we are sharing excerpts from Senator Olympia Snowe's book, Fighting For Common Ground.
In this timely piece, she shares her passion for healthy debates and draws from the valuable lessons she learned about principled, bipartisan compromise.
"It's imperative that both sides step back and figure out how to make this process work, especially as these votes typically occur in conjunction with the most important issues facing our nation," writes Senator Snowe.
Senator Snowe is a former U.S. Senator from Maine. She is a BPC Senior Fellow, Board Member, and Co-Chair of BPC's Commission on Political Reform. She served in the Senate for 18 years and is the third-longest serving woman in the history of Congress.
Follow Senator Snowe on Twitter here and Facebook here.
"I've never backed down from a fight and I relish in a good debate."
[Page 1]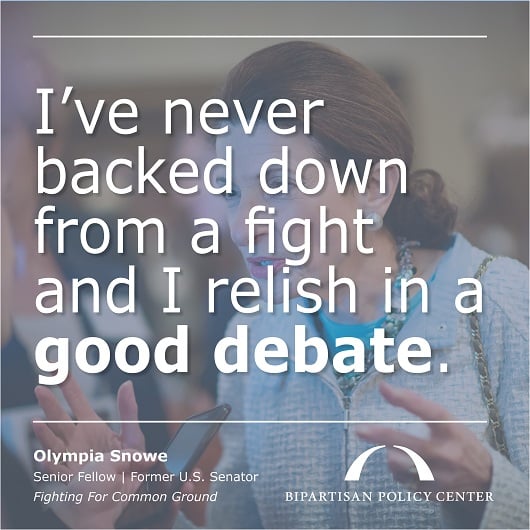 I am confident women in Congress will continue to offer a model for how bipartisanship can produce good and necessary legislation. Despite the loss of formal caucus memberships, women senators have long provided support for each other. Following the system of mentorships that's been established for incoming senators, when Senator Amy Klobuhar (D-MN) was first elected, not only was it a pleasure to get to know her as another woman senator, but also I was delighted to be her mentor?although in full disclosure, Amy was already well prepared to hit the ground running! These bipartisan and, in this case, woman-to-woman partnerships are yet another way to foster relations across the aisle, and Amy and I have teamed up on a number of initiatives over the years.
[Page 119]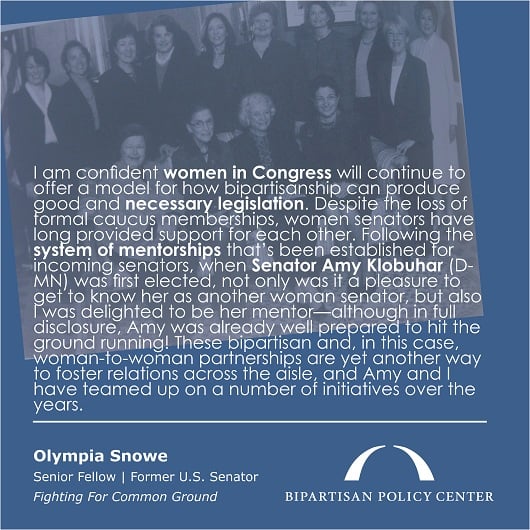 I had the benefit, or some might say the burden, of knowing how difficult jobs could get done when legislatures from both sides actually sat together around the table.
 [Page 38]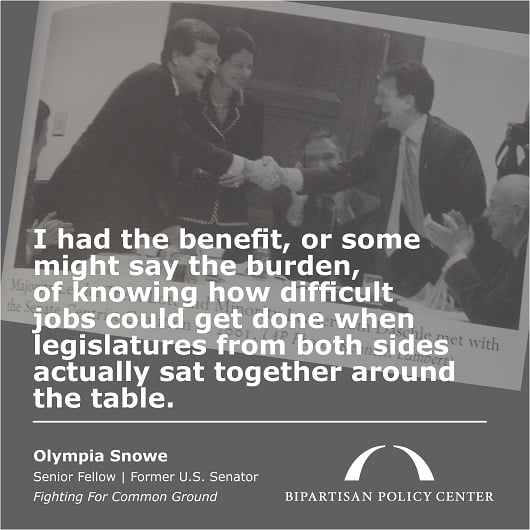 All freshmen in Congress bring to Washington their own particular bundle of personal beliefs and experiences. My world and the world around me changed considerably, but my convictions did not alter radically during my tenure. I have never been one to follow the crowd.
 [Page 77]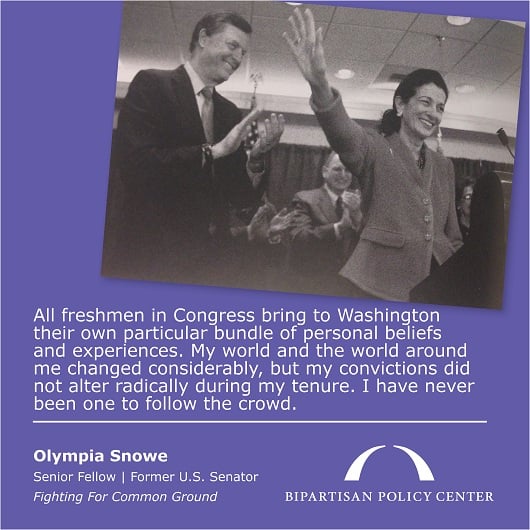 Building a consensus involving both parties made for the best law. We were respectful of the traditions and practices of the institution. My years in the Maine legislature reinforced for me the infinite possibilities of making the process of governing work for the common good.
[Page 65]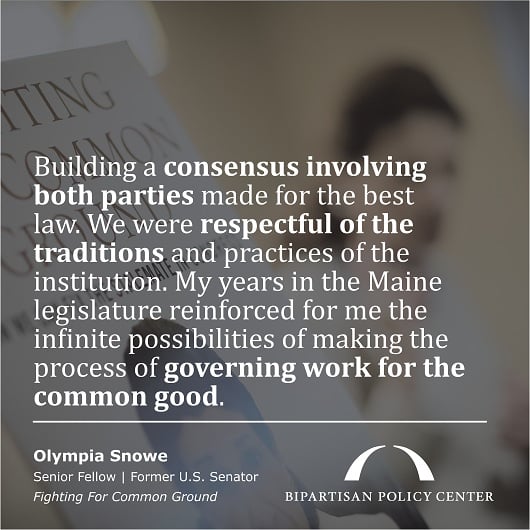 2013-10-04 00:00:00
Support Research Like This
With your support, BPC can continue to fund important research like this by combining the best ideas from both parties to promote health, security, and opportunity for all Americans.
Give Now