Exploring Patient-Centered Comparative Effectiveness Research
Share
Patient-centered comparative effectiveness research (CER) informs countless decisions made by doctors and their patients every day, but the field's significance is often overlooked in discussions of health policy. To help stakeholders understand this critical research process, BPC hosted the first of two forums with leading experts on April 18. The forum's panel, moderated by economist and Project HOPE senior fellow Dr. Gail Wilensky, featured Dr. Carolyn Clancy from the Veterans Health Administration, Dr. Joe Selby from the Patient-Centered Outcomes Research Institute (PCORI), Dr. Murray Ross from Kaiser Permanente Institute for Health Policy, and Jen Hyde, a heart valve ambassador with the American Heart Association. The panel was preceded by opening remarks from Dr. Jodi Segal of Johns Hopkins Medicine who provided a broad overview of the field of comparative effectiveness research.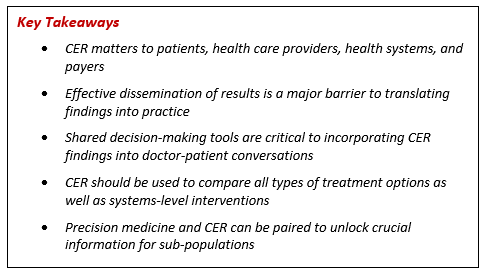 Opening Remarks

Dr. Segal is a professor of medicine at the JHU School of Medicine and the associate director of the Center for Health Services and Outcomes Research in the Bloomberg School of Public Health. Her research there includes pharmacoepidemiology, CER, and evidence-based medicine. During her presentation, Dr. Segal outlined the many stakeholders of CER ? which includes patients, health care providers, health care payers, and others ? and discussed the different types of questions that CER can answer for each. She also outlined how this research is funded, how research priorities are determined, and where patients and providers can find research results. To learn more, see below for a recording of Dr. Segal's opening remarks and
download her slides
.
Panel Discussion

Within the very wide-ranging panel discussion, which can be found below, dissemination of research findings was a major area of focus, with the panel agreeing that this has been a major limitation to date. Dr. Selby, executive director of PCORI, suggested numerous ways that researchers could improve communication of their findings, including by partnering with reputable websites or organizations that are already popular sources of information for providers or patients, and by ensuring that journal articles are published promptly and not behind paywalls. Dr. Ross, vice president of the Kaiser Foundation Health Plan and Director of the Kaiser Permanente Institute for Health Policy, suggested partnering with professional societies, which are trusted sources of information for providers. Dr. Clancy, who currently serves as the deputy undersecretary for health for Organizational Excellence at the VA and previously served as the director of the Agency for Healthcare Research and Quality (AHRQ), predicted that apps and social and traditional media would play major roles, and Ms. Hyde stressed that information needs to be readily sourced so patients and patient advocates can trust what they are reading.
The panel highlighted ? on more than one occasion ? that this information is most effectively incorporated into patient-physician conversations via shared decision-making tools, and briefly touched on the possibility of different care modalities ? such as telehealth ? being a way to bridge the knowledge gap for patients who do not have access to cutting-edge facilities.
Also discussed was the role of CER in comparing across treatment types. Dr. Wilensky noted that CER is often used globally to compare pharmaceuticals, but that there is a significant opportunity to also compare procedures and devices. While some of the research funded by PCORI compares pharmaceutical options, Dr. Selby reassured the audience that the vast majority of funded research involves multiple medical approaches as well as system-level interventions, and that PCORI focuses on conditions that are both prevalent and costly to society. Dr. Selby also noted that cross-type comparisons and system-level approaches are particularly salient for integrated health systems, with Dr. Ross elaborating that this is because these systems can more holistically track and manage their patients.
The panel also touched briefly on the relationship between CER and treatment costs, with the panel generally agreeing with Dr. Wilensky that questions of cost should take place after, and not as part of, drug and device approval processes.
Audience members raised many great questions, including the role of CER in evaluating effectiveness for sub-populations, which panelists agreed was a huge needed area of research that both PCORI and AHRQ were working on. The panel also remarked on the advances that precision medicine could bring and how genetic analyses could replace ? or at least complement ? the imprecise demographic categories we currently use to define sub-populations.
Next Steps

BPC's second panel on this topic is slated for July and will focus on the future of patient-centered comparative effectiveness research, including politics, funding levels, regulatory barriers, dissemination and uptake of findings, and new areas of research. 
Support Research Like This
With your support, BPC can continue to fund important research like this by combining the best ideas from both parties to promote health, security, and opportunity for all Americans.
Give Now
Join Our Mailing List
BPC drives principled and politically viable policy solutions through the power of rigorous analysis, painstaking negotiation, and aggressive advocacy.