Energy Project Releases Report on Opportunities and Challenges for Shale Gas
Lourdes Long contributed to this post.
Last week, BPC's Energy Project board released a report, Shale Gas: New Opportunities, New Challenges. The report explores the economic, environmental, and energy security implications of expanded natural gas production from shale formations in the United States.
The report is a product of the 20-member BPC Energy Board that includes CEOs from the oil and gas industries, former top government officials from both parties, environmental group representatives, state regulators, and economists, among others.
---
Read the Report: Shale Gas: New Opportunities, New Challenges Read the Press Release
---
The report on shale gas is the first from the new Energy Board, which was launched by former Senators Trent Lott and Byron Dorgan in April 2011. The board's work over the coming year will continue to focus on key national energy policy issues, including energy security, supply, reliability, cost, and sustainability. The report highlights the transformative role that horizontal drilling and hydraulic fracturing technologies have played by enabling commercial extraction of shale gas. Since 2008, natural gas prices have fallen by nearly two-thirds, a trend that was driven by increased shale gas production as well as softened industrial demand due to the recession (Figure 1).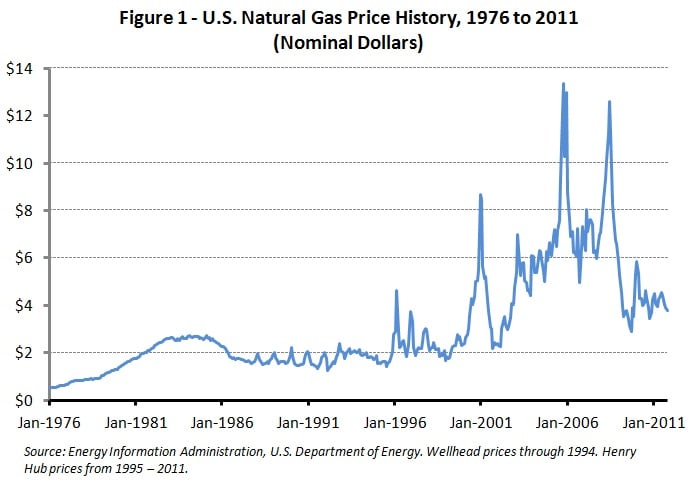 Equally impressive is the scale of increased production from shale formations, with unconventional gas production increasing 12-fold over the last decade to 25 percent of total U.S. natural gas production. The Board notes that "[e]ffective and responsible development and use of these newly accessible resources provide an enormous opportunity for the United States and has the potential to fundamentally improve our nation's economic and energy security."
The report builds on and complements the growing body of recent work on the economic, environmental, and national security implications of shale gas, including the National Petroleum Council's report Prudent Development: Realizing the Potential of North America's Abundant Natural Gas and Oil Resources, The Secretary of Energy Advisory Board Shale Gas Production Subcommittee Second Ninety Day Report, and BPC's Task Force on Ensuring Stable Natural Gas Markets.
The rapid expansion of shale gas production, however, has also given rise to concerns regarding potentially adverse environmental effects ? such as water, land, air quality and greenhouse gas emission impacts. In the report, the Board was able to reach consensus among its diverse membership on the environmental challenges facing shale gas development, and on some possible steps on a path forward. 
BPC's Energy Project Board concludes that the "efficient and environmentally responsible production of shale gas resources has the potential to transform our nation's economic and energy security," and that "both the SEAB and the NPC have laid out clear sets of recommendations to improve safety and mitigate community and environmental impacts from shale gas development." With an eye on the road ahead, the Board noted that it is encouraged that many states are "moving forward with improved regulation, and several industry and stakeholder efforts are underway to address these issues," and that "while there is still much work to be done on these issues, progress continues to be made." 
Going forward, the Energy Project Board will seek to build upon "the work of the NPC and SEAB, [and]  will examine how these additional supplies of natural gas could impact other fuels and sectors, and how changing patterns of natural gas supply and demand could shape future infrastructure needs." Similarly, the Board "will track these efforts to implement SEAB and NPC recommendations."

Related Posts

2012-01-23 00:00:00
A look at the economic, environmental and energy security implications of expanded natural gas production