Education Department's New Loan-Servicing Plan: A Dicey Prospect
Share
Student loan servicing is not without problems, but it is unclear whether the Education Department's new approach will actually improve the system.
The Department of Education is initiating a major overhaul of the federal student loan-servicing system, which could have far-reaching consequences for borrowers, the loan-servicing industry, and American taxpayers. Under the plan, the Education Department will choose a single company to service the entire federal direct student loan portfolio, rather than the nine contractors who currently service the trillion-dollar system.1 Proposals for the new contract were due on July 10, and a decision is expected by fall.
The administration claims that this change will boost efficiency, reduce costs, and provide a more uniform experience for borrowers. Critics warn, however, that it will lead to deteriorating borrower service and satisfaction. In any case, an overhaul of this magnitude could fundamentally alter the student borrower experience.
Current System

In the current servicing system, after a student takes out a federal loan it is passed to one of nine contracted loan servicers. These servicers manage the repayment process?they enroll borrowers into one of several repayment plans, process payments, and contact delinquent borrowers to bring their accounts current. Servicers are subject to "performance contracts," which means that they are compensated by the Education Department based on how well they perform against a set of metrics. For example, servicers receive a higher monthly payment for accounts that are current (rather than delinquent). Payments decrease on a sliding scale as borrowers slip further into delinquency (Table 1). This system is designed to provide an incentive for servicers to contact delinquent borrowers and assist them in bringing their accounts current.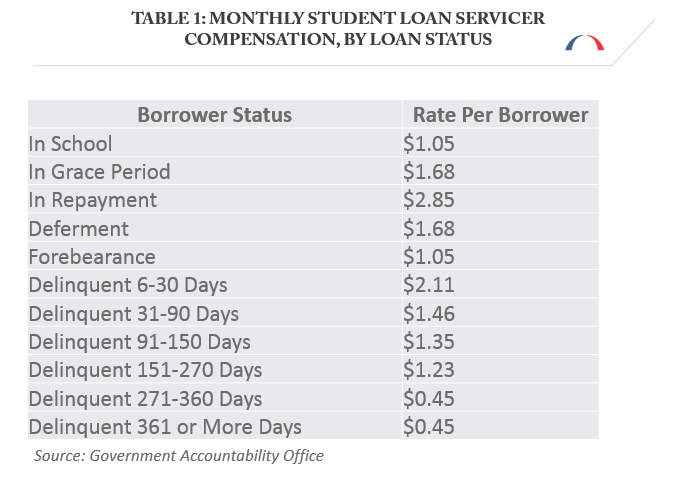 In addition, the performance contracts are designed so that servicers compete against each other; those that exhibit the best performance are rewarded with a greater share of the total portfolio. This element of competition and accountability is designed to efficiently allocate the contracts in a way that produces good results for borrowers and taxpayers alike.
Nonetheless, the current system is far from perfect. Research indicates that borrowers exhibit low levels of awareness about the many repayment options at their disposal, such as income-driven repayment (IDR) plans, which provide borrowers with affordable monthly payments tied to their income. Not only has the government's marketing of these plans been insufficient, but the Education Department has also failed to provide servicers with explicit guidance on how to communicate them. In addition, the number of repayment plans (eight in total) causes confusion, and the paperwork required to enroll can be cumbersome, which may provide a disincentive for servicers to broadcast these options to borrowers.
Some argue that these problems give servicers an incentive to steer borrowers into repayment plans that might not be in their best interest. Indeed, a major servicer is currently being sued by the Consumer Financial Protection Bureau (CFPB) for a variety of alleged fraudulent practices?including leading borrowers away from IDR plans?though the company staunchly disagrees with the accusations.
Reports have also found that borrower service can vary greatly by loan servicer, in part due to the lack of an overarching Education Department regulatory framework that equally applies to all servicers. In addition, a 2015 report from CFPB noted that many borrowers experience difficulties receiving and submitting timely, accurate information with their loan servicer. Within the past four years, the Government Accountability Office has called for additional oversight, increased distribution of information to borrowers, and improved customer service.
Planned Changes

In response to these issues, the Education Department recently announced plans to overhaul the federal loan servicing system, specifically by appointing a single company to service the student loan portfolio?a contract worth around a billion dollars per year. The new servicer will take over the portfolio once the existing contracts expire in 2019, and will have the option of subcontracting certain functions to other entities. Changes in loan servicing can be made entirely through the Education Department's Office of Federal Student Aid, and are therefore not subject to Congressional approval.
Hopefully the Education Department will give careful consideration to how this next experiment will work better than the last one.
The Department claims that this overhaul will reduce costs by $130 million over five years, while also increasing federal oversight and creating a consistent and uniform borrower experience. On the other hand, skeptics are concerned that moving to a single servicer will eliminate the competitive pressures that characterize the current system, leading to a too-big-to-fail monopoly that ends up worse for borrowers than the status quo.
This skepticism is not baseless. From 2003 to 2009, federal direct student loans were serviced by a single company?ACS Education Services. During that time, there were high levels of complaints among borrowers, missed federal deadlines, and mismanagement of accounts enrolled in IDR plans. In 2016, ACS paid a $2.4 million settlement to the Massachusetts Attorney General's office for allegedly abusive debt-collection practices and poor account management.
Hopefully the Education Department will give careful consideration to how this next experiment will work better than the last one. Public information has so far been largely limited to a "fact sheet," so it is unclear exactly what factors the department is weighing in moving forward with its new approach.
Bottom Line

It is undeniable that federal student loan servicing needs reform. The system is overly complicated and too many borrowers report dissatisfaction with their experiences. But when considering reforms, it is important to see what has not worked in the past so that new approaches do not wind up exacerbating the problems.
If the administration is wedded to moving towards a single servicer, officials should think creatively about ways to inject elements of competition into the new contract. Otherwise, this major overhaul could lead to borrowers being short-changed in their loan-servicing experience.
Updated to correct the years during which ACS had the sole contract and to acknowledge that the alleged abuses were settled of out of court.

---
1This plan will only affect the federal direct student loan portfolio. It will not affect the legacy portfolio of privately issued but federally backed Federal Family Education Loans (FFEL), which total around $300 billion in outstanding debt and are no longer being issued.
Support Research Like This
With your support, BPC can continue to fund important research like this by combining the best ideas from both parties to promote health, security, and opportunity for all Americans.
Give Now
Join Our Mailing List
BPC drives principled and politically viable policy solutions through the power of rigorous analysis, painstaking negotiation, and aggressive advocacy.