Economic Growth and Better Health in Oklahoma City

Mick Cornett is a Republican mayor of a major city that lies in the heart of a red state. But, Mayor Cornett has still found a way to convince both the Oklahoma City City Council and city residents to support a penny-on-the-dollar sales tax to pay for a much needed infrastructure development project. His efforts have revitalized the city's downtown, spurred economic growth, helped residents shed a combined one million pounds, and landed the city on the Wall Street Journal's 2011 "Best Places to Live" list.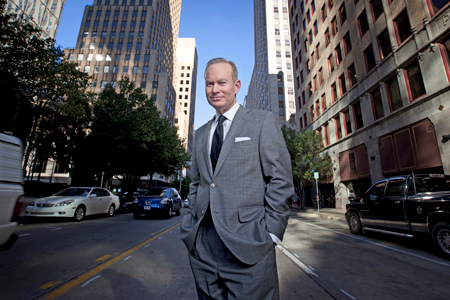 Making Government Work
When Mayor Cornett took office, he sought to make the city government more effective. In 2009, Mayor Cornett persuaded residents of the city to support a one-percent sales tax. A city whose residents routinely call for tax decreases and low government spending used this new tax revenue to support a $777 million improvement plan for the city's downtown. The plan included $130 million for public transit improvements, $280 million for a new convention center, and $10 million to install sidewalks along major city streets and near important public buildings. Now, Oklahoma City is thriving, and has since been featured in numerous complimentary lists of American cities, including Businessweek's "America's Best Places" and Forbes' "Best Places for Business."
Shedding One Million Pounds
Pounds In 2007, Oklahoma City was named one of the fattest cities in America, and Mayor Cornett himself suffered from obesity. Instead of lamenting a growing health crisis, Cornett was proactive and got himself in shape and set a goal for Oklahoma City residents to collectively lose one million pounds. Cornett set up an easy to use website with relevant weight loss and diet information which garnered thousands of hits. Moreover, the improvement plan included $40 million allocated to completing Oklahoma City's trail system?hundreds of miles of walking and biking trails that residents could use to enjoy the city and get in shape. The plan worked, and in January 2012, the city hit the million pound goal set only a few years earlier.
The mayor has said of his approach, "Whether it's sports teams or businesses or cities, success is the result of people pulling on the same rope. Oklahoma City's current renaissance is the result of people from all walks of life ? diverse neighborhoods, the business community, the arts community, the philanthropic community ?working together to create a better quality of life in our community, for this generation and the generations to come."
Pragmatism Above Ideology
Mayor Cornett should be commended for enacting policies not designed to conform to a singular political ideology, but targeted at achieving meaningful and practical results.
Former Oklahoma Brad Henry (D) said of the mayor's efforts, "I had the privilege of working with Mayor Cornett during my term as Governor. I found him to be a straightforward, results-oriented leader. He has led a transformation of Oklahoma City by not shying away from tough issues but facing them head on and with a diverse group of stakeholders by his side."

There is much Washington decision-makers can learn from their state and local counterparts. The 50 State Solutions series offers examples of bipartisan leadership in the states with the hope that some of it will rub off on our D.C. representatives, and provide examples for Washington to follow. Please suggest examples in your own community of state and local officials from both parties working together to get things done for you. Use the hashtag #50StateSolutions on Twitter.
2013-10-02 00:00:00
Mayor Mick Cornett enacts policies targeted at achieving meaningful results, not designed to conform to a singular political ideology