Early Learning Facilities Matter: Moving Beyond a Culture of Low Expectations
Share
The nation's youngest children learn, play, and grow in a variety of early learning settings?from home and center-based child care to corporate and faith-based centers?and their overall well-being and development depends heavily on program quality. Yet, the variability in quality can have beneficial or harmful impacts on their developmental outcomes.
As we define program quality, one component is often neglected entirely: quality of the physical infrastructure and its effectiveness in promoting children's health, safety, and development. Many early learning facilities, in their current state, are not meeting the most basic health and safety standards. The Bipartisan Policy Center, along with 19 partnering organizations, highlighted this in the 2018 Early Learning Facilities Policy Framework. The framework calls for increased investments in and policies supporting high-performing, high-quality facilities for all children.
Yet, exactly what do high-performing, high-quality facilities include? How do facilities influence a child's developmental outcomes? And what are the components of quality that can improve outcomes for young children?
Current Standards of Quality
States have the authority for licensing and inspecting early learning facilities, and they should be held accountable for ensuring they are meeting these standards. While standards do exist under the Child Care and Development Fund (CCDF), they only apply to providers serving children who receive CCDF subsidy. Similarly, Head Start Performance Standards, while aimed at improving quality, are only required for Head Start programs.
In 2015, the Administration for Children and Families in the Department of Health and Human Services issued Caring for Our Children Basics: Health and Safety Foundations for Early Care and Education. These voluntary standards only aim to prevent harm to children. States should look to these recommendations as they develop standards that ensure optimal, high-performing environments for early learning, health, and development for young children.
Articulating What Children Need
The quality of early learning facilities is directly linked to children's health, safety, and development. For optimal opportunities for positive development, we need to move beyond meeting the basic standards?beyond "good enough"?and focus on components of physical infrastructure that can promote children's development.
Several groups?such as Children's Investment Fund and Local Initiatives Support Corporation?have created design guides that identify characteristics of high-performing early learning facilities, including: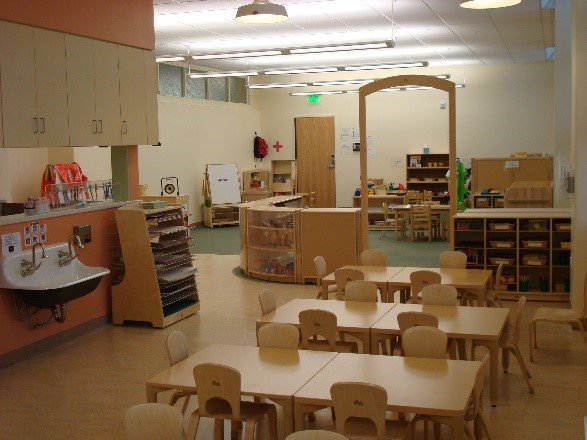 Child-sized toilets, sinks, and other fixtures help children build competence, independence, and good hygiene practices. Toilet training is a learning experience for all young children. Without size-appropriate fixtures in child care facilities, young children will not learn how to use the bathroom independently.
Bathrooms adjacent to classrooms and playgrounds help build autonomy for children and allow the teacher to closely monitoring bathroom activities. When bathrooms are adjacent to classrooms, young children can walk to the bathroom independently while still in sight of a teacher. Shared bathrooms between classrooms can reduce facility costs.
Classrooms and common areas have windows to the outside world. Windows provide young children natural light and allow them to orient themselves to the outside world. Young children can also better observe weather, seasons, and different times of day.
Entry ways, common areas, and hallways are intentional spaces for early learning and development. These areas can provide transitional space when moving from one room to another, and if large enough, can be used as multipurpose spaces to promote gross motor skills and interactions with other children, parents, and teachers. Entry ways provide a space for young children to observe activity before separating from parents.
Acoustics and noise levels are appropriate for the development of young children. Noise levels can have negative effects on children's memory, attention, and academic achievement. Conditions of facility space?including surface type, room size, and ceiling height?impact the acoustics and should be considered during the design process.
Early learning facilities are comfortable and homelike. Facilities with warm, soothing colors; open spaces; and different types of lighting are more inviting for both parents and children. Further, spaces that resemble a child's home may promote self-expression.
Playgrounds and outdoor spaces allow young children to connect with nature. Research shows that a child's connection to the environment can lead to reduced rates of child obesity, depression, and attention deficit disorder. It can also promote creative thinking and problem-solving skills. When playgrounds are designed, they should accommodate different activity types, including group and individual activities as well as dramatic play.
A Shared Responsibility
Early learning facilities have considerable impacts on children's health, safety, and developmental outcomes. Improving these spaces where children are cared for requires multisector involvement across federal, state, and local partners?both governmental and nongovernmental. It also requires expertise across disciplines?including, but not limited to, architecture, business, community planning, construction, design, early childhood, finance, and law.
Together, we can move beyond the culture of low expectations that currently exists. We must improve how early learning facilities are designed, inspected, and financed to better support our children.
Support Research Like This
With your support, BPC can continue to fund important research like this by combining the best ideas from both parties to promote health, security, and opportunity for all Americans.
Give Now
Join Our Mailing List
BPC drives principled and politically viable policy solutions through the power of rigorous analysis, painstaking negotiation, and aggressive advocacy.