Congressmen Forge Alliance to Ensure Effectiveness of Iran Sanctions

This month, BPC highlights Congressmen Ed Royce (R-CA) and Eliot Engel (D-NY) for their bipartisan efforts in the foreign policy arena. Congressmen Royce and Engel serve as their parties' leaders on the House Committee on Foreign Affairs?Royce as the Chair of the Committee and Engel as the Ranking Member?and have sought to tackle critical foreign policy issues facing the country in a bipartisan manner.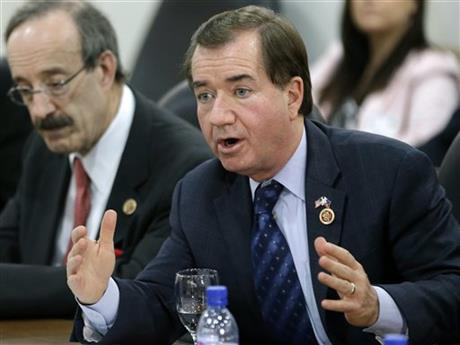 Recently, the two worked together to address an issue that is receiving significant attention on the world stage – Iran's progress towards a nuclear weapons program. The two members authored legislation to prevent Iran from obtaining nuclear weapons capability by increasing sanctions on Iran's financial and oil sectors. H.R. 850, the Nuclear Iran Prevention Act of 2013, calls for more stringent enforcement of existing sanctions against Iran's oil export revenue as well as regular assessments by the Government Accountability Office regarding the effectiveness of sanctions.
Congressmen Royce and Engel introduced H.R. 850, which has 378 cosponsors, earlier this year. In May, it cleared the House Foreign Affairs Committee by a unanimous vote and was later passed by the full House of Representatives. It awaits consideration in the Senate. BPC applauds Congressmen Royce and Engel for their efforts to move this important legislation forward and their continued commitment to tackle foreign policy issues in a bipartisan manner.

From the Americans with Disabilities Act to Campaign Finance Reform to No Child Left Behind and more, many significant legislative achievements have been successful due to cross-party collaboration. Rather than lamenting cooperation as a relic of days gone by, the Bipartisan Champions series will highlight current lawmakers who are working across the aisle and getting things done. By showcasing those who are putting partisan differences aside in order to put national interests first, BPC hopes to encourage more of this activity among our elected leaders in Washington, DC.
2013-10-01 00:00:00
October Bipartisan Champions: Congressmen Ed Royce (R-CA) and Eliot Engel (D-NY)