Congress Pushes Stronger Border Security Metrics
Share
For years "border security" has been a call to action for those most concerned with unauthorized immigration and a symbolic stand-in for all the real and perceived shortcomings of the immigration system. In 2016, President Trump campaigned on a promise to secure the border. However, as detailed in BPC's 2015 report, Measuring the Metrics: Grading the Government on Immigration Enforcement, there is no uniform definition of what a secure border is. The government has generally failed to publish consistent outcome metrics to better inform this discussion despite available methodologies, data sources, and unprecedented levels of investment. The lack of objective measures has contributed to disagreements and public dissonance over the state of the border, allowing the issue to remain a sticking point in the debate over immigration reform.
The government has generally failed to publish consistent outcome metrics to better inform this discussion.
However, late last year, Congress finally addressed this shortcoming, including several provisions related to border security and immigration enforcement in the National Defense Authorization Act (NDAA) for fiscal year 2017. Specifically, language in the law directs the Department of Homeland Security (DHS) to develop and regularly report on specific metrics to evaluate the effectiveness of its border security efforts at and between ports of entry and in the maritime environment (Figure 1). The bill also enhances the role of DHS's Office of Immigration Statistics to gather data from across the department and mandate consistent data requirements.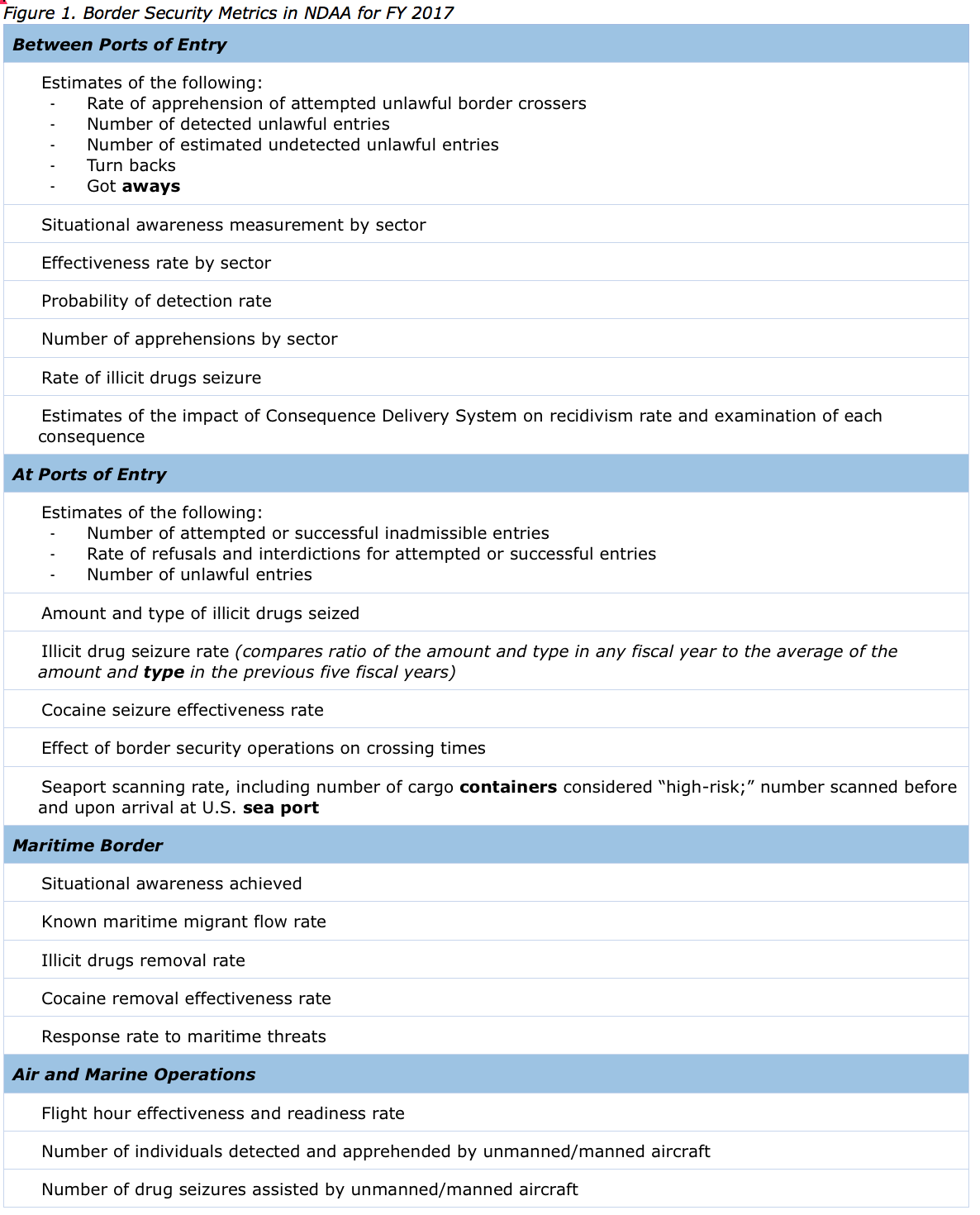 Under the enacted law, DHS must submit an annual report to Congress and the Government Accountability Office (GAO) containing the required metrics and the underlying data and methodologies. GAO will evaluate these "metric reports" every two years to analyze the suitability and validity of the data and recommend additional metrics or other improvements. Additionally, no later than 60 days after the end of each fiscal year through 2026, DHS is required to submit a "State of the Border Report" that provides information on trends for each metric for the previous ten fiscal years and provides analysis of unauthorized immigration stocks and flows. Lastly, DHS is required to make data related to these metrics available to the public, law enforcement communities, and academia.
The provisions in the NDAA represent the strongest, most comprehensive attempt yet to objectively and publicly assess the effectiveness of enforcement resources and the state of the border. They also include most of the measures BPC outlined that would constitute a comprehensive, outcome-based set of performance measures. These measures are necessary to judge whether federal agencies are meeting overall immigration enforcement goals, including controlling unauthorized migration. Grounding the border debate in more objective metrics going forward can help policymakers allocate resources, identify vulnerabilities, work on what or how much should be done to improve it, and move to other immigration reform issues. We have also recently stressed the importance of more holistic attempts to measure border security ahead of a hearing this week in the Oversight and Government Reform Subcommittee on National Security on building a border wall.
A few months of apprehension statistics are insufficient to understand the state of the border.
In addition to the requirements in the FY2017 NDAA, President Trump's January executive order on "Border Security and Immigration Enforcement Improvements" called for monthly reporting of border apprehensions to be made publicly available, which U.S. Customs and Border Protection (CBP) has begun doing on its website. Available data from CBP shows that apprehensions have dropped sharply in the first few months of the new administration, with the White House touting the president's sharper posture on enforcement as a cause.
However, a few months of apprehension statistics are insufficient to understand the state of the border. Apprehension numbers alone are an informative but limited border metric. Apprehensions only measure one aspect of efforts to control unauthorized immigration at the border, to the exclusion of other categories of unlawful entrants like overstays, individuals that successfully avoid detention at or between ports of entry, and those that are deterred. Administrations of both parties have also used swings in apprehension increases and decreases to claim success, taking credit for effective enforcement when apprehensions are up and taking credit for deterrence when apprehensions are down, without any corroborating evidence. As documented in our 2015 report, current assessments of border security enforcement also rely heavily on input measures, such as funding, the number of Border Patrol agents, or miles of fencing and other border infrastructure. While resources have dramatically increased over the last decade, these are also limited measures because of our lack of information on the return on investment for these increases in resources.
Support Research Like This
With your support, BPC can continue to fund important research like this by combining the best ideas from both parties to promote health, security, and opportunity for all Americans.
Give Now
Join Our Mailing List
BPC drives principled and politically viable policy solutions through the power of rigorous analysis, painstaking negotiation, and aggressive advocacy.