Children and Family Apprehensions Drop In January, Still High for Fiscal Year
Share
Key Takeaways
About 45,000 unaccompanied children (UC) and family members have been apprehended at the southern border in the first four months of FY2016 (October 2015-January 2016), more than double the amount of apprehensions during the same period in FY2015.
January saw a significant drop in apprehensions following a spike in the previous three months which had prompted additional deterrence efforts from the administration, including removal operations and expanded access to the U.S. refugee program.
The unseasonable surge and sudden January drop shows that this migration flow is not following usual patterns, creating unpredictability that challenges the Department of Homeland Security's ability to stem it and predict future trends.
The Bipartisan Policy Center's immigration project has been analyzing Customs and Border Protection data to determine monthly shifts in migration from Central America. The latest data shows that the unseasonable surge of Central American migrants that began last June continued through FY2016 as 45,071 unaccompanied children (UC) and individuals in family units (adults accompanied by children) were apprehended at the southern border in the October-January period. Nearly all UC and families apprehended continue to be from El Salvador, Honduras, and Guatemala. Between October and January, 20,455 UC and 24,616 family members were apprehended, more than twice as many children and nearly three times as many family members during the same period in FY2015 (Figure 1). Apprehensions since the fiscal year began are also significantly higher than during the same period in FY2014, a year in which a record number of children and family members arrived at the border.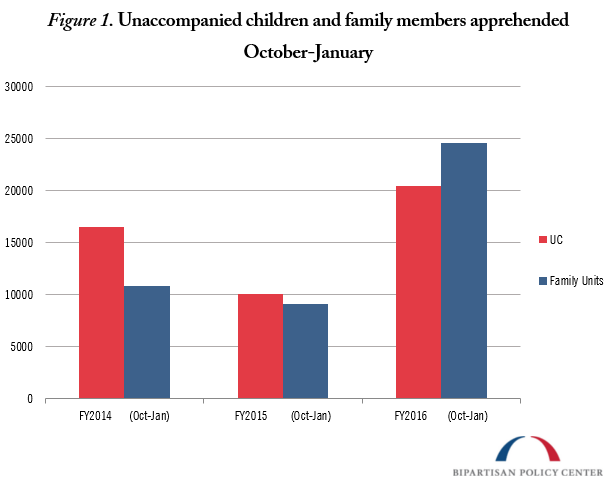 Source: CBP (BPC archived data from monthly updates)
Monthly UC and family apprehension numbers saw a 60 percent decrease in January, but the spike late last year prompted additional deterrence efforts from the administration, including an increase in removal operations that could target as many as 18,000 family members and expanding access to the U.S. refugee program in Central America.
Unaccompanied Children
Monthly UC apprehensions, which had been increasing since the summer, finally trended downward in January. Monthly apprehensions increased from 4,944 in October to 5,612 in November and 6,786 in December (Figure 2). Each monthly apprehension total between October and December was higher than any one-month period during FY2015. In January, UC apprehension numbers decreased to 3,113, a 54 percent decrease since December. The FY2016 four-month total is double the amount seen during the same period in FY2015, and about 4,000 more than the same period in FY2014.
Source: CBP (BPC archived data from monthly updates)
Family Unit Members
Monthly family apprehension numbers also increased through December and saw a significant drop in January. Monthly apprehensions increased from 6,026 in October to 6,471 in November, and 8,974 in December before dropping to 3,145 last month, a 65 percent decrease since December (Figure 3). This fiscal year's total of 24,616 so far is nearly three times higher than the number of family members apprehended during the same period in FY2015, when over 9,000 individuals were apprehended, and more than double the FY2014 total of nearly 11,000 apprehensions.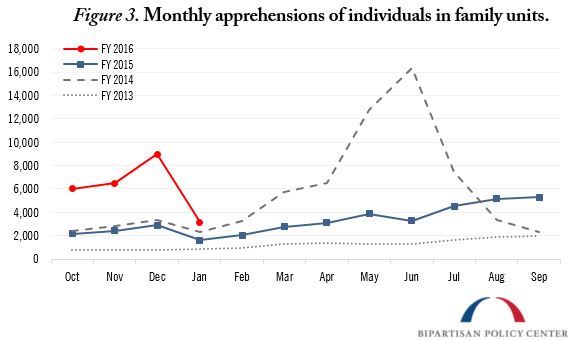 Source: CBP (BPC archived data from monthly updates)
Monthly apprehension data (Figures 1 and 2) reveal that recent migration patterns have followed very different trends than they have in previous years. Although abnormal in its strikingly high numbers, FY2014's migrant flow exhibited the typical ebb and flow of migration patterns throughout a year, with apprehensions surging in late spring and early summer and decreasing in July and August. In FY2015, UC and family member apprehensions actually increased by 25 percent between June and September. In fact, except for a small downturn between May and June of 2015 for UC, apprehensions for both groups have been steadily increasing since January 2015. After the August increase in apprehensions, the White House acknowledged that the increase was "surprising" and "concerning" for the administration.
Administration's Response
The Obama administration has enacted several measures since 2014 to attempt to stem and deter flow, including increased use of family detention facilities and collaboration with Mexico to increase their southern border enforcement. A public awareness campaign was launched in Central America by the Department of Homeland Security (DHS) to undercut the rumors spread by traffickers of permisos that would allow migrants to stay in the United States once they arrived. Lastly, the administration also created a new in-country parole and refugee-processing program in Central America, but the program has only received 3,344 applications (2,859 from El Salvador, 426 from Honduras, and 59 from Guatemala) and led to no admissions to date.
While some of these efforts were credited for the decline in Central Americans migrating in FY2015, the recent spike has spurred the administration to implement new deterrence efforts. First, DHS Secretary Jeh Johnson announced early this year that Immigration and Customs Enforcement (ICE) had begun to step up interior enforcement action across the country to take into custody and remove Central American adults who entered with children since May 2014 who have no claim to asylum. ICE's removal operations began over the weekend of January 1 and resulted in 121 individuals being taken into custody. As many as 18,000 migrants could meet ICE's criteria for removal, as immigration courts have issued removal orders for 18,607 family unit members. The move to increase removals has been met by controversy among Democratic lawmakers and advocacy groups.
Secondly, the State Department recently announced that it plans to expand access to the U.S. Refugee Admissions Program for Central American migrants from El Salvador, Guatemala, and Honduras. The administration will begin working with the Office of the United Nations High Commissioner for Refugees to set up new processing centers in several nearby Central American countries to help screen migrants fleeing violence. Under the plan, as many as 9,000 migrants from the Northern Triangle countries per year could be relocated to the United States or other countries as refugees.
Conclusion
It is still unclear if the number of migrants attempting to cross the border dropped in January as a result of the removal operations that began during the month. As we have previously written, one explanation for the higher-than-normal numbers during the fall could have been that the typical seasonal surge was delayed and interrupted by stepped up enforcement in Mexico, which likely diverted migrants from faster, more traditional routes north. If so, the January drop could signal the end of that surge. It may also be the case that because of the specific nature of the flow since 2014 and the dire circumstances in these migrants' home countries, extreme levels of violence and poverty, this migration is simply not following historical patterns. Nonetheless, Secretary Johnson stated this week that while the January decrease was encouraging, the removal operations would continue.
Support Research Like This
With your support, BPC can continue to fund important research like this by combining the best ideas from both parties to promote health, security, and opportunity for all Americans.
Give Now
Join Our Mailing List
BPC drives principled and politically viable policy solutions through the power of rigorous analysis, painstaking negotiation, and aggressive advocacy.