Arrival of Central American Children Resulting in Backlog for Special Immigrant Juvenile Status
Share
The State Department has determined that starting July 1, 2016 the special immigrant category for unaccompanied children has so many pending petitions that it may be many months or even years before juveniles approved for this status from Mexico and the northern Triangle countries of El Salvador, Guatemala, and Honduras can get green cards.
As reported previously, the number of unaccompanied children arriving in the United States has risen since 2012, peaking in 2014, with 2016 on pace to exceed the 2014 numbers. Many of these children have applied for green cards under a category called Special Immigration Juvenile Status (SIJS), a sub-category of the EB-4 green card category.1 This category applies to children who have been determined by an appropriate court in the United States to be unable to be with one or both parents due to abandonment, abuse, or neglect and who have been made dependent on the court. Once this determination is made, the child can apply for a green card in the SIJS category. Around 10,000 green cards are available each year to all categories of special immigrants, which include not only juveniles but religious workers and various other categories authorized in statute.
In March, the State Department, which allocates green cards within the statutory caps for each category for the fiscal year, determined that as of April 1, there were enough petitions in the queue in the special immigrant category to exceed the per-country cap for the countries of El Salvador, Guatemala, and Honduras. Under immigration law, no country can use up more than 7 percent of the total visas available in a fiscal year in any category. The fact that these countries also represented the majority of unaccompanied children who arrived to the United States since 2012 strongly indicates that the oversubscription is due to these children applying for SIJ status. On July 1, 2016, the category will become oversubscribed for children from Mexico as well.
Petitions for this category have been increasing steadily since 2010. However, the largest increase occurred in 2015, one year after the record number of arrivals of unaccompanied children in 2014, reflecting the time it took these children to apply for the status with the juvenile courts and then with US Citizenship and Immigration Services. (Figure 1). So far in 2016, the number of cases filed is more than half the total number for last year, and is on track to be the highest yet.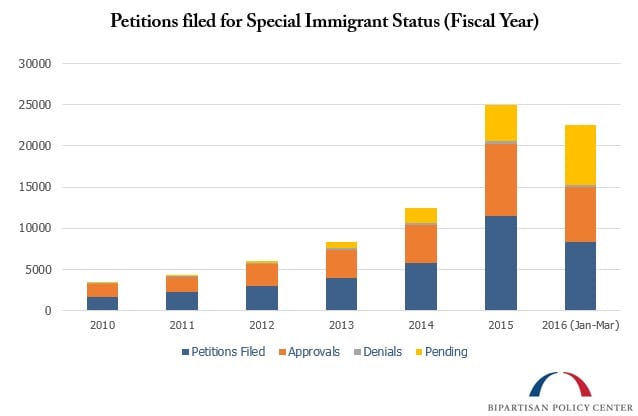 Source: US Citizenship and Immigration Services data
Prior to March of this year, the SIJS category was listed by the State Department as "current," meaning that anyone with an approved petition to qualify as an SIJ could immediately file to adjust their status to a green card. With the oversubscription, only those who originally filed their SIJ petition before the cut-off date of January 1, 2010, can file to adjust status. Anyone with an approved petition after that date must wait until their date appears as the new cut-off date in the bulletin, to file for their green card. In other words, the vast majority of SIJ cases that were filed in the last five years will not be able to apply for green cards until a new annual allotment of green cards is available as of October 1. If the number of cases continues to exceed the annual caps in successive fiscal years (and given the current rates of filing, it may), the waiting time for applicants in these categories is likely to grow to years, once again showing how this current migrant crisis is stretching our immigration system.
---
1 For an overview of the green card categories in the U.S. immigration system, see BPC's 10 Things to Know about the How the U.S. Legal Immigration System Works. For a complete list of those included in the EB-4 category, see the U.S. State Department's Employment Fourth Preference (E4): Certain Special Immigrants. 
Support Research Like This
With your support, BPC can continue to fund important research like this by combining the best ideas from both parties to promote health, security, and opportunity for all Americans.
Donate Now
Join Our Mailing List
BPC drives principled and politically viable policy solutions through the power of rigorous analysis, painstaking negotiation, and aggressive advocacy.