BPC in the News: The Best of this Week's Press, January 21-25

Christopher Snow Hopkins in National Journal:

"Earlier this month, Katherine Hayes was named director of health policy at the Bipartisan Policy Center, a redoubt of pragmatism and a repository of elder statesmen (including six former Senate majority leaders). In recent years, the center has resurrected the ideal of bipartisanship and demonstrated the efficacy of extra governmental public policy mills."
Besides being painful in the short run, sequestration cuts would have little beneficial impact in the long run, said Shai Akabas, senior policy analyst with the Bipartisan Policy Center. He said they would not solve many of the country's long-term budget problems.
Akabas said the current plan ? to cut each budget line item by a certain percentage ? would be "chaos." He noted, for example, that a cut to the defense budget would not slow the growth of veterans benefits, even though they are expected to soon exceed current personnel costs.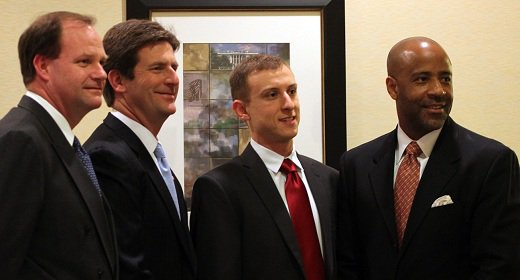 Phoenix Mayor Stanton, second from left, with Aerospace Industries Association Vice President Cord Sterling, Bipartisan Policy Center analyst Shai Akabas and Senate aide Darrel Thompson, left to right, after a meeting on the effects of looming federal budget cuts. (Cronkite News Service photo by Connor Radnovich)
All this could lead to more turbulence for a market that's already nervous about the debt-ceiling standoff. "Markets don't like new things," Bell said. "It is not only different, it raises all sorts of uncertainties that will have some discernible impact on short-term rates and market behavior."

"The beauty of a pendulum is that once set in motion it can swing predictably forever. The difficulty is getting it to return to the middle. This seems to be the problem with regulation of derivatives."

"We can make commonsense changes to our state and national gun laws while preserving the substance and precedent of the Second Amendment."
"The debt limit bill has always been politically sensitive. But as the country's debt has continued to increase as a share of our economy, the need to legislate an increase in the debt limit has become more frequent and more difficult. Since 1940, Congress has increased the debt limit 78 times and based on the actions at the end of the 112th Congress, I estimate that the debt held by the public will continue to rise, reaching 77% by 2022. This must be addressed."
2013-01-25 00:00:00
In case you missed it, here's what they've been saying about BPC this week