Bipartisan Tip Sheet – May 2013
A monthly roundup of events featuring Bipartisan Policy Center (BPC) founders, senior fellows, project leaders and staff.
---
Thursday, May 2
10:30AM to 12:00PM
Who: Turkey Task Force, Foreign Policy Project
What: BPC and the Foreign Policy Project announces the creation of its Turkey Task Force, co-chaired by former Ambassadors to Turkey Morton Abramowitz and Eric Edelman, and releases a paper on the opportunities and obstacles to U.S.-Turkish cooperation towards a post-Assad Syria. The panel is moderated by Ambassador Paula Dobriansky, BPC Senior Advisor and former Undersecretary of State.
Thursday, May 2
6:00PM
Who: William K. Reilly, Co-Chair of Strategic Energy Policy Initiative, BPC
What: Mr. Reilly will be awarded the J.N. "Ding" Darling Conservation Award at the 2013 National Conservation Achievement Awards and Dinner, sponsored by the National Wildlife Foundation.
Wednesday, May 8
11:00AM to 12:30PM
Who: Margaret Spellings, Commission on Political Reform Commissioner, BPC
What: Margaret Spellings is a featured speaker at the New America Foundation Event titled, "Our Children's Debt: How the Rising Federal Debt Threatens Future Generations." The discussion will involve the nation's fiscal landscape, its impact on children, and the opportunities for America if a solution to the government's fiscal challenge is found. Follow @NewAmerica for updates and use #futuredebt
Tuesday, May 14
BPC Senior Fellow and former Senator Olympia Snowe will release the book, Fighting for Common Ground: How We Can Fix the Stalemate in Congress.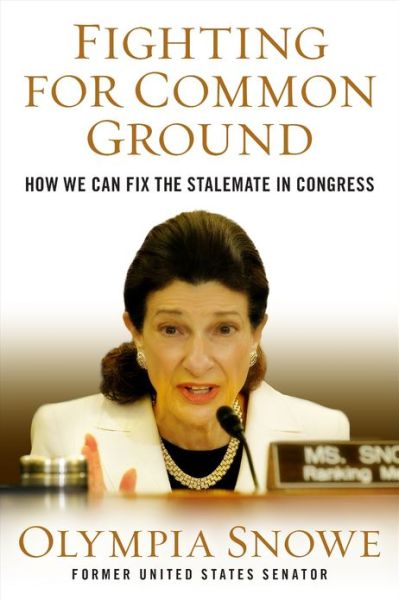 ?
Wednesday, May 15
10:30AM
Who: Senator Byron L. Dorgan, Senior Fellow and Co-Chair of the Strategic Energy Policy Initiative, BPC
What: Senator Dorgan will present at the 2013 Annual John Breaux Symposium, sponsored by Louisiana State University's Manship School of Mass Communications and the US Association of Former Members of Congress.
Friday, May 17
Closed-door
Who: William K. Reilly, Co-Chair of Strategic Energy Policy Initiative, BPC
What: In 2012, the president signed an executive order establishing the president's Global Development Council. Mr. Reilly was appointed by the president to serve on this council in December of last year. The first meeting will take place in Washington, DC, on May 17.
Tuesday, May 21
2:00PM to 3:00PM
Who: "On Leadership" Series, Democracy Project
What: The Bipartisan Policy Center (BPC) and Maryland Public Television are screening select clips from the American Public Television miniseries, The Reagan Presidency. A distinguished panel will revisit Ronald Reagan's presidency and will also look for bipartisan lessons to apply in today's hyper-partisan political climate. Senator Trent Lott, BPC Senior Fellow, and Secretary Henry Cisneros, Co-chair of the BPC Housing Commission and Immigration Task Force, will participate on the panel with John Fortier, Democracy Project Director, moderating the discussion.
Wednesday, May 22
Keynote Luncheon
Who: General Jim Jones, Senior Fellow and Co-Chair of the Strategic Energy Policy Initiative, BPC
What: At the 2013 Deloitte Energy Conference, the General will provide the keynote luncheon address entitled, "A National Strategy for Energy Security ? Harnessing American Resources and Innovation."
Birthdays
May 5: Charlie Gonzalez, CPR Commissioner; Former U.S. Representative (D-TX)
May 7: Pete Domenici, Senior Fellow; Former U.S. Representative (D-TX)
May 14: Byron Dorgan, Senior Fellow; Former U.S. Senator (R-NM)
May 15: Michael Gerson, CPR Commissioner; Columnist, The Washington Post; Former Speechwriter for President George W. Bush
2013-05-30 00:00:00
A monthly roundup of events featuring BPC founders, senior fellows, project leaders and staff